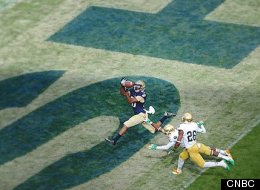 This list of the top 10 college games of the fall 2012 season uses the average price of tickets on the resale market. "Resale market" means tickets for sale on major websites like StubHub, Ticket Network and eBay. The list is determined using numbers from TiqIQ ,an event ticket price aggregator that draws its data from those secondary sellers.
More On CNBC:
Bacon as Currency: What it Can Buy
What makes each of these games so expensive? Each game has its own blend of reasons, such as team rivalries, the team's recent performance, game location, team home base locations, timing and tradition. In the following slides, Chris Matcovich, director of data communications at TiqIQ, provides his insight into what the magic combination of factors might be for each game. There's a strong showing by the SEC, and one team plays in no less than four of the most expensive games this season.
Note: average secondary ticket prices given were as of Sept. 10.
Click over to CNBC to get the full list.
Average ticket price: $427.12 Date: Oct. 6 This meeting of the Irish and the Hurricanes is "more of a throwback game" according to Matcovich. "They're not per se rivals anymore [whereas] in the late '80s, early '90s they were." The game will take place at Soldier Field in Chicago, and a lot of Notre Dame fans probably live close to there, he says, and Miami fans are willing to travel to see this. Read more on CNBC.

Average ticket price: $447.30 Date: Sept. 22 The Irish game against the Wolverines is an annual match that alternates from one team to the other's home stadium. This year, it's in South Bend, Ind. Matcovich notes the proximity of the Irish's home turf to Michigan as part of the draw for this traditional meeting. (This also marks Notre Dame's fourth and final appearance on this list.) Read more at CNBC.

Average ticket price: $452.06 Date: Nov. 24 The Iron Bowl is the annual showdown of two SEC rivals, the Crimson Tide and the Tigers. The Iron Bowl trophy is one reason prices are high; the other is that both teams are in Alabama, said Matcovich. Alabama: Getty Images Auburn: Getty Images Read more on CNBC.

Average ticket price: $657.98 Date: Oct. 13 One of the NCAA's greatest rivalries, the Red River Rivalry pits the Longhorns against the Sooners each year on a neutral site. "It's another Big 12 rivalry," Matcovich says. "A lot [of the appeal] has to do with the proximity of the two schools. That's where the demand is there." Read more on CNBC.

Average ticket price: $788.90 Date: Nov. 3 The list is topped out by the infamous match of rivals that goes down this year in Tiger Stadium's Death Valley. "Really no surprise here," Matcovich says, "They played twice last year, [once in] the BCS National Championship. This is a conference rivalry as well as they're pretty close in terms of proximity [and] both teams are extremely good on the field. ... Both teams have been pretty good the last three to four years, and it's also a rematch of the [BCS] championship game of last year." Alabama won that game, 21-0. Read more at CNBC.