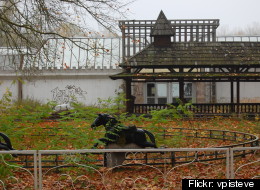 Spreepark, formerly Kulturpark Plänterwald, opened in 1969 as a roughly 73-acre entertainment park in what was then East Germany.
At the time, it was the only park of its kind in either East or West Berlin. The park offered a towering ferris wheel (at roughly 148 feet) and numerous rides, all of which were paid per trip by visitors.
The park has been abandoned since 2001, however, when the owners reportedly left for Lima, Peru. For those who fancy themselves adventures, the park is still open to visitors. Tours run every Saturday and Sunday at 1 p.m. and cost €15. Register for the tours here.
Check out the very cool and very creepy park below.