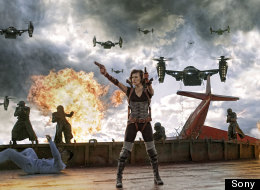 It's a good weekend if your name is Paul Anderson. Paul W.S. Anderson, architect of the seemingly unkillable "Resident Evil" franchise, saw its fifth installment, "Retribution," claw its way to approximately $21.1 million at the domestic box office this weekend, according to The Hollywood Reporter. Opening on 3,012 screens, the R-rated action-horror hybrid successfully fended off competition from the reissue of "Finding Nemo 3D," the week's other wide release.
"Nemo" scored $17.5 million on its second outing, opening in 2,904 locations. This puts it on a par with Disney's 3D re-release of "Beauty and the Beast" -- which took in $17.8 million earlier this year -- rather than the hefty haul of "The Lion King 3D," which rounded up $30.2 million when it returned to theaters in 2011. The modest total makes more sense for "Nemo" than "Beauty," given that the aquatic adventure was released a mere nine years ago, compared to the two decades since theatergoers last saw the "tale as old as time."
Elsewhere, Paul Thomas Anderson's "The Master" made an impressive debut, accumulating $729,745 on a mere five screens in New York and Los Angeles. With a per-location average of $145,949, "The Master" smashed art house records, knocking Wes Anderson's "Moonrise Kingdom" from the top spot after overtaking its $130,759 per theater cume. It was enough to help the L. Ron Hubbard-inspired drama debut on the box office chart at number 18, overtaking holdovers such as "The Avengers" ($545,000), the IMAX re-release of "Raiders of the Lost Ark" ($400,000), and "Ted" ($393,000).
The limited release of Lionsgate's "Arbitrage" also performed well, gathering $2.1 million on 197 screens. THR predicts that, partnered with its simultaneous VOD debut, the financial thriller will be the biggest theatrical/VOD opening to date.
Something that will no doubt come as a relief to Hollywood bean counters: It appears that the box office has bounced back from last weekend's dismal numbers, which were the lowest on record since the weekend of Sept. 21-23, 2001.
For more on the weekend box office, head over to THR.com.
[Numbers via Box Office Mojo.]
On reflection, and despite these cavils, we should bow to The Master, because it gives us so much to revere, starting with the image that opens the film and recurs right up to the end.

It's a film of breathtaking cinematic romanticism and near-complete denial of conventional catharsis. You might wish it gave you more in terms of comfort food pleasure, but that's not Anderson's problem.

Gorgeous to look at and an absolute feast of strong and interesting acting.

The Master is Paul Thomas Anderson with the edges sanded off, the best bits shorn down to nubs.

It's a feisty, contentious, deliberately misshapen film, designed to challenge and frustrate audiences looking for a clean resolution. Just because it's over doesn't mean it's settled.

The Master is unforgettable, but like the mercurial men at its center, the harder you try to read into it, the more it slips away into the distance.

In his first film since the 2010 performance-art stunt of "I'm Still Here," Phoenix once again digs deep to mine his character's inner torment and comes up with a mix of haunting quirks and tics.

It's a sharply written, unforgettably directed character study with brilliant performances by Joaquin Phoenix, Philip Seymour Hoffman and Amy Adams...

I believe in the church of Paul Thomas Anderson. Fierce and ferociously funny, The Master is a great movie, the best of the year so far, and a new American classic.

Anderson is a romantic who has earned his nihilism. He clarifies nothing, but leaves us brooding on our own confusion.