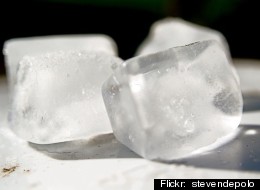 You could say that the garbage disposal is one of the great inventions of the 20th century -- that is, after the internet, spaceshuttle and artificial intelligence of course. Because when you don't know what to do with that three-day old salad, the garbage disposal will take care of it. If you're feeling too lazy to scrape your plate before you wash it, don't worry, the disposal has got your back.
Of course, you don't want to put just anything down the drain, but the magical way this disposal system works (which this video explains) lets you get away with a lot.
But after a number of leftover dinners you had the disposal deal with, it can start to get a little gross. And, it needs to be cleaned. Of course you don't want to stick your hand in there and give it a scrub, that could be extremely dangerous. Luckily, there are a number of ways to clean the disposal without risking dismemberment.
You can clean the garbage disposal with citrus, throwing down a slice or two, but we happen to think vinegar ice cubes are the best way to go. Not only do they freshen the smell of your disposal and thoroughly clean out the hard-to-get-to crevices, but the ice actually sharpens the blade. Simply freeze vinegar in an ice tray as you would water, and throw on down the drain when in need and turn on the disposal. Just be careful not to confuse these vinegar ice cubes for regular ice!
Want to read more from HuffPost Taste? Follow us on Twitter, Facebook, Pinterest and Tumblr.
Be sure not to put these items down your disposal.
This should be pretty obvious. Grease, any oil or hot, liquid fat should not go down the garbage disposal let alone the drain. When the grease cools, it solidifies in the drain -- it's also not the most environmentally friendly way of throwing away grease (find out how to dispose of grease properly here.)

Vegetables like celery, rhubarb, asparagus, artichokes, chard, kale, lettuce and even potato peels should not be put in the garbage disposal. These stringy, fibrous or starchy vegetables can easily wrap around the blade, clogging your drain (watch the video here to see how to fix a clogged garbage disposal).

Pasta expands when in contact with water -- that's quite obvious when you cook it. In the garbage disposal it can continue to expand every time water goes down, ultimately clogging your drain over time. Or if it doesn't clog your drain, it will fill up the disposal trap.

Egg shells should not be put in the garbage disposal because the thin membrane on the inside of the shell can wrap itself around the blade of the disposal. Instead choose to compost the egg shells (find out how to compost kitchen scraps here).

Like pasta, rice expands with water. So putting it down the garbage disposal will inevitably clog your drain, filling up the disposal's trap more and more as water goes down.

Coffee grounds, though appearing to go down the drain just fine, actually can get stuck in the trap of your garbage disposal. It's best to throw out coffee grinds the old fashioned way or compost it.

Pits or seeds will only damage the garbage disposal and should not go down your drain. Stay away from stone fruit pits (peaches, plums, nectarines, apricots, cherries, mangoes), avocado pits and even olive pits.

Bones (chicken, pork, lamb or beef) should definitely not go down the garbage disposal. A garbage disposal is not strong enough to handle bones, which will just end up getting caught in the disposal. The only bones that are okay to go down the garbage disposal are fish bones.