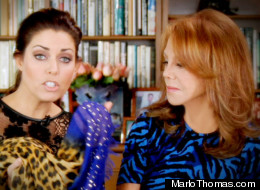 When Bobbie Thomas, fashion guru and beauty expert from the TODAY Show, joined me on Mondays with Marlo I just had to ask her about the one trend piece every woman should have. From a statement coat, to the must-have handbag and scarves for every season, Bobbie told me how choosing which one to invest in depends on where you live.
And for more amazing advice from Bobbie Thomas, check out her top tips:
Expert Style Tips From Bobbie Thomas
Black and white color-blocking are great for the coming season. So are those graphic statement prints, especially those inspired by the 60s and 70s. Fashion is getting so much bolder.

If you live in a cold climate you should invest in a signature jacket. If you're in a warmer climate, your handbag is your best friend. Scarves are also great if you're looking to jump in on a trend.

A boot with a rounded toe gives you a little bit more comfort. One of my favorite styles is a classic riding boot. You can wear them with leggings and an oversized sweater and instantly dress up your look.

Go for a plum or berry dress and add a belt. Instead of using your wedges, switch into a brown loafer. A little pleather jacket is great. Start with accessories and add sweaters to match later on in the season.

If you live in a cold climate, a faux fur wrap will do your wardrobe wonders. In general, accessories are in the spotlight. Adult nail-art is also really big right now. If you indulge in a fun manicure that's bold, you can have a new look every week.

We have seen a lot of grey the past five years, but this season seems to be the turning point into more autumn colors, like eggplant and squash. Look at your complexion and choose colors based upon whether you're a warm or a cool tone. White is also big this fall.

If you need something warm for winter, choose puffy jackets with a belt or asymmetrical stitching. Also, look for jackets with a sharp shoulder detail, this will elongate your body, along with any kind of detail like a pocket or a zipper.

Brocade is really big this season, but you don't have to feel like it's reserved for a younger crowd. You can wear a consertative lace top with a pair of jeans. Or, Hanes has come out with fashion tights in Lace Trellis, which are fun, slimming, and practical. I highly recommend investing in some fashion tights.

When wearing mixed prints, look for common colors and similar backgrounds. Keep one print on a bigger scale, and the other on a smaller scale. Have a belt and a shoe that will anchor the outfit and help bring the look together.

Forget about the runway, look at your body. If you have broad shoulders and a narrow hip, wear the mini drop-waist dresses. If you're an hourglass shape, a pencil skirt works best. Don't focus on being skinny, focus on balancing your body. So, if you're really petite on top, with curvy hips, add ruffles up top and keep it simple below, so you look long and lean and balanced.

Advanced Style features women bloggers who are predominantly over 60. They have "advanced style" because they know who they are. If you love leopard, who cares if it's in or out one season.

Go for something inviting, such as a cowl neck sweater or a cardigan wrap sweater. Avoid constrictive, "high-maintenance" looking clothing. Sometimes a fun scarf or jeans are good choices because they give the impression that you're not trying to impress someone; you're trying to be yourself. As a rule: you should wear the dress, the dress shouldn't wear you.

As women mature, we want to focus on framing our faces rather than our bodies. Try a fun, long earring, which will elongate the neck and draw attention to your face.

If you're looking to be taken seriously at work, then you must show your co-workers that you can be taken seriously--that you pay attention to detail, and that you are easy to work with. Having too much skin is distracting. If you pay attention to what you look like in the morning, you're really going to have other people take notice and appreciate you for your work. Fashion is a layer of language that you wear.

Nail art is such a huge trend right now. But, if you're going for a little shimmer or bling on your nails, try rose-gold or something sophisticated. You don't need to do sparkles and neon pink together.

Always wear something that fits! Make sure you have shoes you can walk in. There's nothing more distracting than a woman inching into a room. Too much make-up and hair is unnecessary. And, remember to wear a wrap, so you're not cold. Confidence is going to be your best accessory.

Avoid wearing contrasting colors at your widest point, and instead focus on elongating. Look for draped jackets, elongated necklaces, and cowl necks. Monochromatic color schemes will keep the eye moving up and down, as well. And, the shoe should match your skin color or the outfit color.

It's so important to own your style. DIY or "do it yourself" is a big trend recently. So if your daughter is just wearing jeans and T-shirts, encourage her to experiment with making her own style. Start by going to the craft store where she can find the inspiration to maker her wardrobe more personal.
Add Marlo On Facebook:
Follow Marlo on Twitter:

Weekly Newsletter

Sign up to receive my email newsletter each week - It will keep you up-to-date on upcoming articles, Mondays with Marlo guests, videos, and more!

Sign up here