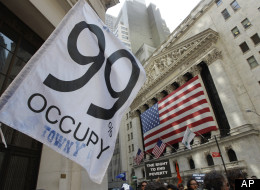 The ultimate success of what began one year ago in Zuccotti Park may be up for debate, but it's hard to deny that Occupy Wall Street brought attention to many issues that are now at the forefront of American politics.
Income inequality, for example, has become a hot-button political issue in part thanks to exposure brought by Occupy Wall Street.
Occupy's activism has also gone beyond discourse and made a concrete difference, with activists helping homeowners battle unfair foreclosures across the country. For example, with the help of Occupy, 78-year-old civil rights activist Helen Bailey, was allowed to stay in her home indefinitely after facing foreclosure last February.
While the movement's seeming disintegration has been blamed on infighting and the lack of a clear set of demands, Occupy's first birthday is an opportunity to reflect on what the rhetoric of 99 percent has accomplished.
Here are seven key issues raised Occupy Wall Street:
7 Issues Highlighted By Occupy Wall Street
A central tenet to the Occupy Wall Street movement, a call for economic justice has brought increased exposure to the widening gap between the United States' wealthiest and poorest citizens.

One of Occupy's more specific demands is the Robin Hood Tax, otherwise known as the financial transaction tax. It has gained greater prominence thanks to Occupy-sponsored demonstratoins as well as a campaign during a G20 summit last year.

When the total value of student loan debt reached $1 trillion in April, Occupy brought attention to the issue by sponsoring protests asking for loan forgiveness across the country.

In line with its protest against Wall Street and big banks, Occupy brought attention to the Volcker rule, a largely unenforced Dodd-Frank provision that limits a bank's ability to make speculative trades with its own accounts, otherwise known as proprietary trading. Some protestors even went so far as to draft a 325-page letter to the SEC supporting the rule.

On several occasions, Occupy Wall Street has sparked national interest in individual cases of foreclosure. Among them is the successful campaign to save the home of 78-year-old former civil rights activist Helen Bailey.

Very much the movement of the underdog, Occupy has been an outspoken critic of policies that favor corporations or the rich, including the Bush-era tax cuts and Wall Street bailouts.

The issue of corporate personhood, including the ability of corporations to donate to outside political spending, has gained increased attention thanks to Occupy protests.