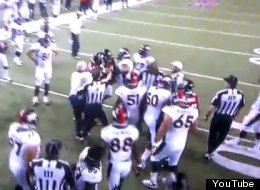 The replacement referees used by the NFL during an ongoing labor dispute with league officials delivered a string of ineffective performances on Sunday (when they weren't being benched for posting to Facebook about their rooting interests).
It only got worse during on Monday night as replacement officials looked entirely out of their depth throughout a matchup between the Denver Broncos and Atlanta Falcons. The ineffectual and inconsistent administration of the rules of the game was perhaps most glaring following a fumble by Denver running back Knowshon Moreno in the first quarter.
Moreno lost possession of the ball near Atlanta's 40-yard line and players from both sides tried jumping on it, resulting in the usual pileup. With players from both sides pushing and shoving, the refs had trouble restoring order. According to ProFootballTalk, players from the benches ran onto the field, coaches got involved and some of the players even had their hands on the officials as the situation spiralled out of control.
WATCH VIDEO ABOVE
USA Today captured a screenshot from the ESPN broadcast that shows one of the officials getting hit in the face in the middle of the scrum.
After approximately a six-minute delay, the refs ruled that Atlanta recovered the fumble (despite the fact that a Broncos player emerged with it at the conclusion of the play) and then penalized Falcons defensive end Ray Edwards for unnecessary roughness.
"It's taking a long time to organize justice here," ESPN's Jon Gruden told viewers.
Michael David Smith of ProFootballTalk questioned why others weren't flagged, noting several other instances showing the officials' lack of control over the game and called the replacement referees "an embarrassment to Roger Goodell and the NFL owners."
Yahoo! Sports's Shutdown Corner pointed out that the refs also had trouble spotting the ball correctly after penalties.
After Sunday's Ravens-Eagles game, Baltimore's Ray Lewis criticized the officiating and Joe Flacco ripped the refs for "affecting the integrity of the game."
A vicious and illegal blindside block delivered by Seattle's Golden Tate on Cowboys linebacker Sean Lee (that went uncalled) sparked scrutiny from the media arguing that the replacement refs pose a danger to the players' health.
Despite the heavy criticism on Sunday, the NFL released a statement Monday morning defending the referees and saying that they have performed "admirably under unprecedented scrutiny and pressured."