Two graphs show the lack of connection between tax rates for the rich and economic growth: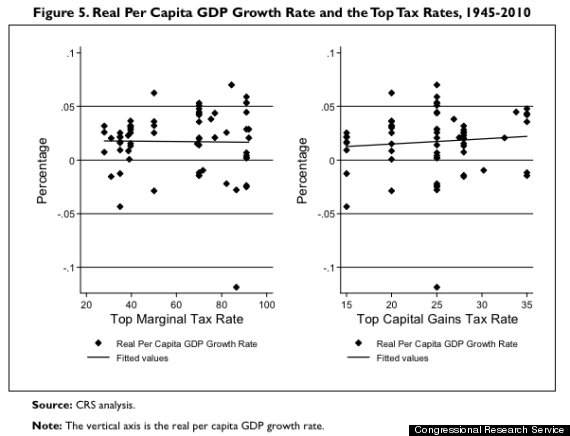 The authors noted that top-tier tax rates could have an effect on "how the economic pie is sliced." The study noted that in 1945, when the richest families had to pay a marginal tax rate of more than 90 percent, the top 0.1 percent of U.S. families accumulated 4.2 percent of all income gains. In 2007, in contrast, when the top marginal tax rate was 35 percent (which it still is), the top 0.1 percent of U.S. families captured 12.3 percent of all income gains.
Two graphs from the study show a clear connection between higher taxes for the rich and less income inequality: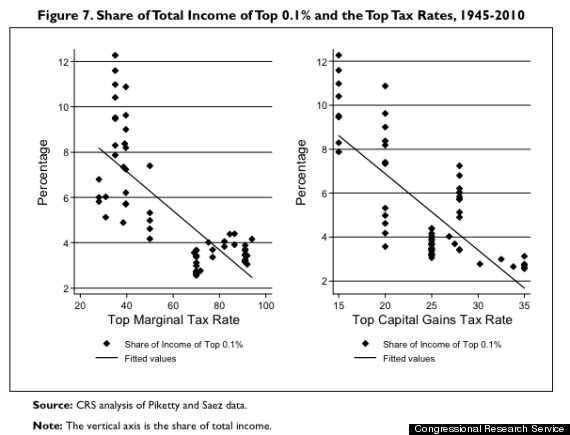 A recent study by Owen Zidar, a PhD student in Economics at the University of California at Berkeley, also found that tax cuts for the rich are not correlated with economic growth. But Zidar did find that tax cuts for the bottom 90 percent of income earners can stimulate economic growth and job creation.
Also on HuffPost:
10 Ways The U.S. Is Getting Worse For Most Americans
SUBSCRIBE AND FOLLOW
Get top stories and blog posts emailed to me each day. Newsletters may offer personalized content or advertisements.
Learn more