Kate Moss was practically born on a Vogue cover.
The supermodel extraordinaire, 38, has been on at least 32 covers of Vogue UK alone, and just thinking about how many of the mag's international covers she's graced is making our fashion heads spin.
But her counterpart on the October issue of Vogue Paris raised our eyebrows, as it had to be a first. George Michael?
Well, it makes sense. The two both performed at this year's 2012 London Olympics closing ceremony, with Michael performing "Freedom '90" and Moss strutting out for the supermodel stunt. Moss even guest-starred in Michael's new music video "White Light" this summer. Now, they've reunited in the most on-the-record way possible: a glamorous photograph on the cover of one of the world's most-read fashion magazines.
The photo apes a red carpet shot, with Kate clad in a gorgeous Elie Saab-looking red gown as the pair beam against a bright camera flash beckoning from Mario Testino's lens. Is it a strange pairing? Does George Michael look, uh, kinda hot to anyone else? What does it mean?
We're a bit confused. Then again, we know George doesn't mind paling around with smoking hot supermodels.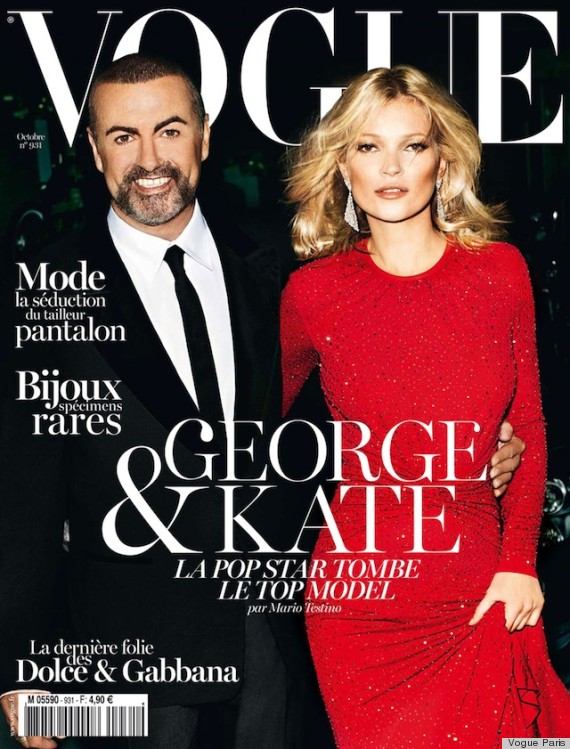 See oodles and oodles of Kate's magazine covers below!

Loading Slideshow
Vogue UK, Aug. 2011

American Photo, Jan. 1994

Harper's Bazaar, April 2002

Bazaar Russia, June 2011

Elle South Africa, Aug. 2010

Elle France, Sep. 2011

French Vogue, Dec. 2005

French Vogue, May 2011

George Magazine, Sep. 1997

Cosmo Germany, Jan. 1996

GQ Spain, March 2010

Harper's & Queen, Oct. 1992

i-D, April 2003

French Vogue, Jan. 2012

Marie Claire South Africa, Jan. 2012

Numero Tokyo, April 2007

New York, Feb. 2009

RG, Sept. 2010

Soul, July 2006

Tar, 2009

The Face, July 1990

Vanity Fair, Dec. 2006

Vogue Brasil, May 2011

Vogue, Aug. 2008

French Vogue, July 2010

Vogue, May 2003

Vogue Portugal, Nov. 2010

Vogue, Sep. 2011

Vogue UK, April 1996

Vogue UK, April 2010

Vogue UK, Dec. 2001

Vogue UK, March 2006

Vogue UK, Sep. 2009

Vogue UK, Sep. 2010

W, Aug. 2003

W, June 2008

W, March 2005
Want more? Be sure to check out HuffPost Style on Twitter, Facebook, Tumblr and Pinterest.