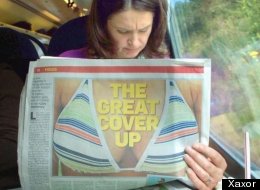 Back before digital cameras, there was a certain thrill to developing a roll of film and finding out that most of your pictures came out all right. Even more amazing? Realizing that one of your pictures was taken at exactly the right time, to hilarious effect.
Thanks to sites like Perfectly Timed Photos, Reddit and Flickr there are a wealth of funny pictures on the web taken at just the right moment (mostly by accident) causing a ridiculous image to form. From people and planes caught in odd situations, to TV screenshots that put crowns and glasses on people, almost any picture can be made hilarious when taken at just the right time (although we are pretty partial to the cat pics).
Check out 25 of these rare moments below and vote for your favorite ones!
The other two refs are discussing whether or not to tell him.

Your morning commute just got a LOT more distracting.

Teaching your dog to "roll over" has never been more entertaining.

What does he see? Four more years?

The summer Olympics come around once every four years, but this only happens once in a lifetime.

Let's hope there's a trampoline under her.

He got that statue for being such a good basketball player

He's been cutting way back on the Fancy Feast, and it shows.

This is one "missed connection" that's going to be pretty hard to track down.

EIther that or she just had a REALLY good idea.

Not to mention, if Barack leaned over any further we're pretty sure he'd have an afro.

Kid gets a diving board, next thing you know he thinks he's Jesus Christ.

Neil who? Buzz who?

Looks like someone alrady found his Halloween costume.

This must have been how they got the sun to come out back in the old days.

Come on, cat. That's the oldest trick in the book.

So much cuter than regular glasses.

"Oh, did you need something? We're just being mind-bogglingly cute."

What an eavesdropper.

We're assuming Scorsese could get the moon to move if he needed to.

This cat must have been one of the first horsemaning pioneers.

It's somehow both serene and terrifying at the same time.

Why stand when you can fly?

That is the weirdest looking bird we've ever seen.

Evolution is getting REALLY interesting these days.