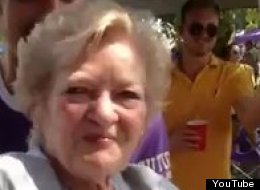 Everyone loves a good tailgate, and by everyone, we mean everyone.
Before LSU walloped Idaho last weekend, an 83-year-old woman was the life of the party. Prior to LSU's blowout win, the "Keg Stand Granny" was once again showing how she earned her nickname.
The Tigers may be No. 2 in the latest college football rankings just below their Southeastern Conference rivals Alabama Crimson Tide, but with Keg Stand Granny and the R2-D2 Keg in their corner, they may have the No. 1 party.