Smash Mouth is releasing a cookbook that features some of the band's favorite spots for eating while touring. "Smash Mouth: Recipes from the Road" has everything from Michel Richard's Central in Washington, D.C. to Sammy Hagar's Cabo Wabo. The foreword of the book is written by none other than Guy Fieri. Based on these inclusions, it seems like Smash Mouth has a range of culinary predilections -- anything from good French food to donkey sauce, we gather.
Uproxx has a few suggestions for dishes that use some of Smash Mouth song titles and Guy Fieri parodies. We'll pass on the "I'm a Believer…In Fried Chicken Heads with Ranch Dressing Poppers."
According to a band representative, the book will definitely be out on time for holiday shopping but not the October 16 date that Amazon currently has. We've got a sneak peek at the front and back covers for you. Apparently, food really is the new rock.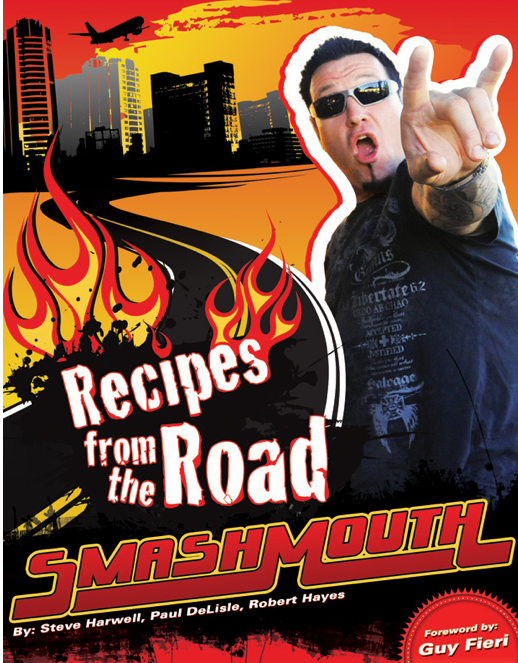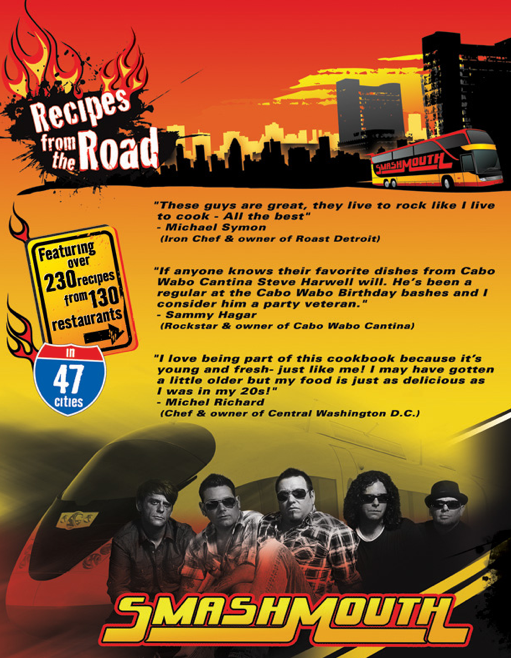 Also on HuffPost:
Loading Slideshow
AnnaLynne McCord

(PCN)

Paris Hilton

(FameFlynet)

Emmy Rossum

(PCN)

Heidi Klum

(FameFlynet)

Jennifer Garner

(FameFlynet)

Woody Allen

(PCN)

Justin Bieber. <a href="http://www.youtube.com/watch?v=sJls2iXC2-c" target="_hplink">Coning</a>. <a href="http://www.huffingtonpost.com/2011/08/01/justin-bieber-cone-ing_n_914977.html" target="_hplink">We still can't figure out why</a>.

Kim Kardashian proves that no obstacle -- not even painfully high leopard stilettos -- can keep her away from a Ben & Jerry's scoop.

Camilla, Duchess of Cornwall, prefers her cone with a side of deep concentration.

Is Philip Seymour Hoffman with a chocolate-dipped ice cream attached to his mouth less intimidating than Philip Seymour Hoffman without? ...Nah.

Tara Reid poses with a cup at Diddy and Ashton's "White Party" bash in 2009. More importantly, when did Starbucks ever make ice cream?

These Miss America contestants will pose with a giant sundae! Yay! But they sure as hell are not going to eat it! Nay!

The tie that bonds Kyra and Kevin: posing awkwardly with ice cream spoons in hand.

Maggie Gyllenhaal is pure joy.

"Bond" actress Catherine McQueen prepares for her new role in "Die Another Day 2: Gelato Deathmatch."

Dave Matthews looks pretty excited to take a lick out of his band's own Ben & Jerry's flavor, Magic Brownies.

Oksana eats ice cream like all competitive sportsmen should: with a white glove and grimace on face.

Dustin Hoffman in 2000. <a href="http://www.youtube.com/watch?v=PSxihhBzCjk" target="_hplink">One word:</a> mullet.

Octomom Nadya Suleman drinks a milkshake.

Ten bucks says Pam's thinking, "My milkshake brings all the boys to the yard, and they're like, its better than yours..."

"Here, if you have a milkshake, and I have a milkshake, and I have a straw. There it is, that's a straw, you see? You watching? And my straw reaches acroooooooss the room, and starts to drink your milkshake... I... drink... your... milkshake!"

Kim and mom Kris do that über-German thing of eating ice cream and posing in metallic dirndls at Munich's Oktoberfest last year.

Oh, if only we could all look so flat-out dashing as Benicio del Toro and Caroline Correa in Barcelona while eating ice cream -- and get paid to do so by European ice cream maker Magnum to boot.

Singer Mika distributes ice cream and free tickets at a secret concert on London's Brick Lane in 2009. Meanwhile, the only surprise we ever got from Mister Softee was a toothache.

How true men like Jerry Seinfeld and Billy Bush discuss the serious issues of the day.

We can't decide what is more shocking: that these two once dated (waaaay back in 2000), or that notorious skinny-person Lara Flynn Boyle is eating a sundae.