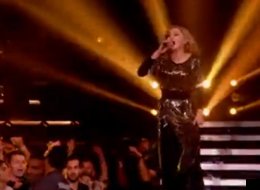 Madonna had an extra special surprise for one of her biggest (and most famous) fans as her MDNA Tour rolled into Chicago this week.
The Queen of Pop singled out Shaun Sperling, best known as the "Bar Mitzvah Boy" after a 1992 video of him "Vogue"-ing his way into Jewish manhood went viral last month, as she performed "Like a Prayer."
As seen in this exclusive footage above, Madonna leans down from the stage with her microphone, allowing the now 33-year-old Sperling to sing a few lines from her 1989 classic.
Publicist Liz Rosenberg told HuffPost Gay Voices that the pop superstar was unaware of Sperling's YouTube fame. "Madonna never goes to that area of the stage to get people to sing along with her, but clearly she was being spiritually guided to the one person out of 20,000 who deserved to sing along," Rosenberg said.
Regardless, the "Bar Mitzvah Boy" said the chance encounter with his idol left him feeling ecstatic.
"I am now even more inspired to continue paying forward the lessons that Madonna taught me 20 years ago of self-respect, love, individuality, acceptance of others and always striving to be a better human being," he wrote on Facebook. "I feel incredibly grateful that my 13-year-old dreams are coming true, and most of all for the love and support that I have in my life."
As Rosenberg notes, the Madge-ical moment was bashert, which is Yiddish for "meant to be."
Take a look at our picks for Madonna's best live performances below:
It was the performance that shook that world: a barely-known Madonna opened the very first MTV VMAs with her now legendary "Like A Virgin." She now says her rolling around on the floor was a cover-up to retrieve a lost shoe.

Madge performed her "Desperately Seeking Susan" soundtrack smash before an audience of 30,000.

Take that, Lady Gaga: Madonna offered a sneak peak at voguing when opened the 1989 VMAs with this female empowerment smash.

The Material Girl set a new standard for live MTV performances when she ditched the fashion runway grab of the "Vogue" video for a Marie Antoinette look.

Madonna shunned detractors who had long been critical of her live vocals when she nailed every note of this Stephen Sondheim-penned "Dick Tracy" number to absolute perfection.

Madonna's performance of this poignant ballad off the underrated "Erotica" album was undoubtedly a highlight of her SNL appearance.

Her own version may have been more dance-oriented, but Madonna brought her cover of "Fever" back to its classic Peggy Lee origins on Arsenio.

Madge went from "Material" to ethereal when she opted for a Donatella Versace look for her Brit Awards performance in 1995.

Madonna struck a few pimp daddy poses for her second Grammy Awards performance, nearly 20 years into her career.

Madonna boldly covered the John Lennon classic for this performance, a fundraiser for the victims of the devastating 2004 Indian Ocean earthquake and tsunami.

This wildly trippy performance of Madonna's "Confessions on a Dancefloor" hit featured Madge as a hologram alongside Gorillaz before the real thing emerged.

Madge brought back her 1989 classic for this truly stunning performance during the Hope For Haiti telethon.