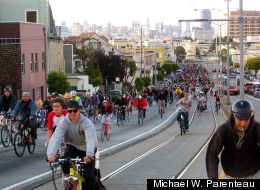 Twenty years ago, on a Friday night in late September, 50 cyclists showed up on Market Street. Organized only by fliers and word-of-mouth, the leaderless group rode through the city together to bring attention to bicycle safety. Critical Mass, now a global event that draws thousands, was born.
And this Friday, cyclists from around the world will come to San Francisco's Justin Herman Plaza to celebrate 20 years of the event with a ride for the ages.
Critical Mass cofounder Chris Carlsson appeared on KQED's Forum to talk about the history and goals of the event.
"In those days [when the event began], we cyclists liked to joke that we kind of all knew each other because there weren't very many of us," said Carlsson. "We were treated as idiots, second-class citizens or children. People would say, 'grow up, get a car,' as if that was somehow an act of adulthood."
Carlsson explained that the hostile attitude made it unsafe for cyclists in cities.
"So we started to ride home together as a group and make a space for ourselves so we wouldn't be shunted to the side and in danger."
Though sometimes seen as a nuisance to drivers in traffic, Critical Mass has since swelled to a collection of major global events. A 2008 ride in Budapest, for example, was attended by 80,000 riders. Perhaps more importantly, daily city ridership has grown immensely around the world, as have bike-friendly city policies.
"We've been delightfully surprised to see how it's taken off," said Carlsson on KQED.
To celebrate the anniversary of Critical Mass, the San Francisco incarnation will host a week of rides, parties and events, culminating in a mass ride on Friday. Carlsson and two other riders, Hugh D'Andrade and LisaRuth Elliott, will soon be releasing a book of essays, photographs and posters from events across the globe.
Check out the unofficial Critical Mass website for info about this week's events, and listen to KQED's interview with Carlsson for more on Critical Mass. Then, look through a slideshow of our favorite rides through the city.
The SF Bay's Best Bike Trails
The Wiggle is a one-mile bicycle route from Market Street to Golden Gate Park that minimizes hilly inclines for bicycle riders. The path generally follows the historical route of the Sans Souci Valley watercourse, winding through the Lower Haight neighborhood toward the Panhandle.

A narrow, rural valley, surrounded by lush hillsides winding through a sea of vineyards. Easy grades and a scenic landscape make this a very pleasant trip. Located in Northern Sonoma County.

The Great Highway is a road forms San Francisco's western edge along the Pacific coast. It runs for approximately 3.5 miles next to Ocean Beach. Its southern end is Skyline Boulevard and it extends to Point Lobos Avenue at its northern end. It also forms the western edge of Golden Gate Park.

Polk Street travels northward from Market Street to Beach Street and is one of the main thoroughfares of the Polk Gulch neighborhood going through the Tenderloin, Nob Hill, and Russian Hill neighborhoods.

Paradise Road is located in an 19 acre regional park along the east shore of the Tiburon Peninsula. This area is truly gorgeous with its mature landscaping, colorful poplar trees, wildflowers, rolling grassy hillsides above the San Francisco Bay, and a grove of tall redwoods.

Originally as an access road to a mine, The Oat Hill Mine Road trailhead is a stone's throw from downtown Calistoga. With a good selection of restaurants and cafes available, the cute Calistoga downtown is an obvious option for refreshments or a meal after a ride here.

The Albany Bulb (also simply known as The Bulb) is a former landfill largely owned by the City of Albany. The Bulb can be reached via Buchanan Street or the Bay Trail along the east side of San Francisco Bay.

Angel Island offers expansive views of the San Francisco skyline, the Marin County Headlands and Mount Tamalpais. Access to the island is by private boat or public ferry from San Francisco, Tiburon or Vallejo.

Surrounding a historic Chinese American shrimp-fishing village and a salt marsh, the park is located in San Rafael, California, on the shore of San Pablo Bay. It is known for its hiking and mountain biking trails, scenic views, and open spaces.

Since the Mount Tamalpais area contains large expanses of virgin soil there are many trails that criss-cross the area.Some of these trails provide spectacular views of the San Francisco Bay and the Pacific Ocean. Other trails lead into natural, dense groves of redwood trees. Mount Tamalpais played a role in the birth of mountain biking many years ago. Mount Tam is also the birthplace of the Gary Fisher mountain bike.

Bike across the Golden Gate Bridge to Rodeo Beach. Windswept, exhilarating, and covered with unique red and green pebbles Rodeo Beach is just three miles northwest of the Golden Gate Bridge. Sheltered by cliffs and bounded by a lagoon, it offers good picnic sites and is ideal for kite flying or just watching the roaring Pacific.

The 8 mile bike ride from Fisherman's Wharf to the Ferry pier in Sausalito is full of breathtaking views. The community is situated near the northern end of the Golden Gate Bridge.

There are several low traffic streets to explore at the port and views exist in very direct from San Francisco to the Bay Bridge, to checking out all the port's shipping containers.

Ocean Beach runs along the west coast of the city. It is adjacent to Golden Gate Park, the Richmond District and the Sunset District.

This homage to masochism heads up and down 5 of the steepest streets in the Berkeley Hills (steepest grade, over 25%). From just about any point on the ride you can rest downhill all the way to a BART station.

Cyclists are welcomed on all designated "Multiuse" trails in the park. For those cyclists who prefer an in-road experience, the park offers miles of dedicated bike lanes many of which are part of the regional bike network.

With hundreds of miles of trails, mountain bikers can enjoy non-paved dirt or gravel trails throughout Tilden Park.