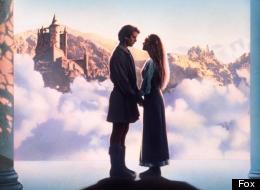 As you wish: The Film Society of Lincoln Center officially announced on Monday that the "Princess Bride" will screen at this year's New York Film Festival to celebrate the film's 25th anniversary.
The 1987 classic will screen in what the Film Society of Lincoln Center calls a "newly struck and pristine 35mm print." After the movie, cast members Billy Crystal, Cary Elwes, Carol Kane, Mandy Patinkin, Chris Sarandon and Robin Wright will join director Rob Reiner for a Q&A and discussion.
Written by acclaimed screenwriter William Goldman (and based on his book of the same name), "The Princess Bride" has withstood the test of time and remains a beloved variation on the big-screen fairytale. Last year, director Jason Reitman staged a live read of the "Princess Bride" script, with Mindy Kaling playing the role of Princess Buttercup (originally portrayed by Wright) and Paul Rudd as Westley (originally played by Elwes). Elwes, in a cheeky casting decision, lent his voice to the villainous Prince Humperdinck (Sarandon's part in the original).
"The Princess Bride" nostalgia tour doesn't stop with the New York Film Festival screening. The 25th anniversary Blu-ray and DVD of the film is out on Oct. 2, the same day as the Lincoln Center reunion.
'Princess Bride' Cast: Where Are They Now
At 21, Wright earned an "introducing…" credit on "Princess Bride," though soap audiences knew her from her four years playing Kelly Capwell on "Santa Barbara." Afterward, she continued to specialize in strong-willed, passionately romantic, socially outcast heroines in such films as "State of Grace," "The Playboys," and "Forrest Gump." Her 20-year relationship with Sean Penn yielded two children and several movies, including "She's So Lovely" and "The Pledge." After she and Penn divorced in 2010, Wright went on to appear in three prominent movies in 2011, Robert Redford's "The Conspirator" (in which she played the lead role), "Moneyball," and "The Girl With the Dragon Tattoo." Now 46, Wright is due on screen next year as the lead in the live-action/animated drama "The Congress."

The role of the skeptical grandson who is gradually entranced by his grandfather's storybook was the 10-year-old Savage's big break. His "Princess Bride" role led to his most famous part, his starring role as Kevin Arnold on TV's "The Wonder Years" (1988-93). After puberty, Savage continued to act occasionally, most memorably as spy Number Three in "Austin Powers in Goldmember," but today, he's busier behind-the-scenes as a sitcom director. Most notably, the 36-year-old has directed several episodes of the current hit series "Happy Endings," on which he also cameo'd last year as himself.

Ivan Simon Cary Elwes first made his mark opposite the equally unknown Helena Bonham Carter in 1985's period drama "Lady Jane." That movie inspired Rob Reiner to cast the 24-year-old as the dashing, steadfast Westley in "Princess Bride." The film made him a star, though his roles afterward tended to alternate between tongue-in-cheek spoofs ("Hot Shots," "Robin Hood: Men in Tights"), straight roles as nice guys who were slightly creepy ("The Crush," "Kiss the Girls," "Liar Liar," "Georgia Rule"), and villainous foils ("Days of Thunder," "Twister"). He earned a new generation of fans with his appearance in the initial "Saw" (2004) and the final installment (2010's "Saw 3D"). Now 49, his most recent appearance was in the notorious flop "The Oogieloves in the Big Balloon Adventure." "Princess Bride" line he is asked to recite daily: "As you wish."

Patinkin was known as a Broadway crooner and leading man whose most notable movie role was opposite Barbra Streisand in "Yentl." He showed a whole new side of himself as revenge-obsessed swordsman Inigo Montoya, still probably the 59-year-old's best-known role. Post-"Princess Bride," he's been best-known for hard-boiled TV roles on "Criminal Minds" and the current "Homeland." "Princess Bride" line he is asked to recite daily: "Hello. My name is Inigo Montoya. You killed my father. Prepare to die."

Playwright Shawn was already known to movie fans for his epic conversational film "My Dinner With Andre," and had played mostly comic roles as a character actor in two dozen other films before "Princess Bride," but his role as self-styled tactical genius Vizzini is his best-known. Younger audiences may know him as debate teacher Mr. Hall in "Clueless" (both the film and the TV series) or as the voice of Rex the dinosaur in the "Toy Story" features and shorts. The 68-year-old will next be seen opposite his "Clueless" co-star Alicia Silverstone in vampire comedy "Vamps," due at Halloween. "Princess Bride" line he is asked to recite daily: "Inconceivable!"

As a child growing up in the French town of Grenoble, Andre Rene Roussimoff was so tall even at 12 that he had to ride to school in a convertible; the only local who had one was "Waiting for Godot" playwright Samuel Beckett. Moving to Paris at 18, he was discovered by a wrestling promoter, who figured correctly that the 7'4" Andre would be a huge draw. During his three decades in the ring, Andre the Giant became one of the most famous and beloved wrestlers of all time. He also did some acting, notably, as Sasquatch in an arc on "The Six Million Dollar Man" and as the horned god Dagoth in "Conan the Destroyer." Cast in what would become his favorite and best-known role, in "The Princess Bride," Andre had a hard time making himself understood in English; he learned all of Fezzik's lines phonetically from a tape of Reiner reading the dialogue. During the shoot, he was in near-constant back pain, the toll from a quarter-century of wrestling, and scenes where he carried Westley on his back or caught the falling Buttercup had to be shot with unseen ramps and cables to support their weight. Andre died of congestive heart failure in 1993 at age 46.

Guest is actually the Right Honourable The 5th Baron Haden-Guest, having inherited the peerage from his father. He befriended Rob Reiner in 1977 when he guest-starred on a flashback episode of "All in the Family" as the college pal who first fixed Mike up with Gloria. As a comic writer/actor, Guest was known for his work "Saturday Night Live" and as guitarist Nigel Tufnel in Reiner's "Spinal Tap." "The "Princess Bride" role of chilly villain Rugen was a complete but memorable departure for him. Afterwards he returned to comedy, writing, directing, and starring in the group-improvisational films for which he is best known, including "Waiting for Guffman," "Best in Show," "A Mighty Wind," and "For Your Consideration." His most recent screen appearance was opposite Ricky Gervais in 2009's "The Invention of Lying." The 64-year-old has been married to Jamie Lee Curtis since 1984, when they wed at Reiner's house.

Before "Princes Bride," Chris Sarandon was best known for his roles in 'Dog Day Afternoon" (which earned him an Oscar nomination) and "Fright Night" (as the vampire next door), and for having given his last name to ex-wife Susan (they were married from 1968 to 1979). The treacherous Prince Humperdinck remains his best-known role, though younger audiences might recognize his voice as that of Jack Skellington in "The Nightmare Before Christmas." He's co-starred often on Broadway and in movies with Joanna Gleason, his wife since 1994. The 70-year-old's recent movie appearances include a cameo in last year's remake of "Fright Night" and this year as the mayor in "Safe."

Falk was a beloved TV institution as detective Columbo and a sly comic presence in movies like "The In-Laws" before signing on as the storytelling grandpa in "Princess Bride." Afterwards, he continued to lend his feisty charm to such films as "Wings of Desire," "Tune In Tomorrow," "Roommates," "The Thing About My Folks," and "Next." He died in 2011 at age 83.

Crystal had cameo'd as a mime/waiter in Reiner's directing debut, "This Is Spinal Tap," and had worked with Guest on "Saturday Night Live." His small but pivotal role as a grouchy wizard in "Princess Bride" put to good use the cranky-old-man shtick he'd been perfecting for years. (Crystal has said he told the makeup artist to strive for a combination of Crystal's grandmother and Casey Stengel.) It also led to his lead role in Reiner's next movie, "When Harry Met Sally." After that landmark film, Crystal became a virtual institution, both a s a bankable romantic-comedy leading man and as the nine-time host of the Oscars. His hit franchises have included the "City Slickers" movies, the "Analyze This" movies, and Pixar's "Monsters, Inc.," whose sequel is due next year. Now 64, he'll play a grandfather of three unruly kids in December's "Parental Guidance." "Princess Bride" line he is asked to recite daily: "Have fun storming the castle."

Kane had been a reliable comic actress for more than a decade, most memorably in her Emmy-winning role on TV's "Taxi" as Latka's (Andy Kaufman) wife, Simka. To play Crystal's equally ancient wife in "Princess Bride," the two actors invented a lengthy backstory for the couple, then ad libbed on the set, ruining many takes because Elwes and Patinkin couldn't stop laughing. After Valerie, Kane played old and witchy again as Grandmama in "Addams Family Values" and as Madame Morrible in the Broadway musical "Wicked," reprising the role in various traveling productions for nearly four years, from 2005 to 2009. The 60-year-old pops up all the time in TV guest spots and movies, most recently in Mike Birbiglia's 2012 indie hit "Sleepwalk With Me."

Cook is generally regarded as one of the founding fathers of the British satirical/sketch comedy boom, having had a profound influence as a writer and performer on everyone from Monty Python to Stephen Fry and Hugh Laurie. He was best known for his comic partnership with Dudley Moore in numerous TV sketch shows, Broadway and West End revues, albums, and movies (notably, 1967's "Bedazzled," where he played a gently matter-of-fact Satan opposite Moore's hapless Faust). When Moore's Hollywood career took off in the late '70s, Cook followed him there, but with less success. The peak of his Hollywood work was his cameo in "The Princess Bride" as the bombastic cleric who tries to marry Humperdinck and Buttercup despite his inability to pronounce the letters R and L. He died in 1995 at age 57.

The son of legendary comic writer/actor Carl Reiner, Rob Reiner had been famous for years as "All in the Family" son-in-law Meathead. He effortlessly transitioned into directing with 1984's "This Is Spinal Tap," the beginning of a remarkable, decade-long run of critical and commercial successes in a variety of genres. "Princess Bride" was his fourth film, followed by smashes "When Harry Met Sally," "Misery," and "A Few Good Men." Reiner began to slip with 1994's "North" and 1995's "The American President," and for the last decade and a half, he's struggled to reclaim his former glory. He had a modest hit with 2007's "The Bucket List," but recent indie films "Flipped" (2010) and "The Magic of Belle Isle" (2012) have struggled to find distribution. Now 65, Reiner also continues to act in cameos in movies and TV; he and Jamie Lee Curtis will be seen later this season on "New Girl" as Zooey Deschanel's parents.