On Friday, "La Bohème" will open the Opera Company of Philadelphia's latest season, as the Puccini opera has nearly every other year since 1898. But this season, the set may upstage the show, thanks to the incorporation of priceless 19th century art.
Throughout the performance, Van Goghs, Renoirs, Manets, and more will be projected in high resolution on the set's backdrop, replacing the standard painted canvas. An onstage LCD screen made to look like a painter's easel will feature them as well.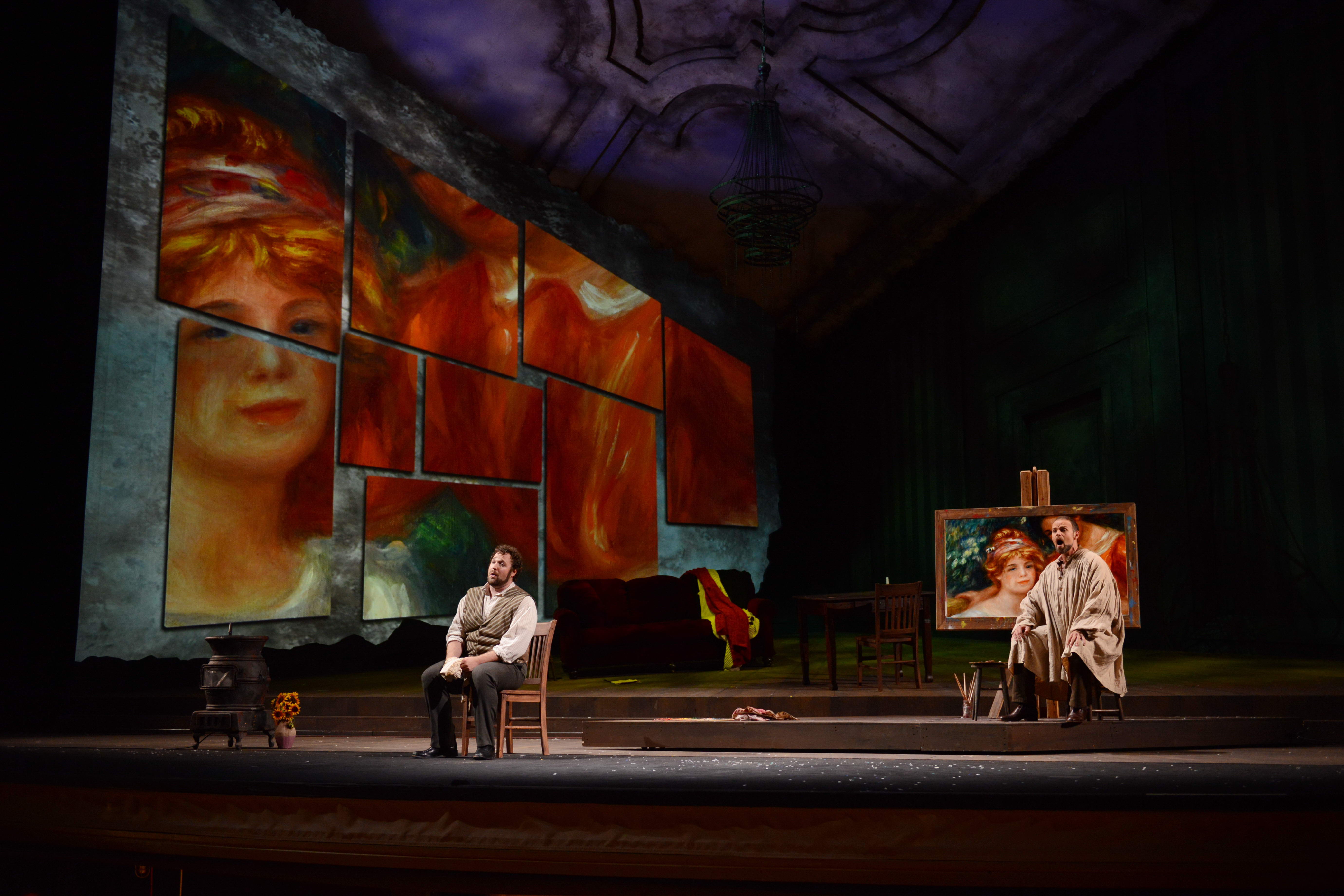 The 30 or so masterpieces were borrowed for the experiment from the Philadelphia Museum of Art and The Barnes Foundation, and transferred into digital Quicktime format. In a phone call with the Huffington Post, David Devan, the Opera's General Director, downplayed the "high-tech" aspect of the design, saying whatever technology was harnessed was done so primarily to "integrate these timeless masterpieces into a largely traditional set."
Devan also said viewers shouldn't expect a "curatorial exposition," but instead, a view into "the essence of what was happening in that part of Paris around that time."
In one instance, a character places sunflowers in a vase, while simultaneously, Van Gogh's famous Sunflowers emerges on the electronic easel behind as a black and white sketch. As the storyline progresses, the painting also evolves, moving from the easel to the backdrop, all the while becoming as yellow as the original painting.
At Monday's orchestra dress rehearsal, the new set drew "ecstatic" reactions, according to Devan.
What do you think readers? Do you like your opera served solo, or are you intrigued by this high art pairing?
CLICK through the slideshow below for a selection of the paintings reworked for "La Bohème":
"LA BOHÈME" at the Opera Company of Philadelphia
Rodolfo (Bryan Hymel) and Mimi (Norah Amsellem) kiss as Van Gogh's Sunflowers, from the collection of the Philadelphia Museum of Art, comes to life behind them.

Vincent Willem van Gogh Sunflowers 1888 or 1889

Renoir's, Tea Time, 1911, from the collection of The Barnes Foundation, appears as Rodolfo (Bryan Hymel) and Marcello (Tory Cook) sing in "La Boheme."

Édouard Manet Le Bon Bock 1873

Jean-Baptiste-Camille Corot Pensive Young Woman 1855–1860

Camille Pissarro Fair on a Sunny Afternoon 1901

Pierre-Auguste Renoir Before the Bath (Avant le bain) c. 1875

Pierre-Auguste Renoir Girl with Pink Bonnet 1894

Pierre-Auguste Renoir Leaving the Conservatory 1876–1877

Pierre-Auguste Renoir Meadow (La Prairie) 1880

Mary Stevenson Cassatt Woman with a Pearl Necklace in a Loge 1879

Pierre-Auguste Renoir Portrait of Misia Sert (Jeune femme au griffon) 1907

Pierre-Auguste Renoir Woman Sewing 1908

Pierre-Auguste Renoir Woman with Fan 1886

Paul Cézanne Portrait of Madame Cézanne 1890-92

Henri de Toulouse-Lautrec Nude Lying on a Couch 1897

Édouard Vuillard Self-Portrait with Sister c. 1892

Photograph from Thursday's dress rehearsal featuring an artwork (in this case, Van Gogh's Starry Night from MoMA). Taken at the start of Act II. Rodolfo and Mimi are seated in the foreground.

Pierre-Auguste Renoir Girl in Gray-Blue 1889 This painting is the inspiration for Mimi's dress.

A sketch of Mimi's dress, inspired by Renoir's Girl In Gray-Blue.
"La Bohème" runs for five performances at The Academy of Music, September 28 - October 7. Catch a free screening at Independence Mall on October 6th. Directed by Davide Livermore starring Norah Amsellem, Bryan Hymel, Troy Cook, and Leah Partridge. Musical director by Corrado Rovaris. Find more information and buy tickets here.