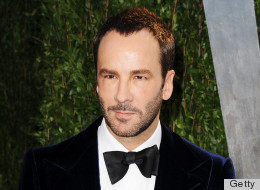 Whatever opinions one has about Tom Ford, there are two things that (in our opinion) can't be argued with: the flawlessness of his white cape dress that Gwyneth Paltrow wore to the Oscars and his ability to give some of the most candid interviews.
Last time we heard from Gucci and YSL's former creative director, he was telling Tom Brady that Gisele Bundchen's modeling days were numbered, so you can imagine how closely we read his latest interview with Vogue UK. As expected, Tom gave his typical no-holds-barred answers. When asked if he'd ever consider going back to working for a fashion house, the designer replied:
Been there, done that. I learned a tremendous amount from my time at Gucci and Yves Saint Laurent, but I was always designing within an existing framework. In launching my own line, I am allowed to only create products that I believe in. Everything at Tom Ford is steeped in my DNA - it would be a step backwards for me now to go and design for another fashion house.
Well, that was a not-so-subtle dig, no? Since Tom started his own line, he's directed a movie, ventured successfully into the cosmetics realm and released a NSFW menswear lookbook, so he's definitely taken this time of independence to stretch his legs. And even though he does give Gucci and YSL a little bit of credit for his success, there's definitely a pretty big diss to the major fashion houses in there. Do you think Tom Ford's comments put him in direct opposition to his former employers?
Click over to Vogue UK for their full-length interview with Tom Ford.
See more fashion people with strong opinions!
Fashion People with Political Opinions
Probably the most high-profile political fashionista, the Vogue editor-in-chief has thrown multiple fundraisers for President Obama, attended a state dinner as a guest of the White House and is counted as one of the president's top donors. (Getty photo)

The supermodel and her husband, Rande Gerber, donated $4,600 to the Obama campaign in 2008, but has reportedly switched her support to Mitt Romney for the 2012 election. (PMc photo)

As president of the CFDA, Diane von Furstenberg has gotten involved with the president's Runway To Win reelection initiative, which includes many CFDA designers, and has been seen wearing an "Obama" button on her clothes. (Getty photo)

The former model is an outspoken Republican and has voiced her opinion publicly on several topics, including Planned Parenthood. "I think Planned Parenthood needs to reassess and look at what their values are, what their mission is, what their goals are, and do they deserve government funding?" she told Fox News in 2011. (Getty photo)

The American model has donated thousands to Democratic candidates, including Hillary Clinton and Barack Obama. She also served as a delegate at the 2000 Democratic National Convention and collected signatures door-to-door for Al Gore.

Stella threw a President Obama-themed tea party back in 2008, complete with cookies with the president's face on them. (WireImage photo)

The outspoken British designer showed up to the "Occupy London" protests in November and has continually voiced her opposition to global warming and excessive consumerism. (Getty photo)

The designer has been a long time activist for gay rights, producing a line of t-shirts aimed at equality, and contributed a design to President Obama's Runway To Win reelection initiative. (Getty photo)

This supermodel is a supporter of President Obama and recently told Howard Stern she was hoping Obama gets re-elected: "I'm living in London and I'm socialist. What do you expect?" (Getty photo)

The Nepal-born designer is a big Obama supporter, telling us once, "My focus is right now on the positive of the campaign, which is to make sure that my support for the president is full, 100 percent." (PMc photo)

The Marchesa co-designer attended President Obama's state dinner last week at the White House. Together with her husband, Harvey Weinstein, she has also opened up her home for Obama reelection fundraising events. (PMc photo)

Jason Wu contributed a design to President Obama's Runway to Win reelection initiative and is a favorite designer of First Lady Michelle Obama. (Getty photo)
Want more? Be sure to check out HuffPost Style on Twitter, Facebook, Tumblr and Pinterest.