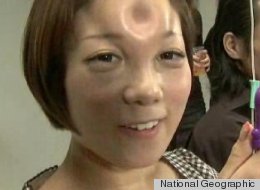 Botox is more ubiquitous than yoga pants in Hollywood. But women (and men) in Asia have been taking part in a different injection "trend" for years: saline bagel-shaped injections on one's forehead.
"National Geographic Taboo" chronicles the bizarre beauty treatment in an upcoming episode set in Tokyo, following three people who opt into the temporary forehead injections which have become a keen part of the Japanese "body modification" art scene.
Here's how it goes down: technicians insert a needle into the forehead and inject about 400 cc of saline to create a forehead-sized blob. (One bagel-ee describes is as feeling like "something's dripping down [his] head" and a "slight stinging sensation.") The practitioner then places his or her thumb into the blob to create the indentation.
For those of us who don't see the appeal in any sort of forehead needles, you can't help but wonder: why in the world would you want a bagel on in your head? A Japanese artist named Keroppy who pioneered the "modcon" body art explained to Vice back in 2009 that it's about innovation: "People who like extreme body modification want to find their own way of doing things, and they're always looking for new ways to do that. The more progressive the scene gets, the more these people have to experiment and go their own way."
Luckily, the bagel-shaped injections aren't permanent; the round protusion fades after about sixteen hours as your body absorbs the saline.
Will this be the new Botox? Catch the episode on National Geographic on Thursday, Sept. 27 at 10 p.m. ET.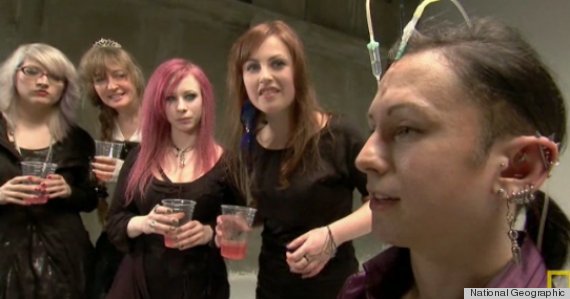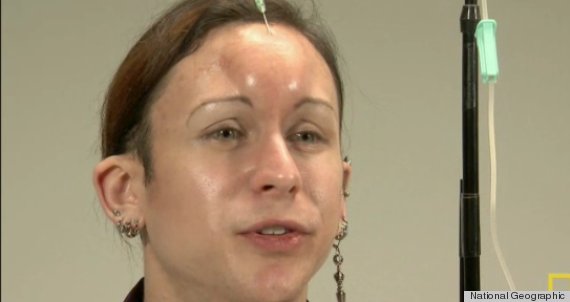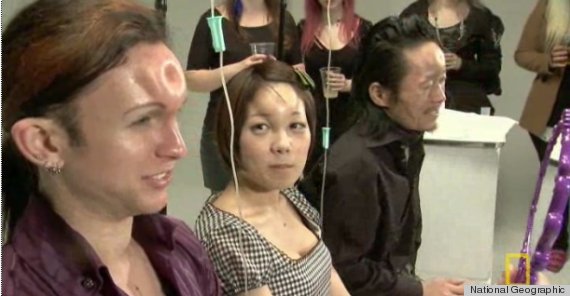 Check out these bizarre celeb beauty tips!
Wacky Celebrity Beauty Secrets
To keep 'em shiny, Zeta-Jones reportedly cerveza-s her strands. "I do condition my hair with honey and beer," the actress has said, according to the Daily Mail. "I smell like the bottom of a beer barrel for days afterwards, but it's very good for the hair."

The Jersey Shorette once chatted with Conan about one of her beauty "tricks" -- using cat litter (yes, cat litter) as an inexpensive exfoliant. According to The Gloss, when the host asked if Snooks had any concerns about the strong chemicals in the litter, she shrugged: "I haven't broke out at all yet."

According to O, The Oprah Magazine, the legendary actress dished on some of her favorite beauty tips in her book "My Way of Life." Her recipe for treating dry hair? A "masque" of mayonaise.

Simpson caught a lot of flack for her questionable teeth-cleaning techniques, copping to forgoing regular toothbrushing in favor of mouth wash and a good ol' swipe with whatever she's got on. Like, on her person. As UsWeekly reports, the crooner turned fashion mogul told iheartradio: "Sometimes, I'll use my sweater!"

According to reports, the actress doesn't just drink wine, she also dips in it. As the Dayton Daily News wrote, Hatcher's been known to dump leftover wine into the tub in order to help soothe her skin. "Wine has a natural skin softener and exfoliant in it, and it just makes you feel luxurious," the oenophile said.

To keep her supermodel looks, Crawford reportedly turns to milk. According to the Daily Glow, she mixes a little with water and sprays it on her face throughout the day.

According to Elle, Beckham is a fan of the so-called Geisha facial -- a.k.a, the bird poop technique. The New York spa that offers the treatment claims that powdered nightingale droppings are used to help exfoliate the skin. It says it was once the preferred technique of geishas.

Heather Locklear told reporters that she uses "semen" on her face as an anti-aging product. While we don't know if she was being completely serious, we do know that some studies have shown semen to contain antioxidants that smooth skin and reduce wrinkles. Who knew?
Want more? Be sure to check out HuffPost Style on Twitter, Facebook, Tumblr and Pinterest.