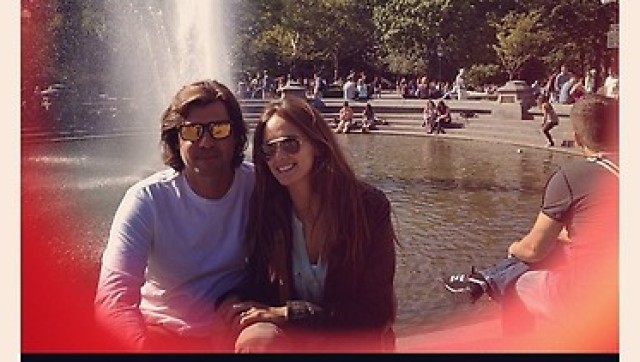 Como si fuera la trama más cursi de una telenovela, en medio de un pleito legal por dinero, tanto Shakira con Gerard Piqué como Antonio de la Rúa con su novia Daniela Ramos, esperan bebés y tendrán tan solo un mes de diferencia. Uno nacerá en Barcelona, España; el otro en New York, Estados Unidos.
Desde hace algunas semanas se viene especulando que el ex de Shakira, estaría también esperando un hijo, pero sonaba como demasiado novelesco para ser real, sin embargo HuffPost Voces pudo confirmar la noticia con un familiar de la pareja de De la Rúa, quien nos aseguró que la DJ colombiana está de cuatro meses de gestación, un mes menos que Shakira.
"Se enteraron hace un mes y medio. Estaban en Miami y Dani se hizo un test de embarazo que dio positivo, fue a ver a un doctor que le recomendaron y le confirmó que estaba embarazada", nos dice nuestra fuente quien además agrega que ambos están muy feliz con la noticia y que tienen planes de boda.
"Cuando nos reunieron a toda la familia para darnos la noticia, Antonio dijo que se casarán antes que nazca el bebé", comparte nuestra fuente.
Aunque ya se sabe que el bebé de Shakira sea posiblemente varón, el de Antonio y Daniela no se ha dejado ver aún, pues este familiar de la modelo le contó a HuffPost Voces que en la última ecografía no se dejó ver, pero que es muy posible que sea una niña.
Luego de haber vivido 10 años de noviazgo y convivencia, hace más de un año Shakira le anunció al mundo que se separaba pero que Antonio de la Rua seguiría en el manejo de la carrera artística. Sin embargo, pronto ella rehizo su vida con el futbolista y él con una DJ colombiana.
Aunque se rumoró que Antonio dejó de trabajar para Shakira cuando se entero que ésta esperaba un hijo de Piqué, nuestra fuente asegura lo contrario: "La decisión de De La Rúa de alejarse de Shakira fue cuando supo que él iba a ser papá".
SUBSCRIBE AND FOLLOW
Get top stories and blog posts emailed to me each day. Newsletters may offer personalized content or advertisements.
Learn more