Savory Pumpkin Recipes For Fall (PHOTOS)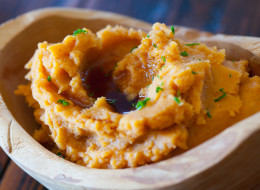 When it comes to pumpkin recipes, there are a number of places your mind can go. Bacon-flavored, pumpkin-spiced coffees, pumpkin pie smoothies, and of course, the iconic Thanksgiving dessert, good ol' pumpkin pie.
While we wouldn't want to live in a world where these pumpkin recipes didn't exist, sometimes savory, hearty pumpkin recipes are more appropriate. There's nothing like a homemade pumpkin risotto to get you excited about fall. And if you can get your hands on this one-ton pumpkin, you can eat all the risotto you want.
Want to read more from HuffPost Taste? Follow us on Twitter, Facebook, Pinterest and Tumblr.
Get the Pumpkin Grilled Cheese recipe from Macheesmo

Get the Creamy Pumpkin Pasta recipe by Bake Your Day

Get the Roasted Cheese Pumpkin recipe from Food52

Get the Pumpkin Chowder recipe by Newly Weds

Get the Pumpkin Ricotta Gnocchi recipe from Simply Recipes

Get the Pumpkin Fritters with Rosemary and Cheese recipe by What About Second Breakfast

Get the Kaddu Ki Sabzi (Indian Pumpkin Stew) recipe from Veg Recipes of India

Get the Pumpkin Bites recipe

Get the Pasta Al Forno with Pumpkin and Pancetta recipe from Food52

Get the Pumpkin Empanadas recipe from Food52

Get the Pumpkin and Lentil in Tomato Sauce recipe by Chef In Disguise

Get the Savory Pumpkin Basil Cheesecake Spread recipe by Peas & Crayons

Get the Pumpkin Gratin with Comté Cheese recipe from Manger

Get the Pumpkin Cheddar Muffins recipe by Katie At The Kitchen Door

Get the Pumpkin Risotto recipe by Girl Makes Food

Get the Golden Trio Chipotle Soup recipe by Healthy Happy Life

Get the Pumpkin Pizza recipe by That's So Michelle

Get the Afghan Sweet and Savory Braised Pumpkin recipe by Veggie Belly

Get the Pumpkin Chili recipe by Sweet Pea's Kitchen

Get the Pumpkin and Corn Soup recipe

Get the Pumpkin and Sweet Onion Quesadilla recipe from A Beautiful Mess

Get the Pumpkin Mashed Potatoes recipe from Steamy Kitchen

Get the Pumpkin Tortellini with Sage recipe

Get the Roasted Pumpkin, Sesame & Coconut Bisque recipe from Food52

Get the Pumpkin Challah recipe by Savory Simple