Minnetonka Moccasins is accusing Target of knocking off its signature shoes.
On Tuesday, the Minneapolis-based company whose earthy moccasins have been spotted on the likes of Kate Moss and Lindsay Lohan sued Target for trademark infringement.
In court filings, Minnetonka claimed Target copied its iconic "Thunderbird" design, a small, beaded bird on the shoe's toe. Minnetonka has been using the "Thunderbird" on its products for 40 years, the company said.
But according to the lawsuit, just months before Target came out with its moccasin in early 2012, the discount chain approached Minnetonka with a business proposal: selling Minnetonka moccasins in Target stores. Target, which is also based in Minneapolis, "made multiple proposals ... offering 'prime real estate on the floor' of Target stores for the moccasins made by Minnetonka," the shoe company wrote in its initial complaint.
Though Minnetonka turned Target down, many other trendy fashion brands have accepted. Target has managed to cast itself apart from big box stores like Walmart by emphasizing design and negotiating regular collaborations with luxury labels like Jason Wu, Rodarte and Missoni. This year, Target launched a new concept called the "Shops at Target" , giving space in its stores to hip boutiques like New York City's Odin and San Francisco's The Curiosity Shoppe.
But the company has also been called out in the past for ripping off collaborators.
Proenza Schouler, a luxury label that designed a collection for Target in 2007, criticized the company in 2011 for coming out with a $35 Mossimo bag that looked similar to its PS1 messenger bag, which sells for $1,695 or more.
It's not clear exactly why Minnetonka rejected Target's proposal or what kind of collaboration (if any) Target wished to initiate. Minnetonka did not immediately respond to requests for comment Friday afternoon. In an email, a Target spokeswoman said that the company did not comment on pending litigation.
As of Friday, the moccasins were no longer for sale on Target.com.
In a complaint filed in Minnesota federal court, Minnetonka compares its shoes to Target's moccasins: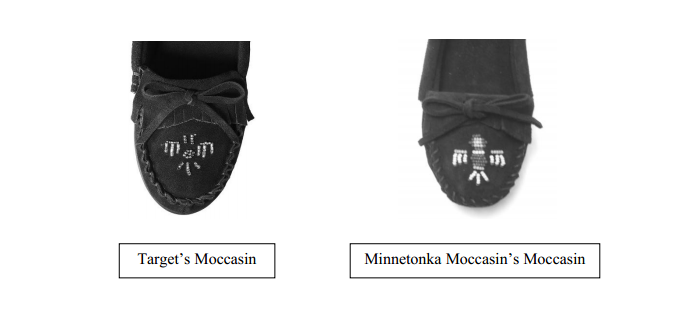 (Photo from court documents)
Also on HuffPost:
Loading Slideshow
Chick-Fil-A - Gay Marriage

After it was discovered that <a href="http://www.huffingtonpost.com/2012/07/02/chick-fil-a-anti-gay-group-donations-_n_1644609.html" target="_hplink">Chick-Fil-A had donated over $2 million to anti-gay organizations</a> in 2010, the fast food chain quickly found itself in a PR disaster thanks to its leader's stance on gay marriage. CEO Dan Cathy's "<a href="http://www.huffingtonpost.com/2012/07/17/dan-cathy-chick-fil-a-president-anti-gay_n_1680984.html" target="_hplink">guilty as charged</a>" response to the anti-gay accusations were quickly <a href="http://www.huffingtonpost.com/2012/07/25/thomas-menino-boston-mayor-chick-fil-a-letter_n_1703770.html" target="_hplink">matched by Chick-Fil-A</a> denouncements and protests <a href="http://www.huffingtonpost.com/2012/08/01/chick-for-gay-sandwich-the-abbey-chick-fil-a-appreciation-day_n_1729433.html" target="_hplink">across the country</a>.

Ralph Lauren - Offshore Manufacturing

Ralph Lauren became the center of a debate on offshore manufacturing when it was discovered that the <a href="http://www.huffingtonpost.com/2012/07/12/usa-olympics-uniforms-china-harry-reid-ralph-lauren_n_1669661.html" target="_hplink">uniforms it supplied for the 2012 U.S. Olympic team were made in China</a>. Amid high unemployment and a struggling U.S. manufacturing sector, both Ralph Lauren and the Olympic committee were roundly criticized by Congress.

Village Voice Media - Child Sex Trafficking

Backpage.com, a popular online destination for escort services owned by Village Voice Media, has been <a href="http://www.huffingtonpost.com/huff-wires/20120729/us-backpage-lawsuit/" target="_hplink">repeatedly accused of enabling child sex trafficking</a> via its classified ads. In response, <a href="http://www.huffingtonpost.com/2012/05/07/village-voice-sex-trafficking_n_1495225.html" target="_hplink">27 companies, such as Best Buy and Starbucks</a>, have pulled advertisements from Village Voice publications.

Wells Fargo - Discriminatory Mortgage Lending

Wells Fargo, the nation's largest residential home mortgage originator, has been accused of <a href="http://www.huffingtonpost.com/2012/07/12/wells-fargo-settlement_n_1668380.html" target="_hplink">predatory and discriminatory lending practices toward black and hispanic customers</a>. In July 2012, the bank paid $175 million in a settlement over allegedly unfair loans it made between 2004 and 2009.

Monsanto - Farmer Exploitation

Agricultural biotechnology corporation Monsanto has been accused of <a href="http://www.huffingtonpost.com/2012/06/18/monsanto-brazil-soybean-farmers_n_1606267.html" target="_hplink">exploiting farmers</a> in a variety of ways in several countries, including Argentina, Brazil and India. A lawsuit is currently pending over <a href="http://www.huffingtonpost.com/2012/07/24/monsanto-migrant-workers_n_1697967.html" target="_hplink">poor working conditions for its farmers</a>, while its promotion of genetically modified cotton and soy beans has <a href="http://www.nature.com/news/monsanto-may-lose-gm-soya-royalties-throughout-brazil-1.10837" target="_hplink">allegedly caused significant problems for local farmers</a>.

Apple - Foreign Working Conditions

After a <a href="http://www.huffingtonpost.com/2010/05/21/foxconn-suffers-ninth-sui_n_585325.html" target="_hplink">rash of worker suicides at Foxconn</a>, the Chinese manufacturer responsible for making some Apple products, the California technology company was broadly criticized for <a href="http://www.huffingtonpost.com/2012/03/07/apple-foxconn-scandal_n_1325930.html" target="_hplink">exploiting cheap foreign labor</a>. An ensuing audit by Apple found that Foxconn had violated Chinese labor laws, <a href="http://www.huffingtonpost.com/2012/04/01/foxconn-pay-raises_n_1394431.html" target="_hplink">leading the company to pledge to increase pay and reduce worker hours</a>.

Domino's - Gluten-Free Pizza

Domino's raised the ire of those with Gluten allergies and celiac disease when it began advertising a pizza with gluten-free crust. Critics say that since the dough was made alongside Domino's regular crust, it often <a href="http://www.foxnews.com/health/2012/05/16/domino-gluten-free-pizza-crust-stirs-up-controversy/" target="_hplink">still contained gluten and could cause allergic reactions </a>, Fox News reported.

Walmart - Sex Discrimination

In a massive class-action lawsuit, <a href="http://www.huffingtonpost.com/2011/06/20/supreme-court-wal-mart-ruling_n_880348.html" target="_hplink">Walmart was accused of denying pay raises and promotions to female employees</a> based on gender. The Supreme Court ultimately sided with Walmart in June 2011, saying female employees couldn't constitute a class, but a subsequent <a href="http://www.huffingtonpost.com/2011/03/28/walmart-sex-bias-suit-hea_n_841335.html" target="_hplink">lawsuit has now been filed by around 2,000 employees based on similar claims</a>.

Girl Scout Cookies - Rain Deforestation

Girl Scouts of U.S.A. <a href="http://www.huffingtonpost.com/2011/05/23/girl-scout-cookies-palm-oil_n_865472.html" target="_hplink">were criticized for contributing to destruction of the rain forest</a> when two scouts petitioned the organization to cease using palm oil in their cookies. The oil is often harvested at plantations made by clearing rain forest acreage.

Gap - Child Labor

Gap, the largest U.S. apparel retailer, found itself in the middle of a media firestorm in 2007 when it admitted it may have <a href="http://abcnews.go.com/WN/story?id=3787304&page=1#.UBq7X8ie42I" target="_hplink">unknowingly used child labor in India for the production of one of its clothing lines</a>, ABC News reported.

Pepsi - Environmental Impact

In 2003, <a href="http://www.nytimes.com/2003/05/21/business/protests-in-india-deplore-soda-makers-water-use.html?pagewanted=all&src=pm" target="_hplink">Pepsi found itself in trouble over its use of water at bottling plants in India</a>. In a nation plagued by frequent water shortages, Pepsi was accused of diverting water away from citizens to make its product, the <em>New York Times</em> reported.

Taco Bell - Genetically Modified Food

Taco Bell set off a debate on the merits of genetically modified food in 2000 when it was found that its store-bought <a href="http://archives.cnn.com/2000/FOOD/news/09/18/food.corn.reut/index.html" target="_hplink">taco shells were made from a type of modified corn only approved as animal feed</a>, CNN reported.

Camel Cigarettes - Teen Smoking

Camel cigarettes was targeted for <a href="http://articles.nydailynews.com/1998-10-09/news/18082642_1_joe-camel-tobacco-ads-smokers" target="_hplink">contributing to teen smoking in the late '90s</a> when a report found that the number of American youths smoking daily had increased 73 percent from the company's debut of corporate mascot Joe Camel in 1998 until 1996, the New York <em>Daily News</em> reported.

Nestlé - Breastfeeding

Nestlé was accused of endangering babies in third world countries in the 1970s and 1980s by <a href="http://www.nytimes.com/1988/10/05/business/boycott-of-nestle-to-resume.html" target="_hplink">promoting infant formula that posed health risks</a> not found in traditional breastfeeding, <em>The New York Times</em> reported.