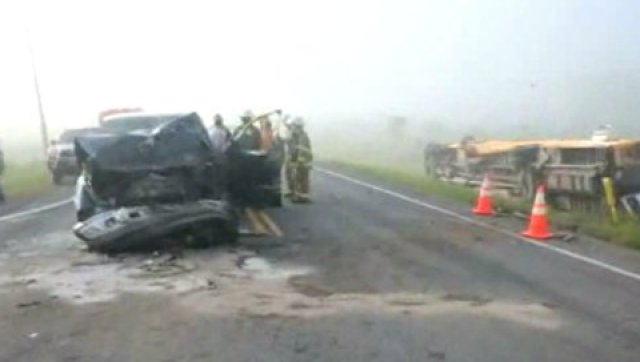 What was supposed to be a normal morning ride for students in Gorham, N.Y., turned dangerous when the school bus collided with an oncoming truck.
When the school bus hit an oncoming pickup truck, Scheutzow lost control of the wheel and the bus flipped over onto the side of the road.
"I was nervous and scared," Abbey, a fifth grader, told ABC News. "I didn't know what happened. A lot of kids cried. I was really, really scared."
That was when the older students sprang into action, systematically rescuing the younger students from the damaged vehicle.
"They were crying and panicking," Luigi, a senior, told ABC News. "They were all around the exits trying to get out. I was trying to calm them down so I could get them out in an orderly fashion."
Luigi also cut Scheutzow free; she was hanging sideways from the bus, restrained by her seatbelt.
Michael Chirco, the Marcus Whitman Central School District superintendent, says the actions of the older students on the bus were heroic.
"The older students really took a hand and did what they knew they had to do," Chirco told ABC News. "It all ended all positive and we have young heroes."
Watch the video below, courtesy of ABC News.
Correction: An earlier version of this story said that accident turned "deadly." However, no one was seriously injured in the incident and the story has since been amended.
SUBSCRIBE TO & FOLLOW THE MORNING EMAIL
The Morning Email helps you start your workday with everything you need to know: breaking news, entertainment and a dash of fun. Learn more