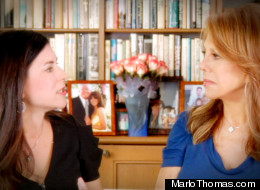 When Carrie Goldman, parenting expert and author of "Bullied", joined me on Mondays with Marlo I had to ask her what she thought the first step was in putting an end to bullying. Carrie's answer was simple: all parents need to get involved with their children's school.
For more ideas and tips on how you can get involved in ending the bullying epidemic, check out some of Carrie's top tips:
Carrie Goldman's Bullying Tips For Parents
Unfortunately, the parents of most bullies are in denial. Prevent your child from becoming a bully by having a consistent, non-authoritarian parenting style. Listen closely to what your child says and be aware of what is going on in their everyday lives.

Monitor what your kids are watching on TV. Reality-based TV teaches kids that being mean gets you what you want. Bullies see their targets as "others," not as people, so kids should be taught empathy at a young age.

Volunteer at your child's school, ideally, at lunchtime or during recess. This is where a lot of bullying occurs. If you're not available during the day, you can volunteer in the evenings or after school and use this time to have discussions about bullying with other parents.

If your child is suddenly withdrawn, sad or doesn't want to go to school, they may be a victim of bullying. A lot of girls turn to cutting or eating disorders to deal with their pain. Your child probably won't want to see a counselor, but you're the parent and you need to help even if your child doesn't want to be helped.

More than 50% of bullying actions will stop within 10 seconds if someone intervenes. Bullies feed off of bystanders. If you or your child witness an act of bullying: Become a witness: Go to the school, and tell them what you or your child saw. Become an ally: Even if your child is afraid of being taunted for showing support to the victim in front of other kids, he or she can send a text message or email to the bullied child later that evening. Kids who are bullied feel isolated, so even a small action like this can make a big difference

Take screenshots of online bullying, so you can report it to the school, or even the police if the situation continues to escalate.

Enroll your child in local martial arts classes. They can learn defensive postures and how to protect themselves. Kids who learn these skills carry themselves more confidently and this might help them become less likely targets.

If you have a child who is being bullied and the teacher is dismissive, go to the principal. If the principal is dismissive, go to the school board. If you have evidence, they will take the matter more seriously because ultimately, you can go to the police.

Recent studies have shown that over time, children's brains change and become more sensitive to bullying. They become more fearful, anxious, and smaller triggers can create the same response, much like post-traumatic stress. Later in life, as adults, many of these children have trouble functioning in society as a result of bullying endured at an early age.

Create a family contract on how you're going to responsibly use all of the technological devices that your children have access to. Go to www.fosi.org/resources, for the Family Online Internet Safety Contract. You can also visit CarrieGoldmanAuthor.com, to find guidance and sample agreements.

Accepting a verbal taunt will take the power of the bully away. If someone says you're overweight, say, "Yes, you're right. I'm overweight." Using humor is very helpful.

Don't accept blame; say to yourself, "I'm fine." Compliment the bully, and ask the bully for help. For example, you could say, "You're right. I am a bad speller. Can you help me with that?" This will catch them off-guard.

1. Witness it - Pay attention to what is going on your child's life. 2. Document it - Gather evidence: take photographs, save damaged property, or even write the incident and date in a journal. 3. Re-frame it - Take care of your child psychologically; help them find a support group where they feel they can belong.
Add Marlo On Facebook:
Follow Marlo on Twitter:

Weekly Newsletter

Sign up to receive my email newsletter each week - It will keep you up-to-date on upcoming articles, Mondays with Marlo guests, videos, and more!

Sign up here