Nicki Minaj is the latest celebrity to hop on the trend of revealing their real tresses to the world.
The fashion risk-taker, who is known for her endless collection of rainbow colored wigs, revealed a few long locs of her "chemical and perm free" hair on twitter. The move is kind of shocking for the 'Pink Friday' MC whose constantly changing personas always come equipped with an outrageous new hair color.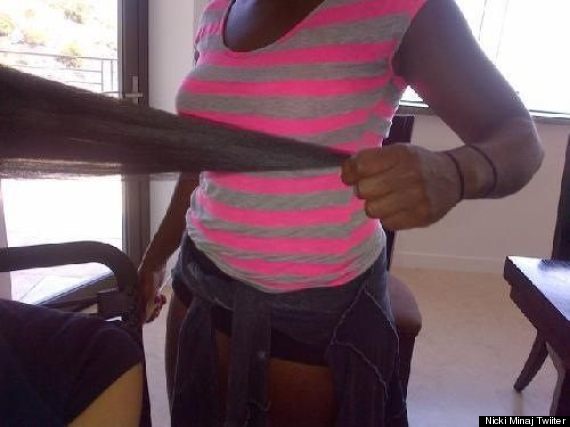 We can't lie, we've been quite curious about what exactly lies under Nicki's enigmatic hair pieces. We're excited to get a peek of Nicki's real hair but we're hoping she'll eventually wear it as proudly as she wears her neon hued 'dos. We loved Oprah's epic natural hair reveal and we definitely think Nicki could pull it off. Maybe Nicki's rumored reality show will give us a more full look at her beautiful natural mane.
Here's a look at Nicki's real hair reveal--and some of her wildest fashion moments in the slideshow below.

@NICKIMINAJ

Nicki Minaj
No chemicals. No perm
Nicki Minaj's Wildest Fashion Moments
This image released by Starpix shows singer and newly named "American Idol" judge Nicki Minaj at Macy's Herald Square to launch her new fragrance, "Pink Friday," Monday, Sept. 24, 2012, in New York. (AP Photo/Starpix, Amanda Schwab)

FILE - This Aug. 14, 2012 file photo shows Nicki Minaj performing on NBC's "Today" show in New York. A source close to Minaj said the singer-rapper has been in talks to judge "American Idol" and that a deal is in works. The person was not authorized to publicly discuss details and spoke on condition of anonymity. (Photo by Charles Sykes/Invision/AP, file)

Nicki Minaj arrives at the MTV Video Music Awards on Thursday, Sept. 6, 2012, in Los Angeles. (Photo by Jordan Strauss/Invision/AP)

Trinidadian singer, Nicki Minaj, poses for photographers to coincide with release of her latest album 'Pink Friday: Roman Reloaded' at a central London venue. Thursday, April 19, 2012. (AP Photo/Jonathan Short)

Trinidadian-born U.S rapper Nicki Minaj performs on stage at the 2012 Wireless Music Festival in Hyde Park, central London, Saturday, July 7, 2012. (AP Photo/Joel Ryan)

"American Idol" Season 12 judge Nicki Minaj arrives for day one auditions at Jazz at Lincoln Center on Sunday, Sept. 16, 2012 in New York. (Photo by Evan Agostini/Invision/AP)

In one of her craziest accessories moments yet, Nicki wore bright red wellies and a pink plastic fried chicken necklace to the iHeartRadio Music Festival in Las Vegas.

Nicki wore this leopard-print getup and fuzzy cat hat to the Spring 2012 Oscar De La Renta show at Mercedes-Benz Fashion Week in New York. Me-ow!

For the Spring 2012 Carolina Herrera show, Nicki sported this seemingly glued-together pom-pom top with a cheerleader-style skirt and lime green tights.

Nicki showed up to the Prabal Gurung fashion show wearing a pink plastic pretzel necklace, bikini top, and tutu, topped off with a giant bow-slash-bridal-veil.

At the Cash Money Records' Lil Wayne album release party for Lil Wayne's Tha Carter IV, Nicki looked Barbie-esque in a long blonde wig, pink dress, and colorful bangles.

Nicki Minaj arrives at the 2011 MTV Video Music Awards wearing a surgical mask (among other oddities) made by one of her favorite Japanese designers, Shojono Tomo.

Before she wore the infamous fried-chicken necklace and rainboots combo, Nicki accessorized with real fried chicken and an umbrella-like skirt.

Nicki looks soft and pretty in a pink wig and baby-blue jumpsuit at the 2011 Billboard Music Awards.

Nicki shows up at an LA event totally decked out in denim.

Looking like some sort of futuristic pink teletubby, Nicki wears this rainbow spandex number with fuschia slouchy boots to perform onstage for Lil Wayne's "I Am Still Music" tour.

In one of her more understated moment, Nicki wears a fitted gray blazer, printed tights and sky-blue stilettos to the National Basketball Players Association (NBPA) All-Star Gala.

When Nicki showed up at the Grammy's rocking bride of Frankenstein hair and a cavewoman-style animal-print getup, a rule-breaking fashion star was born.

One of Nicki's major red carpet moments was when she showed up at the 2010 American Music Awards in this coral dress with skeleton accents and green-tipped hair.

Nicki looked sixties chic in a blunt-cut bob and white shift while visiting BET's 106 & Park.