When it comes to controversial fashion, we try not to be too sensitive. But sometimes we can't believe what we're seeing.
While out and about in Los Angeles on Monday, Brenda Song (of "The Suite Life on Deck" fame, for those of you not up on your former Disney stars) chose a top that definitely merited a second look. The actress' tee depicted the word "OFFENDID" along with two F's arranged back to back, creating the optical illusion of a swastika.
Again, we don't like to nitpick, but wouldn't it be a good idea to steer completely clear from Nazi imagery if you're in the public eye? After all, Brenda just recently ended a pretty public relationship with Miley Cyrus' brother Trace, complete with a baby-bump watch and a broken engagement, so she hasn't been entirely out of the press since her Disney heyday.
More importantly, what exactly is the message? The shirt comes from the retailer UNIF, but it's hard to tell what exactly is meant to come across here. Take a look at the photo below and tell us what you think. Are you offended by Brenda's tee?
PHOTO: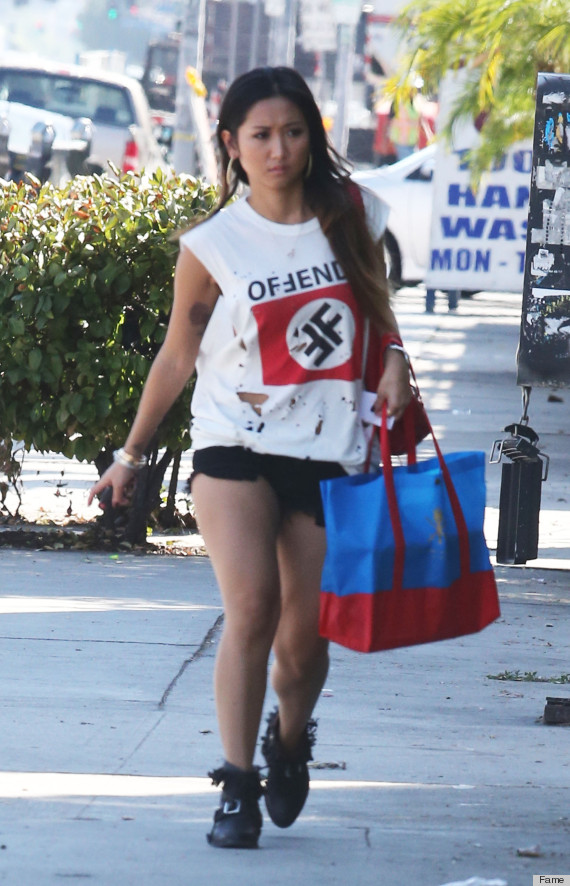 See more controversial fashion items!
St. Patrick's Day-themed SB Dunk Low "Black and Tan" sneakers by Nike incite outrage from Irish community.

As part of the brand's "Far East" collection, the "Sexy Little Geisha" outfit came complete with a removable obi belt.

"Eat Less" t-shirts aren't well received by, well, most people.

"Truly Madly Deeply Kiss Me" t-shirt offends Irish groups.

Asian caricature t-shirts caused outrage in California.

Some Irish groups aren't pleased with this "Irish Yoga" trucker hat.

Retailer gets in trouble for its "Jewish Star" t-shirt.

"Wink Wink" and "Eye Candy" thongs for 10-year olds isn't a hit with all parents.

"New Mexico, Cleaner than Regular Mexico" t-shirts didn't go over well. (AP photo)

Ditto this "Truly Madly Deeply Irish Drunk" scoop tank.

"Color for the hair down there" is not received well.

"How to catch an illegal immigrant" shirt

"Cuntier" hats spoof Cartier logo.

Jeremy Scott designed these "handcuffs" sneakers for Adidas. However, after many complained that the cuffs looked more like shackles, Adidas canceled its plans to sell the shoes.

Urban Outfitters thought it was a good idea to sell this shirt to its young demographic (with a lot of them being younger than 21).

Skin-lightening wash targets consumers with dark colored privates.
Want more? Be sure to check out HuffPost Style on Twitter, Facebook, Tumblr and Pinterest.