Just a few days ago, a couple of Google Maps images surfaced, showing what appeared to be reddish-pink UFOs in the skies above Texas and New Mexico.
With the help of photo-video analyst Marc Dantonio, The Huffington Post dismissed these pink alien wannabes as simple lens flares from the cameras that show images from across the country, helping folks locate specific addresses, towns and intersections.
And now, these flying saucer-shaped items are all over Google. Many HuffPost readers sent in street-view images of an apparent invasion of pink lens flares in the U.S.
While the main story image, above, may, at first glance, appear to be a pink flying saucer skimming along the atmosphere of Earth, here's what the full picture looks like, in all its rural glory: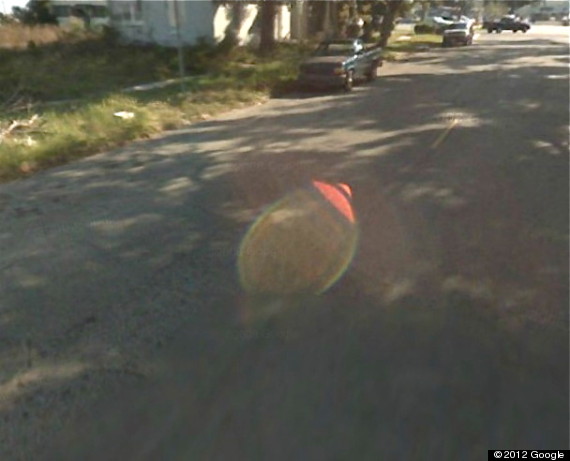 "Not only was the lens flare the same color, but it was actually more complete (as in more visible), as well," Dantonio told HuffPost in an email.
"In this image [of the lens flare near the ground], you can see even more brighter detail. Notably, you can also see that the sun itself in the image has a halo of reddish light around it as well. This is likely due to the overwhelming brightness causing scattering and lens effects."
Despite the clear explanation offered for the images, on Saturday, the website ringsidereport.com called this simple lens flare activity a "UFO Shocker" and turned to "UFO expert" Russell Tetrault, who declared:
"Without question, this is a legitimate craft. It is not a reflection or anything like that. That's nonsense. There have been multiple UFOs spotted using this very program and now here's another and perhaps the most compelling. This craft is something that I have never seen before ... so what does that mean? Does this mean that we have a different sort of visitor or a new manmade craft? Whatever it is, it is 100 percent there."
Without question? Hardly.
The following video, posted to YouTube by HoaxKillerFriend, gives an excellent visual analysis of what's going on with all of these lens flares -- NOT UFOs.
Check out more pink lens flares that inhabit Google Maps
Loading Slideshow
Melbourne, Australia, Feb. 2013

This is a composite image of how three alleged UFOs maneuvered about in the sky over Melbourne, Australia, in early February, 2013. The final verdict isn't in yet on whether they're birds, aircraft, balloons, bugs or something truly unidentified.

Lanterns

These candle-lit Chinese lanterns can rise high into the sky and are often mistaken for UFOs.

Exploding Weather Balloons, Not UFOs

On Dec. 20, 2012, a bright, circular object (pictured at the top of this composite image) was videotaped exploding in the skies above Sacramento, Calif. It wasn't immediately identified, resulting in speculation that it was either an alien spacecraft, military top secret weapon, runaway planet, North Korean satellite, among others. Within a short period of time, it became apparent that this was a weather balloon. The bottom part of this image shows such a balloon as it ascended over Tampa Bay, Fla., on July 2, 2012, and exploded in an identical manner as the Sacramento object, probably much to the dismay of all true ET believers out there.

Boomerang UFO composite images -- 10-5-12

This is a composite of images shot by two eyewitnesses of a boomerang-shaped UFO they reported seeing over their Burbank, Calif., home on Oct. 5, 2012. Mutual UFO Network photo/video analyst Marc Dantonio concluded the object was likely "a balloon, floating on the wind that has collapsed in half."

Changing UFO Pattern -- Warren, Mich. 1-10-13

This four-image series of lights in the sky was recorded over Warren, Mich., on Jan. 10, 2013. The lights were seen changing into several patterns. The most logical explanation for these types of UFOs is a series of balloons or lanterns.

UFOs Over Earth

This composite image shows four different times that alleged UFO were photographed above Earth by either space shuttles or the International Space Station. The big question is whether or not they are truly unidentified objects or if they are more likely reflections from spacecraft windows, meteors or fast-moving spacecraft-generated debris.

Pink UFOs Or Lens Flares?

What appear to be pink-red UFOs are actually lens flares from the Google Earth street view camera as it snapped images in Texas (left) and New Mexico (right).

Lens flares Arizona

These two flying saucer-shaped, pink-colored lens flares were created by the Google Maps camera as it drove through locations in Sedona, Ariz. (left) and Flagstaff, Ariz. (right). The images were snapped in April 2009. Submitted to HuffPost by trenna.

Lens flare Whiteriver, Ariz.

This skybound lens flare was created by a Google Maps camera in June 2008 over Whiteriver, Ariz. Submitted to Huffington Post by Cheryl Weeks.

Lens flare Gulfport, Miss.

This very Earthbound lens flare was created by a Google Maps camera in November 2007 at Gulfport, Miss. Submitted to Huffington Post by Jenni Parker.

Lens flare Eureka Springs, Ark.

This seemingly grounded lens flare was created by a Google Maps camera in January 2008 at Eureka Springs, Ark. Submitted to Huffington Post by SE.

Lens flare Escanaba, Mich.

This lens flare appears to be following a car. The Google Maps image was created in October 2008 at Escanaba, Mich. Submitted to Huffington Post by Mary Robinson.

Cincinnati Skydivers NOT UFOs Sept. 28, 2012

On the night of Sept. 28, 2012, a group of strange-looking lights appeared in the sky near Cincinnati, Ohio. First there was one, then, two, then three lights, slowly descending. It turns out, however, that these lights were originating from a group of skydivers performing a pyrotechnics jump at the La Salle High School homecoming event.

Weather Phenomenon

Some UFO sightings may be due to a natural phenomenon known as sprites, like this one shown from 2006. "Lightning from [a] thunderstorm excites the electric field above, producing a flash of light called a sprite," said geophysicist Colin Price.

Clouds

Clouds: Saucer-shaped or "lenticular" clouds that form at high altitudes have been confused with UFOs.

Blimps or Advertising Balloons

Blimps or advertising balloons: These can look like flying saucers from some angles, especially at night.

Sunken Ship in the Baltic Sea

On June 19th the Swedish-based diving company Ocean Explorer discovered something they've never quite seen before. They were exploring in the Baltic Sea between Sweden and Finland looking for sunken treasures when a very unusual image suddenly appeared on the sonar. A 197 feet diameter cylinder shaped object was discovered at the depth of approximately 275 feet which resembles the Millennium Falcon from the movie Star Wars.

Baltic Sea UFO 1

An image released on June 15, 2012, shows a close-up view of the unidentified object sitting on the bottom of the Baltic Sea.

Baltic Sea UFO 2

Close-up of rock bed that forms the Baltic Sea UFO, which still mystifies researchers.

Baltic Sea UFO 3

One of several odd stone circle formations, sitting on top of the unidentified object at the bottom of the Baltic Sea.

Antarctic UFO -- Aug. 10, 2012

A circular UFO hovers above the Neumayer-Station III research facility in Antarctica on Aug. 10, 2012. Theories ranging from a simple weather balloon to a more elaborate ship from another planet have run the Internet gamut. The next slide shows a closeup of the object.

Antarctic UFO Closeup -- Aug. 10, 2012

This is a closeup of the UFO from the previous slide. No official explanation has been offered about the object.

Manufactured UFO -- 2011

Pictured is a quad copter -- a deliberately manufactured UFO created by special effects wizard Marc Dantonio for a National Geographic special, "The Truth Behind: UFOs," which aired in December 2011. On the left is what the small device looks like resting on the ground, measuring 4 feet in circumference. At right, is how it appeared behind a tree in the night sky.

Police Dashboard Camera In Texas

In February of 2012, this fireball was captured by a Texas police chief's A dashboard camera. F.A.A. say this was probably a meteor, falling to Earth. .

Meteors

Meteors: Space debris can create a spectacular light show when it burns through the Earth's atmosphere, and sometimes reported as UFOs.

Civilian or Military Aircraft

Civilian or military aircraft: Planes can look mysterious at night or in certain light conditions, thus confusing an observer.
Loading Slideshow
Baker Lake, NU, the Inuit nation in northern Canada

A man indentified as "Dr. Boylan" believes that the blacked out area seen above and those found in several other locations are blocking the locations of extraterrestrial beacons.

Ramstein Air Force Base, Germany

This NATO air force hub is a retreat for the Operation Iraqi Freedom forces, and as such could definitely be considered a terrorist target. That could explain why the facility is partially blanked out on Google Maps.

Pacific Northwest, USA

Here's one that gives us chills. What exactly are we not seeing here? The site is close to the Washington-Oregon border and is rumored to have something to do with FEMA, HAARP or, really, anything at all. Prison Planet readers inspected the site in person and could find no identifying details other than an ominous fence and unmarked entrance.

Szazhalombatta Oil Refinery, Hungary

One of the strangest acts of alleged "censorship" is this Hungarian oil facility, which is simply rendered green. That's right — the grounds are deleted, the buildings are missing, and what you have left is flat grass.

Huis Ten Bosch Palace, Netherlands

You wouldn't think the Dutch Royal Family would be a prime target for madmen, but the Huis Ten Bosch Palace remains heavily pixilated on Google Maps no matter the angle. (The surrounding area and trees therein, on the other hand, come in crystal clear at close range.)

Unknown area, Russia

Another one that is so mysterious, no one has a clue what it is. One commenter on the website Siberian Light speculates it's either "a radar station or missile interceptor," while another notes that the image of the surrounding area appears to have been copy-pasted from another part of the country.

Mobil Oil Corporation, Buffalo, NY, USA

Some have criticized Mobil of Buffalo, NY for blurring their facilities, saying the oil corporation doesn't have much of a case for being a terrorist target (terrorists hate snow, you know.) On the other hand, we can't be sure what their reasoning is.

North Korea

You've no doubt heard about this country, one of the members of the supposed "Axis of Evil," but few have ever visited. You won't see it on Google Maps, either, as the entire country exists in images but without highway markers, street names, or any other identifying details.

Reims Airbase, France

Why is the Reims Airbase in France blocked out? Perhaps it emits a particularly foul body odor. (Just kidding, we love the French.)

Indian Point Power Plant, New York, USA

Everyone from Democratic Governor Mario Cuomo to former Republican Congresswoman Sue Kelly has called for the Indian Point Power Plant to be shut down. On top of environmental concerns, the upstate New York structure is, according to experts in the energy field, not strong enough to withstand an earthquake like the one that recently devastated Japan.

Volkel Airbase, Netherlands

It's pretty ridiculous how blatantly blurred this one is, but then again, WikiLeaks did publish a diplomatic cable that confirmed the presence of nuclear warheads at this base.

HAARP Site, Gakona, Alaska, USA

HAARP (High Frequency Active Auroral Research Program) is one of the most controversial operations currently active in the United States. The Gakona, AK site and its ionospheric testing is believed by some conspiracy theorists to be the cause of everything from floods to earthquakes, although the evidence of this is very minimal.

Mazda Raceway Laguna Seca, Salinas, CA, USA

Here's the strangest bit of censorship on Google Maps: the Mazda Raceway Laguna Seca in Salinas, California. It's heavily whited out, in fact, as if an angry hand did the trick. The weirdest part is the facility is just what it sounds like: a seemingly-harmless racetrack

Babylon, Iraq

While the surrounding area (including its surprisingly rich farmland) is visible, the city of Babylon, Iraq itself is all blurry. You can bet it has something to do with the insurgents there…

Tantauco National Park in Chile

Why is this refuge for Endangered Species completely washed over on Google? Mashable, which seems to have discovered the strange censorship, doesn't have a clue.

"The Hill" aka Elmira Correctional Facility

This maximum security prison in upstate New York is understandably blacked out… we guess. After the Attica Prison Riots and several incidents worldwide of uprisings and mass escapes, officials could be worried about a possible helicopter-led breakout.

This Russian Guy's House

What? Some rich guy's personal paradise is blurred on Google? According to Wikipedia, what you're seeing here is "a private palace of the Gazprom CEO Alexey Miller." Why is he given preference over the rest of us? Perhaps we just aren't powerful enough to convince Google to blur our own homes.

Colonel Sanders

Here's the strangest of them all: Col. Sanders, the face of Kentucky Fried Chicken, appears in exactly zero Google Street View images. That's because, as a Google spokesperson notes, Sanders was a real person and everyone is supposed to be blurred on Google sites…

The Faroe Islands, Denmark

This is a rumored military installation in a country we previously thought as "harmless." Wonder what they're really planning…

Hungarian Oil Refinery

The Szhalombatta Oil refinery in Hungary… and that's all we know.

NATO Headquarters, Portugal

This one would be hilarious if it weren't so sinister. Whoever doctored the image of the Portuguese HQ for NATO simply copy-pasted another piece of Google Earth over the actual layout of the building. Weird.

Seabrook Nuclear facility, New Hampshire

This is believed to be the Seabrook Nuclear Power Station in the northeast corner of the United States. Are you as fearful of nuclear power as we are?

Missile silo, Spain

According to a researcher with WikiMedia, "On this lot there is a small building with something almost like a silo in the middle. This location is not blocked in Yahoo! Maps. There is no image for this location in Virtual Earth yet."

Atomic site, France

We're not sure what "The Marcoule site of the Commissariat l'Energie Atomique" means, but we're pretty sure the word "atomique" is the keyword here.