Lady Gaga tends to establish her own signature styles, from the iconic meat dress to the tea cup-as-accessory look. But while hanging with her pal Donatella Versace in Milan this week, Gaga decided to recreate someone else's legendary look: Elizabeth Hurley's safety pin dress.
The pop star was seen exiting her Milan hotel on Tuesday wearing what looked like a perfect replica of Hurley's 1994 Versace gown, complete with the plunging neckline, the embellished straps and the gold safety pin sides. Gaga even had her "hair" (which we're guessing was a wig?) dyed brown like Hurley's.
The one key difference: Gaga had on those ubiquitous platform boots of hers. Hey, it ain't a Gaga outfit without treacherously high footwear, right?
Gaga has dressed out of the Versace archives before, but this dress might be the most memorable. Liz first wore the frock at the premiere of "Four Weddings And A Funeral," which she attended with her then-boyfriend, Hugh Grant. The racy Versace dress got so much attention it earned its own nickname ("That Dress"), was memorialized with a Wikipedia page and is still one of the most famous items ever designed by Versace (along with Jennifer Lopez's legendary Grammys dress, natch).
So who better to revive the safety pin dress than Queen of the Wild Dresses herself, Lady Gaga? We're sure Donatella approved.
PHOTOS: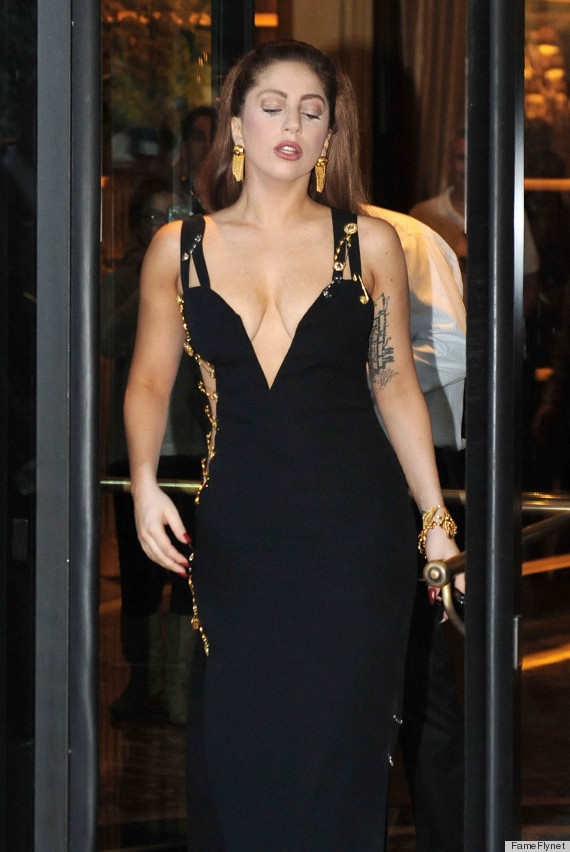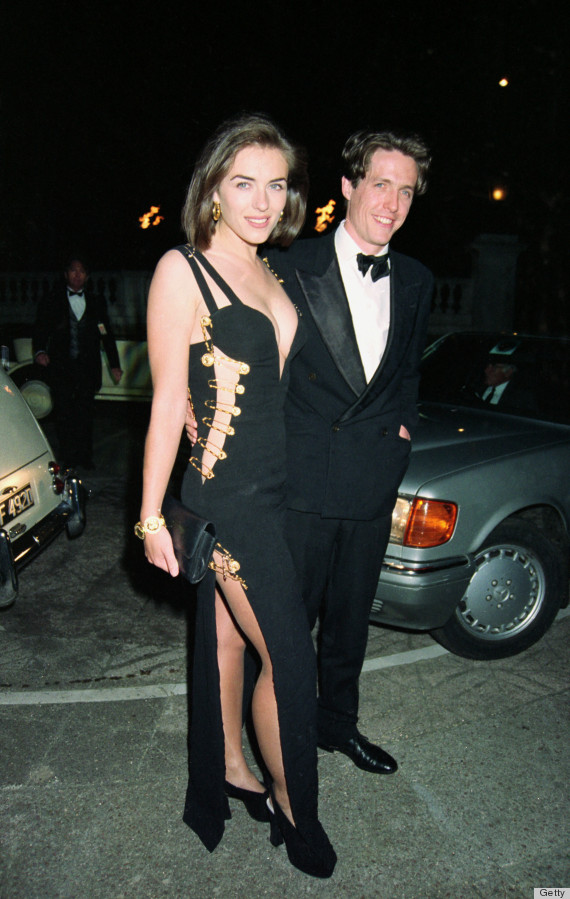 What other legendary dresses could Lady Gaga revive?

Loading Slideshow
Jennifer Lopez, 2000 Grammys

J.Lo's cut-down-to-there Versace gown sent shockwaves across America for redefining what cleavage means.  (WireImage photo)

Cher, 1986 Academy Awards

Cher's infamous Oscar outfit is one of the most famous red-carpet look of all time. That head dress designed by Bob Mackie elevated award show fashion to a whole new level.  (Getty photo)

Rose McGowan, 1998 MTV Video Music Awards

Tucked on the arm of Marilyn Manson, Rose made quite the entrance in this "dress" that consisted of a totally sheer front and a few threads dangling in the back.  (FilmMagic photo)

Lady Gaga, 2010 MTV Video Music Awards

Lady Gaga's meat dress -- made of actual raw meat -- was all anyone could talk about for days after the award show. Success!  (Getty photo)

Carmen Electra, 1997 MTV Music Awards

Electra's side-splitting gown bared her entire profile.  (Getty photo)

Elizabeth Hurley, 1994 'Four Weddings & A Funeral' Premiere

Liz Hurley's famous safety-pin dress

Bjork, 2001 Academy Awards

When the Icelandic singer appeared at the 2001 Academy Awards, the world let out a gasp and nobody breathed back in for...several years. The infamous swan dress will go down in history as the most shocking dress of all time.  (Getty photo)

Annie Lennox, 1995 Grammys

The British singer actually realized that the Grammys were not themed in 1995 when she dressed up as Minnie Mouse. She knew exactly what she was doing.  (Getty photo)

Madonna, 1999 Grammys

If Madonna was trying to channel a gothic geisha, she succeeded.  (Getty photo)

Pink, 2001 Billboard Music Awards

The hair, the sheer, the gun show. The Pink. (Getty photo)

Rihanna, 2011 Grammys

Rihanna took a bold move stepping out on the red carpet in a sheer Jean Paul Gaultier dress. The singer looked sexy and elegant, perhaps taking some notes on how not to suffer any wardrobe malfunctions from Andre Pejic who had worn the dress on the runway a month before. (Getty photo)

Nicki Minaj, 2012 Grammys

Nicki Minaj arrived at the 2012 Grammys all decked out in Versace-themed pope gear. She even brought a date who was dressed as the actual pope! (Getty photo)

Janet Jackson, 2000 MTV Movie Awards

Perhaps Janet Jackson was a really big fan of 'The Matrix.' Who knows... (Getty photo)

Lil' Kim, 2012 'Return Of The Queen' Tour

Lil' Kim has always been known for her extravagant style, but that was in the 1990's! Well, Kim showed this year that she's still got it, appearing in a tiger-inspired ensemble for the start of her new tour. (Getty photo)

Toni Braxton, 2001 Grammys

We don't know how the R&B superstar managed to go through the whole evening without exposing every part of her body. If there was ever any evening dress that took inspiration from the Princess Leia slave dress, it was this one. (Getty photo)

Uma Thurman, 2004 Academy Awards

This dress has made almost every worst-dressed list since its debut in 2004. (Getty photo)

Bjork, 2000 Cannes

Remember those table decorations at birthdays or 4th of July parties when you were younger? Well, that's kinda what Bjork looked like in this dress. (AP photo)

Margaret Cho, 2004 Grammys

The actress, comedian, designer showed up at the 2004 Grammys in a peacock feather dress, complete with sheer side panels and a feathered collar. (Getty photo)

Katy Perry, 2011 Grammys

The singer was feeling angelic at the 2011 Grammys, stepping out on the red carpet in a sparkly bra and white fabric which formed to create a floor-length gown complete with a train. Oh and she wore wings. (Getty photo)

Erin Wasson, 2012 InStyle Golden Globes After-Party

We were hesitant to include Erin Wasson's outfit at the 2012 InStyle after-party because there really isn't enough fabric to classify this as a dress. In fact, Wasson looks as if she stepped out of a lake covered and seaweed and this is what stuck. (Getty photo)

Kim Basinger, 1990 Academy Awards

Kim Basinger was probably thinking, robo-Cinderella with this look. (AP photo)

Demi Moore, 1989 Academy Awards

Give Demi a cane, a matching leopard top hat and a grill and voila! Kat Williams style. (Getty photo)

Anja Rubik, 2012 'Schiaparelli & Prada: Impossible Conversations'

Anja Rubik's dress at the 2012 Met Gala caused such a stir that the web would not stop talking about the model's gambe and hip for days. (Getty photo)

Karolina Kurkova, 2012 "Schiaparelli & Prada: Impossible Conversations'

Karolina Kurkova looked amazing at the 2012 Met gala in, people couldn't believe it, Rachel Zoe! (Getty photo)

M.I.A. 2010 Spike TV 'Scream' Awards

Controversial rapper M.I.A. rocked a burka at the 2010 Spike TV 'Scream' Awards as a response to political claims that the burka was repressive to women. (Getty photo)

Florence Welch 2012 'Schiaparelli & Prada: Impossible Conversations'

Some people loved it and some people hated it, but either way, Florence Welch's Alexander McQueen dress at the 2012 Met Gala was impressive. (Getty photo)

Helena Bonham Carter, 2011 Academy Awards

Helena Bonham Carter has always worn extravagant outfits, but at the 2011 Academy Awards, her Union Jack accessory was the cherry on top. (Getty photo)

Lady Gaga, 2011 MTV Europe Music Awards

Lady Gaga has had some extravagant outfits over the years, but her flying disk dress at the MTV Europe Music Awards has got to be near the top of her crazy-dresses list. (Getty photo)

Cindy Lauper, 1984 American Music Awards

Cindy Lauper is the queen of wild and in 1984 this multicolored, tool-friendly outfit definitely shows it. (Getty photo)

Sasha Gradiva, 2012 Grammys

Little known Russian singer Sasha Gradiva made her mark at the 2012 Grammys, arriving to the red carpet in a girly pink gown and a robotic arm. (Getty photo)

Lady Gaga's New Meat Dress

Related video
Want more? Be sure to check out HuffPost Style on Twitter, Facebook, Tumblr and Pinterest.