Any man that works outside the style industry but is willing to escort his wife to fashion events is a good sport in our book. So we think Rodger Berman, husband of celebrity stylist Rachel Zoe, definitely deserves a gold medal for his enthusiasm.
The investment banker accompanied his wife to MAC and Carine Roitfeld's Le Bal yesterday, sporting his recently grown-out locks and some pretty epic guyliner, if we say so ourselves. After all, he was attending a party for a makeup company, so why not get in on the fun?
Plus, the new dad seems pretty comfortable with his unique position, telling Harper's Bazaar that he's "grown to really appreciate fashion" and the world that comes with it (he doesn't even mind being given "purse duty" every now and then). And if "The Rachel Zoe Project" taught us anything, it's that Rachel certainly has no problem voicing her opinions when it comes to the style of everyone around her. So maybe the eyeliner was her idea? Either way, we say: good for you, Rodger!
Check out the photo of Rodger wearing eyeliner at Le Bal and tell us what you think.
PHOTO: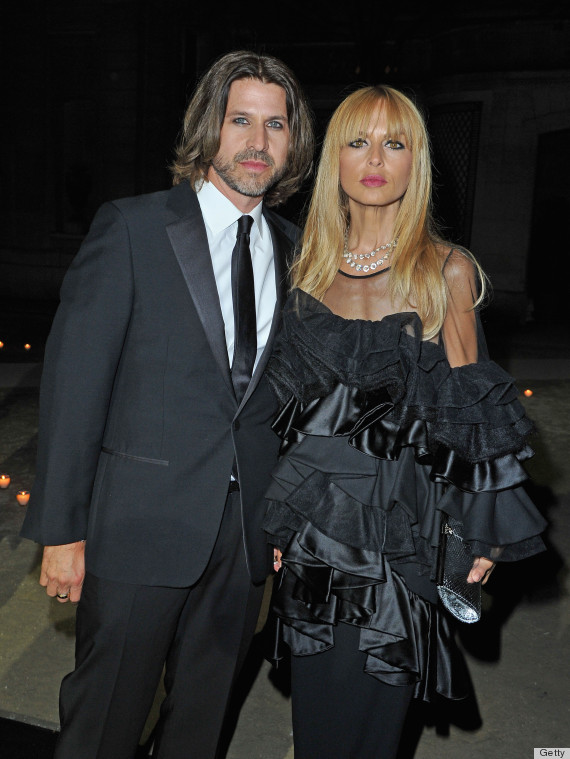 Take a look at the opposite extreme: celebs without any makeup!
Loading Slideshow
Demi Lovato

Britney Spears

Krysten Ritter

Claire Danes

Kate Moss

Rachel Hunter

Katy Perry

Jessica Stam

Selma Blair

Rita Ora

Fergie

Tilda Swinton

Paris Hilton

Rosie Huntington-Whiteley

June 2011

Mila Kunis

April 2012

Brooke Shields

October 2012

Brooke Shields

August 2011

Jessica Simpson

Cameron Diaz

August 2011

Jessy Schram

Britney Spears

September 2011

Sarah Jessica Parker

October 2011

Ellen Pompeo

July 2011

Ellen Pompeo

January 2012

Kate Hudson

August 2011

Ciara

August 2011

Minka Kelly

April 2011

Kate Moss

September 2011

Kate Moss

September 2012

Kate Moss

September 2012

Zoe Saldana

September 2011

Liv Tyler

September 2011

Janice Dickenson

Liv Tyler

November 2011

Busy Phillips

Halle Berry

September 2011

Jennifer Love Hewitt

October 2011

Jennifer Love Hewitt

April 2012

Elle Fanning

October 2011

LeAnn Rimes

LeAnn Rimes

October 2012

Salma Hayek

October 2011

Uma Thurman

October 2011

Marion Cotillard

November 2011

Hilary Duff

October 2011

Maria Bello

November 2011

Lala Vazquez

November 2011

Kim Kardashian

November 2011

Snooki

October 2012

Goldie Hawn

October 2012

Amber Valletta

March 2013
Want more? Be sure to check out HuffPost Style on Twitter, Facebook, Tumblr and Pinterest.