Hey, here's a way to subtract a step between you and the beer: a refrigerator that has no door.
Ben de la Roche has designed a doorless refrigerator wall for the Electrolux Design Lab 2012 contest that allows you to store your food and drinks by pressing them into the unit.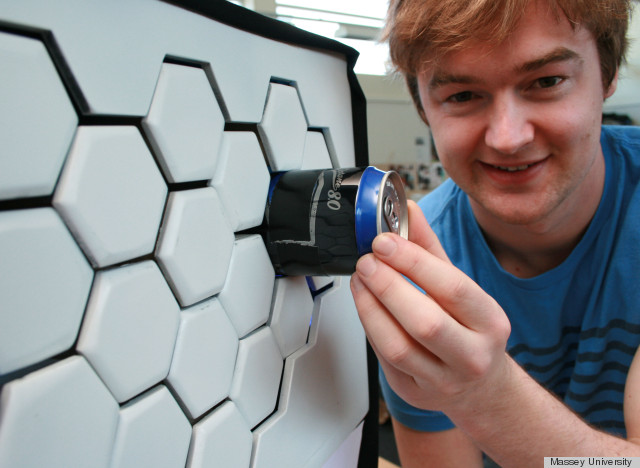 This innovative concept uses less power when fewer items are stored inside it and completely stops running when it's empty. A pretty eco-friendly design, eh?
Well, the judges of the contest thought so, and now the 21-year-old student from Massey's College of Creative Arts is one of 10 finalist who will present his refrigerator on October 25 in Milan.
Click through our slideshow to see other extreme refrigerator designs.
Loading Slideshow
USB

If you're tired of getting up and down for a drink at work, try this <a href="http://www.amazon.com/gp/product/B003L4Z57K" target="_hplink">USB cooler</a>, which helps your cup stay cold so long as you've got a computer. ($16.99) (Amazon photo)

Cambus

Yes, this an actual refrigerator. Gorgeous, right? Designed by <a href="http://www.robeys.co.uk/product/meneghini_black_cambusa" target="_hplink">Meneghini</a>, this truly beautiful solid wood structure will keep your food fresh and definitely be a conversation piece at your next party. ($20,970.00) (Robeys photo)

Flatshare

Are you living with a lot of roommates? Are they stealing your food? Then this is the machine for you. Design for <a href="http://www.electroluxdesignlab.com/" target="_hplink">Electrolux's Design Lab</a> contest, the fridge is made up of little cooling compartments so everyone in the house has their own space. Watch the video to see this cool design.

R2-D2

If the force is with you, you need this fridge. Available on <a href="http://www.ebay.com/itm/Japan-STAR-WARS-R2-D2-Refrigerator-Cooler-BRAND-NEW-7-11-Fair-Japan-Limited-/130763822331?pt=US_Action_Figures&hash=item1e722194fb#ht_4116wt_966" target="_hplink">eBay</a> for a little over $3,000, it is one of only 1,000 versions ever made. ($3,500.00) (japan-premium-seller-trading-assistant photo)

Dry Erase

Forget note pads. With this<a href="http://www.swappliances.com/_CGI/MODEL?KEY=AMN:A8RXNGMWE&gclid=CJH85arBq7ICFQJx4AodUmEAyA" target="_hplink"> Amana</a> dry erase fridge, you can write your grocery and things-to-do lists right on the surface. When the day is over, just wipe it clean. ($699.00) (S&W Appliances photo)

Drawer Fridge

Who said a refrigerator had to be vertical? This drawer fridge by <a href="http://www.norcool.com/?page=1131" target="_hplink">Norcool </a>can completely change the way people store food because the design allows for flexibility and more space in the kitchen. (Price upon request) (Norcool photo)

There's An App For This

Not only does this <a href="http://www.samsung.com/us/appliances/refrigerators/RSG309AARS/XAA" target="_hplink">Samsung refrigerator</a> have a sleek design, but it's loaded with apps for things like recipes, news, and of course, controlling the appliance's settings. ($2,699.00) (Samsung photo)
Have something to say? Check out HuffPost Home on Twitter, Facebook, Pinterest, Tumblr and Instagram.