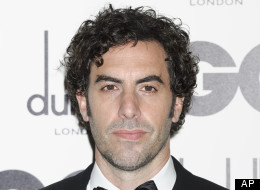 Sacha Baron Cohen has found his next controversial comedy. As reported by both Variety and Deadline.com, Cohen will develop a film based on Cecil Chao, a Hong Kong billionaire who recently offered up a $65 million bounty to any man who could marry his daughter. Cohen's film is tentatively titled "The Lesbian" because Chao's daughter, Gigi, is currently married to a woman.
Little else is known about the comedy, beyond that Cohen could also star in the film. It obviously wouldn't be the first time the comic courted controversy: Cohen's last feature "The Dictator," was about a tyrannical North African ruler who came to America. According to the original Paramount press release about "The Dictator," the film "was inspired by the best selling novel 'Zabibah and The King' by Saddam Hussein." By the time "The Dictator" was released, however, connections to Hussein's novel were severed.
Despite Chao's strange offer, Gigi Chao said she wasn't upset with her father in an interview with the AP.
"I'm actually on very, very loving terms with my father. We speak on a daily basis. He just has a very interesting way of expressing his fatherly love," Chao, 33, said.
Chao married her wife in France after being in a relationship for seven years. According to the Telegraph, Chao has dated both men and women in her life.
For more on Cohen's film, head over to Variety.
[via Variety]
Writer Art Buchwald sued Paramount Pictures, claiming that they stole his idea for 'Coming to America.' Buchwald won the lawsuit.

The movie's screenwriter, Benedict Fitzgerald, sued Mel Gibson over not paying him enough money for the film. They settled out of court.

Another movie that spawned a ton of legal trouble: writer/star Sacha Baron Cohen was sued for defamation as well as using footage of people without their permission.

What hasn't 'The Hangover, Part II' been sued for at this point? First the filmmakers were hit with a lawsuit alleging that they copied Mike Tyson's face tattoo without permission. That was dropped, but then they were sued again by a stunt man who suffered injuries on set. (That lawsuit is still pending.) A man also sued the filmmakers, claiming that they stole his life story and used it for 'Hangover, Part II.' Yeesh.

The family of a Louisiana store clerk, who was shot by a young couple on a crime spree, sued Oliver Stone, claiming this movie inspired the crimes. The lawsuit was eventually dropped.