Ann Romney, la esposa del candidato presidencial por el partido republicano, Mitt Romney, se ha destacado por tener un estilo muy clásico y conservador al vestir desde lo inicios de la carrera política de su marido; un estilo bastante distinto al de la actual primera dama, Michelle Obama.
Con cabello lacio y rubio a un largo promedio, uso constante de conjuntos de chaqueta y pantalón, casi siempre en colores sobrios o pálidos, lo cierto es que si bien la aspirante a futura primera dama en algo se distingue, no necesariamente es en su sentido de la moda.
Sin embargo, en los últimos meses, mientras más se acercan las elecciones presidenciales, más hemos comenzando a notar un cambio radical en su estilo. De pronto, una Ann con una imagen mucho más arriesgada y atrevida en su forma de proyectarse ha venido a sorprendernos en trajes de colores brillantes, tacones altos y llevados con gran porte y sin preocupación. Su rostro luce maquillaje con tonalidades de la última temporada, y también ha estrenado nuevo peinado mucho más corto, muy a lo Jacqueline Onassis.
Esto sin mencionar que ha bajado unas cuantas libras (y quién la culpa con lo ajetreada que debe estar su agenda), y ahora luce una figura esbelta y tonificada con mucha seguridad.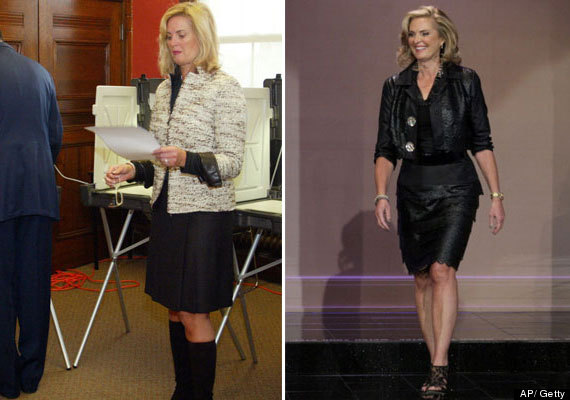 Pero no fue hasta que salió en programa de televisión, "The Tonight Show" con Jay Leno, con un set super-fashion y extra-in en piel de color negro, y tacones muy chic y modernos, que no pudimos más que preguntarnos a qué se debe este repentino cambio de imagen de la esposa de Mitt Romney. Qué fue lo que logró que esta moderada mujer, que llevaba sus pantalones de hilo bien planchados y blazers color crema en hilo, de pronto se haya despedido de su antiguo armario para presumir lo último en las pasarelas.
Bien sabemos que la primera dama, Michelle Obama ha sido ampliamente elogiada por su gran sentido de la moda, uno de los elementos que tal vez ha contribuido a mantenerse relevante ante las nuevas generaciones. Entonces, no podemos más que evitar preguntarnos, ¿será esta una estrategia para "modernizar" a Ann Romney? ¿Necesitan una primera dama más a la moda? Más… ¿parecida a Michelle?
Los estilos de Michelle Obama
SUBSCRIBE AND FOLLOW
Get top stories and blog posts emailed to me each day. Newsletters may offer personalized content or advertisements.
Learn more