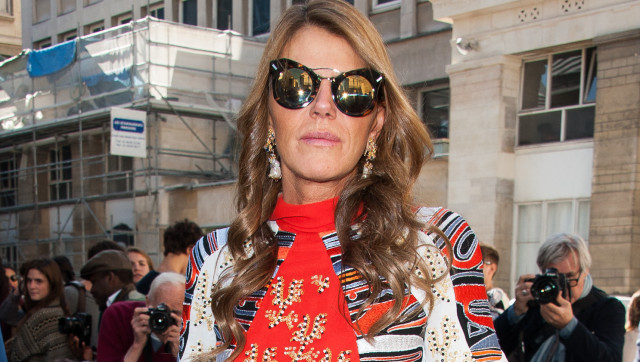 Getty
We've been enjoying a pleasantly long hiatus from the collaboration frenzy -- there haven't been any Missoni for Targets or Versace for H&Ms in quite some time.
But that doesn't mean we've been deprived: Anna Dello Russo for H&M finally launched on Thursday to thankfully little fanfare or frenzy (which, if for that alone, might make it one of our favorite collabs ever).
The iconic Vogue Nippon editor has brought her taste for shiny baroque bling to the low-price Swedish retailer with shoes, bags, jewelry, sunglasses and one lone fascinator all selling for $24.95-$299. The accessories are heavy on the gold and turquoise while the jewels come in "families": the Diamond Family, the Pearl Family, the Charms Family, etc. There's something for everyone -- if you're really into wearing things that are shiny and loud. Like Dello Russo herself, this collection is intended to make a statement.
The collection's big debut, however, did not. When the pieces began popping up in H&M stores on Thursday, Fashionista noted, there were almost no lines or crowds. Racked also reported that the stores seemed to be forgoing their customer wristband system, as they did for bigger collaborations.
And yet there were still some ADR for H&M pieces hitting eBay within the day. Chalk it up not to demand but rather necessity: H&M still doesn't have online shopping available in the U.S., making eBay the natural spot for those who wanted to shop the collection on the web.
Below we've rounded up every piece from the new Anna Dello Russo for H&M collaboration. See anything that could get you into an H&M today?
Want more? Be sure to check out HuffPost Style on Twitter, Facebook, Tumblr and Pinterest.
YOU MAY LIKE
CONVERSATIONS
FOLLOW HUFFPOST