Cardale Jones, the third-string quarterback for the Ohio State Buckeyes, doesn't understand what the heck he's doing going to classes and having to learn things at college.
"Why should we have to go to class if we came here to play FOOTBALL, we ain't come to play SCHOOL classes are POINTLESS," he tweeted.
The tweet was quickly deleted but not before several blogs and media outlets caught it.
The one shown here came via RantSports.com: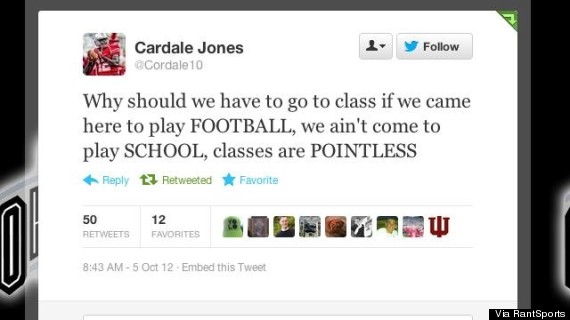 It appears the entire account has since either been made private or deleted.
We're sure Jones is not concerned with the fact that most public universities with major athletic programs are losing money and charging students thousands of dollars to help finance the multi-million dollar college football business. Ohio State would be the exception to the rule, but statements like that could have an effect on players at other universities.
Ohio State's football team has been in hot water before. In 2011, the team was sanctioned for preferential treatment and cash payments from a tattoo parlor going toward eight football players.
Then again, maybe we should cut Jones some slack. He is just a freshman.
Earlier on HuffPost:
Loading Slideshow
Rutgers University

Rutgers spends $28.5 million on athletics, including $9 million directly from students.

Oregon State University

Oregon State spends $17 million on athletics, which breaks down to about $1,000 per student.

South Florida

South Florida spends $16.6 million on athletics, almost entirely funded by student fees. South Florida's budget relies more on student fees to fund athletics than any other school in the Bloomberg report.

Maryland

Maryland spends $15.9 million on athletics, which comes out to about $640 per student.

Colorado

CU spends $15.5 million on athletics, or $625 per student.

Connecticut

Connecticut spends $15 million its athletic teams, which is $855 per student.

Cincinnati

Cincinnati spends $14.7 on its athletics, which breaks down to $786 for every student.

Virginia

UVA spends $13 million on its athletic programs, breaking down to $938 for each student.

Washington State

Washington State drops $11.5 million on college sports, or $781 per student.

Arizona State

The ASU Sun Devils collect $10.7 million from the University, breaking down to $227 per student.

Louisville

The Louisville Cardinals get $10.1 million from the university or $636 per student.

California

California in the PAC 12 conference spends $10.5 million on athletics, including $2 million funded by students. Pictured: Sherry Lansing, chairman of the University of California board of regents, pauses as she speaks during a press conference following the University of California board of regents meeting in July 14, 2011.

Utah

Utah spends $9.4 million on the Utes or $401 per student.

North Carolina

UNC tosses $8.8 million at the Tar Heel athletics or $503 per student.