It's here! The long-awaited, ever-elusive Jennifer Aniston engagement ring has finally been revealed. And it's huge.
Jen took a break from her busy filming schedule for "We're The Millers" to spend some quality time with fiance Justin Theroux in Santa Fe, New Mexico. After a year of dating, Justin popped the question to the 43-year-old actress on his 41st birthday in August. So we patiently awaited a ring sighting...
Well, sort of. We got a little excited when we spotted Jennifer wearing a gold band on set soon after, but it was a false alarm. But now that we've seen the actual engagement ring in it's full glory, we have to say we're impressed. Who knew Justin had such luxurious tastes? The rock practically takes over half of her finger.
Check out the photos of Jennifer Aniston's engagement ring and tell us what you think. Mazel tov, Jen -- he's a keeper!
PHOTOS: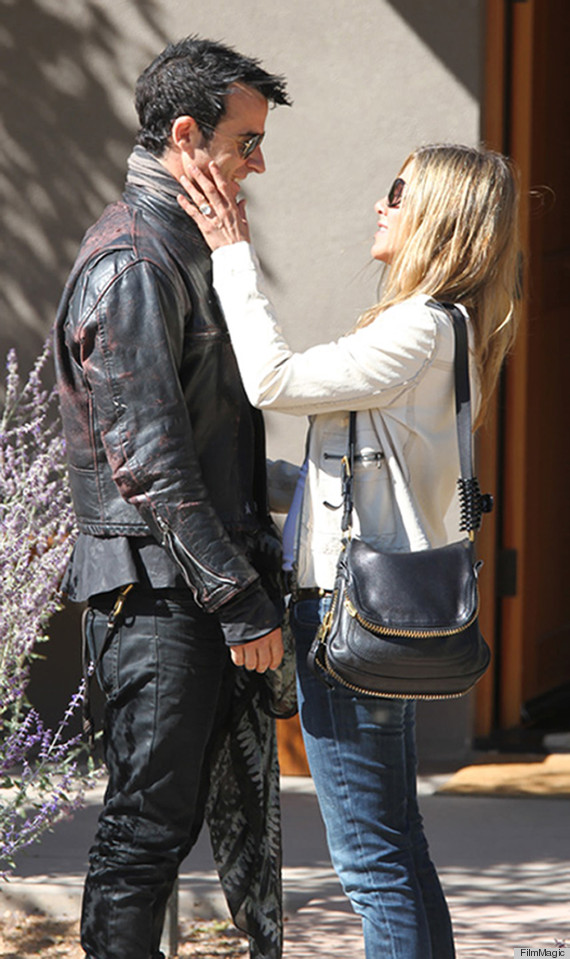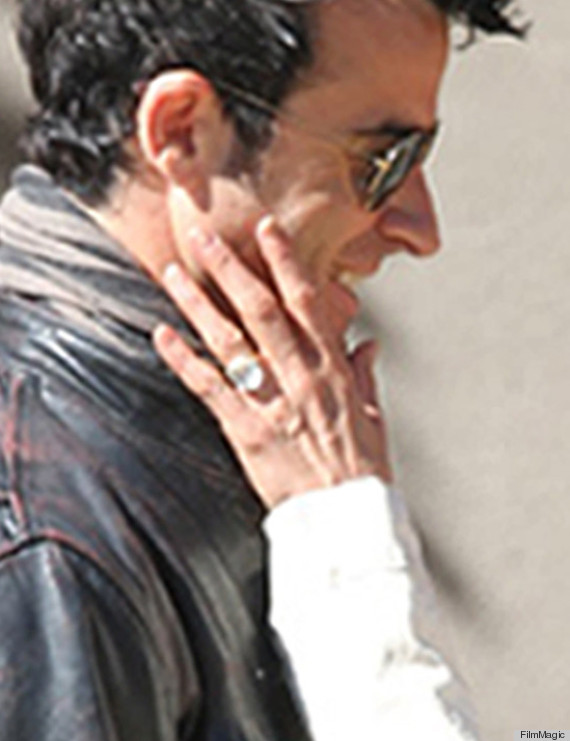 See more celebrity engagement rings!
Loading Slideshow
Beyonce & Jay-Z

In 2007, Jay-Z gave Beyonce this 18-carat diamond set in platinum designed by Lorraine Schwartz which reportedly cost $5 million! (Getty photos)

Kate Middleton & Prince William

For their much anticipated engagement in November 2010, Prince William gave Kate Middleton the same ring that was worn by his mother, Princess Diana: an 18-carat blue sapphire, set in white gold. (Getty photos)

Miley Cyrus & Liam Hemsworth

In June 2012, <a href="http://www.huffingtonpost.com/2012/06/06/miley-cyrus-engagement-ring-photos-pic_n_1575750.html" target="_hplink">19-year old Miley Cyrus was presented</a> with a 3.5-carat diamond engagement ring from boyfriend Liam Hemsworth. (Getty photo)

Anne Hathaway & Adam Shulman

Adam Shulman presented the actress with a six-carat engagement ring in November 2011 which reportedly cost $150,000. (Pacific Coast News photo)

Keira Knightley & James Righton

In May 2012, Keira Knightley became engaged to boyfriend James Righton, and was presented with a brilliant diamond on a platinum band. (Getty photo)

Sienna Miller & Jude Law

When the couple got back together in 2010, Sienna Miller put her vintage engagement ring (originally given to her in 2005) back on. (Getty photos)

Angelina Jolie & Brad Pitt

The couple officially announced their engagement in April 2012. Pitt designed an elegant ring with several (huge) diamonds. (Getty photos)

Jessica Biel & Justin Timberlake

J-T proposed to Jessica Biel during the 2011 holidays, presenting the actress with a square-cut diamond costing $130,000. (Getty photos)

Miranda Kerr & Orlando Bloom

As if this Aussie match could be any more perfect, Orlando Bloom gave the gorgeous Kerr an oval diamond reportedly worth $65,000 for their engagement in June 2010. (Getty photos)

Jennifer Garner & Ben Affleck

When Ben Affleck got down on one knee in April 2004, he presented his now-baby mama Jennifer Garner a 4.5-carat diamond from Harry Winston. (Getty photos)

Gisele Bundchen & Tom Brady

The Quarterback gave the supermodel a four-carat diamond when he proposed in 2009. (Getty photos)

Natalie Portman & Benjamin Millepied

The actress became engaged to her "Black Swan" co-star in December 2010 and was given a round diamond surrounded by a circle of beautiful pavé diamonds. (Getty photos)

Rachel Bilson & Hayden Christensen

The celebrity couple became engaged in 2008 and Bilson received a two-carat diamond worth $30,000. (Getty photos)

Halle Berry & Olivier Martinez

The gorgeous actress accepted an emerald and gold Roberto Mazlo ring from boyfriend Olivier Martinez in March 2012. (Getty photos)

Jessica Simpson & Eric Johnson

Jessica Simpson received a gorgeous $100,000 ruby-and-diamond Neil Lane ring from Eric Johnson in 2010. (Getty photos)

Kate Beckinsale & Len Wiseman

The British beauty was proposed to by film director Len Wiseman in June 2003. She was given a horizontally set emerald-cut diamond by Neil Lane.

Carrie Underwood & Mike Fisher

The country singer received a custom Johnathon Arndt ring from Mike Fisher in December 2009. (Getty photos)

Jennifer Hudson & David Otunga

David Otunga proposed to the singer in September 2008 with a five-carat, Neil Lane engagement ring. (Getty photos)

Reese Witherspoon & Jim Toth

The actress announced her engagement in December 2010 and showed off her four-carat ring. (Getty photos)

Kate Hudson & Matthew Bellamy

Kate Hudson announced her engagement on the Today show in April 2011, showing off her $200,000 emerald-cut diamond. (Getty photos)

Drew Barrymore & Will Kopelman

The couple announced their engagement in January 2012. Kopelman presented the actress with a four-carat diamond from Graff. (Getty photos)

Britney Spears & Jason Trawick

Britney became engaged to Jason Trawick in December 2011, when he gave her a round diamond on a platinum band from Neil Lane. (Getty photos)

Katy Perry & Russell Brand

In 2010, Katy Perry received a five-carat pink diamond engagement ring by Cartier by then boyfriend Russell Brand. Perry then exchanged the ring for a three-carat Golconda diamond from India. (Getty photos)

Jennifer Lopez & Marc Anthony

Marc Anthony's engagement ring to J-Lo in 2004 was an 8.5-carat diamond, reportedly costing $4 million. (Getty photos)

Katie Holmes & Tom Cruise

In 2005, Tom Cruise gave Katie Holmes a $250,000, five-carat, oval-cut solitaire set in rose gold. (Getty photos)

Heidi Klum & Seal

The singer proposed to Heidi Klum in December 2004 with a gorgeous 8.5-carat diamond. (Getty photos)

Jennifer Lopez & Ben Affleck

Before these two found new partners, J-Lo and Ben Affleck were engaged. Affleck presented the singer with a pink diamond, which Lopez showed off at the February 2003 premiere of 'Daredevil.' (Getty photos)

Michelle Williams & Heath Ledger

Although their engagement wasn't highly publicized (and there is no information about William's engagement ring), it is clear that the stone that Ledger presented his baby-mama was huge, and quite pretty indeed. (Getty photos)

Emily Blunt & John Krasinski

The couple announced their engagement in 2009, when Krasinski presented Blunt with a three-carat Neil Lane, Edwardian diamond set in platinum. (Getty photos)

Sarah Michelle Gellar & Freddie Prinze Jr.

The couple announced their engagement in April 2001 and soon after Michelle Gellar was flashing her shiny, new ring. (Getty photos)

Scarlet Johansson & Ryan Reynolds

Reynolds proposed to the gorge actress in 2008 and soon after Johansson was spotted with a shiny three-carat diamond, estimated at $30,000. (Getty photos)

Julia Roberts & Danny Moder

Julia Roberts with given a simple but gorgeous engagement ring by Danny Morder shortly before their marriage in July 2002. (Getty photos)

Camila Alves & Matthew McConaughey

The couple finally became engaged to longtime girlfriend (and mother to his now three children) in December 2011. (Getty photos)

Jessica Alba &

Top Ten Most Expensive Celebrity Engagement Rings

Related video
Want more? Be sure to check out HuffPost Style on Twitter, Facebook, Tumblr and Pinterest.