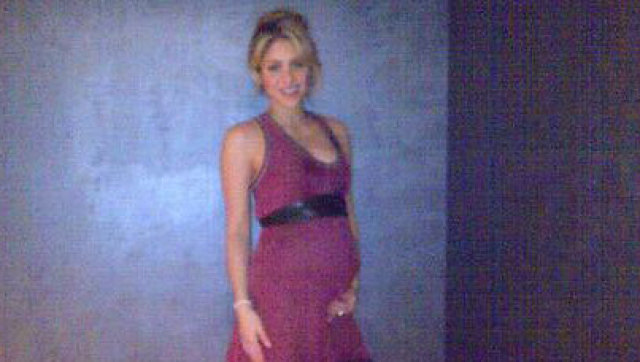 Aunque se suponía que Shakira mostraría su pancita de embarazada por primera vez en la nueva ceremonia de los Latin Grammy, no recibir nominaciones, la habría hecho cambiar de idea, pues todo indica que no se presentará en la premiación. Y al no ir, la artista colombiana decidió mostrar por fin la tan cotizada imagen por los paparazzos, en su cuenta de Twitter en donde además bromea y dice: "Ahora no tengo six pack, sino un solo pack".
Shakira, quien está ya instalada en Barcelona en donde Gerard Piqué habría elegido tener a su primer hijo, hizo una grabación para un programa de Alemania a quién decidió darle las primeras imágenes de su embarazo. Inmediatamente que el show salió al aire, ella misma decidió subir la foto de ese día en sus redes sociales en donde posa tomándose la barriga para que se marque bien su tamaño.
Recordemos que hasta el momento, todas las fotos que fue publicando Shakira siempre era de primer plano o cortaba por debajo de sus senos o llevaba ropa suelta evitando mostrar lo que en primicia en HuffPost Voces te confirmamos que es la pronta llegada de su primer hijo con Gerard Piqué.
CONOCE LA MANSIÓN DE SHAKIRA POR DENTRO:
La mansión de Shakira en Miami
Y MÁS CASAS DE LOS FAMOSOS:
SUBSCRIBE AND FOLLOW
Get top stories and blog posts emailed to me each day. Newsletters may offer personalized content or advertisements.
Learn more