If you had any lingering doubts in your mind about Shakira's pregnancy, this photo ought to remove them.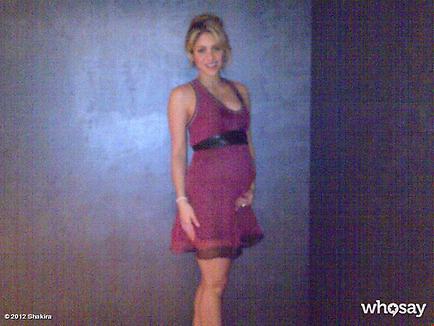 The Colombian pop star tweeted her first baby-bump shot on Saturday, along with a message alluding to the shape-shifting wonders of pregnancy: "Now I don't have a six pack, only one pack!!"
Now I don't have a six pack, only one pack!! Ahora no tengo el 6 pack sino un solo pack!! Shak say.ly/rwl4jUI

— Shakira (@shakira) October 6, 2012
The photo came after the taping of an interview in Barcelona with German broadcaster RTL, in which Shakira showed off her belly for the first time since announcing her pregnancy. She confirmed in that interview that she and her boyfriend, Spanish soccer star Gerard Piqué, are expecting a baby boy.
Shakira had denied rumors of her pregnancy for weeks, before finally posting a message to her website last month confirming the news.
Related on HuffPost:
Loading Slideshow
At The Summit Of The Americas 2012

Colombian singer Shakira performs the Colombian National Anthem during the opening remarks of the Summit of the Americas at the Julio Cesar Turbay Ayala Convention Center in Cartagena, Colombia, April 14, 2012. AFP PHOTO / Saul LOEB (Photo credit should read SAUL LOEB/AFP/Getty Images)

Shakira at the NRJ Music Awards in Cannes

Supporting Hand Over Of Land Titles To Marginalized Communities

Colombian singer Shakira holds a child during an event to hand over land titles to representatives of the Afro-Colombian community at the Plaza de San Pedro in Cartagena, Colombia on April 15, 2012. The land restititution is an attempt by Colombia to recognized marginalized communities who were forced from their land by armed groups. US President Barack Obama attended the event. AFP PHOTO/Saul LOEB (Photo credit should read SAUL LOEB/AFP/Getty Images)

Receiving Her Medal

Colombian singer Shakira poses with France's minister for Culture and Communication Frederic Mitterrand after being awarded with the medal of knight of the Order of Arts and Letters on January 28, 2012 in the French southern city of Cannes.

Shakira and Piqué

Shakira arrives with Pique to the FIFA Ballon d'Or award at the Kongresshaus in Zurich.

At the 2011 Grammy Awards

Colombian musician Shakira claims her award for Best Female Pop Vocal Album during the 12th Annual Latin Grammy Awards in Las Vegas, Nevada in November 2011.

Shakira and Sofia

Colombian actress Sofia Vergara presents Colombian singer Shakira with the Person of the Year Award onstage during the 12th annual Latin GRAMMY Awards.

2011 Person Of The Year Award

Honoree Shakira performs during at the 2011 Latin Recording Academy Person of the Year award ceremony.

Shakira Honored On The Hollywood Walk Of Fame

Shakira is honored on The Hollywood Walk Of Fame in November 2011 in Hollywood, California.

Shakira at White House Initiative on Educational Excellence for Hispanics

Shakira took part in the President's Advisory Commission of the White House Initiative on Educational Excellence for Hispanics in Washington in October 2011.