These DIY Innovations Will Make Your Life Better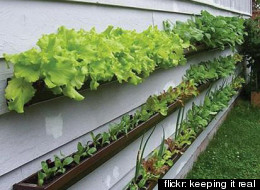 We're always looking for ways to make our lives a little easier. Whether it's finally giving in and buying that food processor or finding a quicker route to work, it's the little things that make a big difference.
With that in mind, we've partnered with Energizer® to curate some of the internet's greatest micro-innovations. From quick tips to short projects, these innovations will improve your quality of life around the home.
This might be the most amazing innovation of all time. Honestly. No exaggerations. Maximize your hot dog's deliciousness factor by sticking it with a skewer and running an angled knife along its edge until you come out with a corkscrew shape. It gives you greater meat caramelization and really holds toppings in the bun. Check out the video in the link below! Source: CHOW

This one is easy and can really give your home that awesome DIY feel. Just take old roof gutters and transform them in to your own miniature gardens. Use multiple gutters for a cool, layered effect. If you're looking for more of a challenge, Nest in Style has a great suspended gutter garden tutorial.

Ever drop a screw on the floor, only to find it missing for eternity? Or worse, your wedding ring? Never fear, this easy-to-construct small-item-finder is the perfect solution for retrieving objects from hard to reach places. Source: instructables

This one is just pretty. You can make cheap, beautiful art for your walls using basic scrapbook material. Click through to Becoming Martha for directions on how to make these beautiful wall patterns. Source: From Becoming Martha.

This is a classic at-home innovation. Cut up a can to create a wi-fi amplification device that will make your life so much easier. Simply stick the can's top through your router's rod. You can expect results immediately. Source: CNX Software

This one looks a bit more complicated, but apparently these guys have already raised $66,000 for their miniature solar panels. They even claim you can make them yourself at home. Ladies and gentlemen, the future is here! Source: Kickstarter

This one blew us away with its sheer simplicity. No words necessary. Just take a look. Source: Bare Feet in the Kitchen