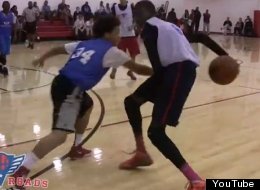 It's said that the apple doesn't fall far from the tree. In this case, the guy as a tall as a tree produced a son who may eventually loom just as large.
It turns out that the son of the late Manute Bol, who was one of the tallest players to ever play in the NBA at seven feet and seven inches, seems to be on his way to similar heights both physically and on the basketball court.
According to the YouTube page of CityLeagueHoopsTV, this video uploaded on Monday shows Manute's son, Bol Bol, dominating at the 2012 Cross Roads Elite Camp in Indianapolis. Per the description accompanying the YouTube video, Bol stands at 6'5 and he's only in seventh grade.
Judging from his range on the court and ball handling skills, Bol might have a chance to follow the path of his late father. And if he does, perhaps there will be some amazing images like these.
(H/T to The Big Lead)
Manute Bol 7'9" basketball player poses with 6-year-old Darren Moss, the son of the owner of the Rhode Island Gulls in 1985.

Golden State Warriors' Chris Mullin, left, and Manute Bol pose near the Eiffel Tower in Paris, Oct. 17, 1994, before the match against the Charlotte Hornets where the NBA begins a record 11 pre-season games outside the United States.

Manute Bol, a second round draft choice of the Washington Bullets, has embarked on a three-times-a-week program at University of Maryland in College Park, Maryland, Sept. 25, 1985 to build up his slender body. Bol, a native of the Sudan is 6-foot-7 and 200 pounds. Giving him instructions is Frank Costello, the university strength and conditioning coach.

Bullets 7'6" center Manute Bol puts up a shot over Warriors' center Joe Barry Carroll (center), during the first half of the game in Oakland, Calif., Feb. 19, 1986.

New York Knickerbockers Darrell Walker (4) gets the ball away from Washington Bullets Manute Bol (10) during game at New York's Madison Square Garden on Thursday, Jan. 3, 1986. Knicks Gerald Wilkins (21), right, and Ernie Grunfeld (18), left, and Bullets Cliff Robinson (4), center, watch the action.

Philadelphia's Manute Bol, left, blocks a shot by Utah's Tony Brown (21) during first half action in Philadelphia, March 4, 1991.

Manute Bol of the Washington Bullets is shown on the sidelines during the game between the Bullets and the San Antonio Spurs, Oct. 17, 1985.

Manute Bol, the 7-foot 7-inch center on the Rhode Island Gulls of the United States Basketball League, holds the ball aloft in a game against New Jersey Jammers at William Paterson College in Wayne, New Jersey, Wednesday, June 19, 1985. Jammers Chipper Harris, left, and John Wiley can only watch the ball well above their heads.