Organizers of the "Light up the Night for Jessica" vigils are asking participants to bring flashlights to hold and wear purple and green ribbons.
Jessica has a noticeable gap between her two front upper teeth. She also has a sore on the bridge of her nose, just below here glasses that does not heal.
"I don't know what to do, you know," a tearful Jeremiah Bryant, Jessica's father, said during a press conference. "I just want to find my daughter. I just want her back home."
Jessica has been missing since Friday, Oct. 5th. She was last seen around 8:30 a.m. making the three-block-walk to Chelsea Park where she usually meets a group of friends to walk to school with, but authorities say she never made it that far.
On Sunday, investigators say they found a backpack and water bottle believed to be Jessica's in the town of Superior, about six miles away from where she was last seen. The water bottle had her name on it and investigators are pursuing leads.
At a Tuesday morning press conference, Westminster Police announced that the investigation may focus more on an abduction, rather than the child being a possible runaway, and that they will be releasing new photos and video of Jessica to help people identify the young girl. Watch 9News video of the press conference below.
Police are monitoring social media sites and tip lines for anyone with any information. Jessica is 4'10," 80 pounds, has shoulder-length blonde hair, blue eyes and was last seen wearing a black jacket with pink and purple eyeglasses. Anyone with any information is being asked to call the Westminster Police tip line: 303-658-4336 or email PDamberalert@cityofwestminster.us.
See the vigil flyer: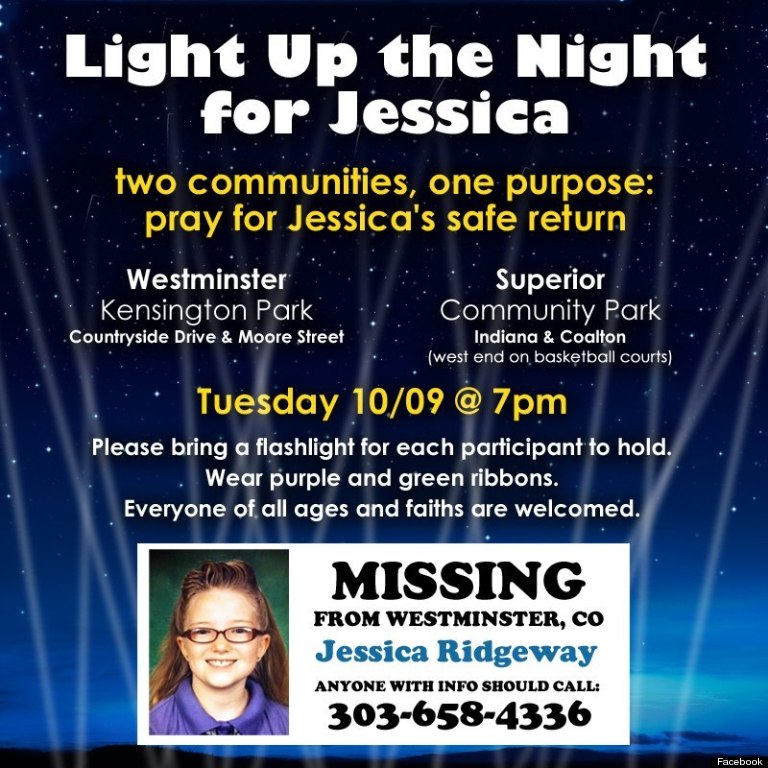 The Search For Jessica Ridgeway
SUBSCRIBE AND FOLLOW
Get top stories and blog posts emailed to me each day. Newsletters may offer personalized content or advertisements.
Learn more