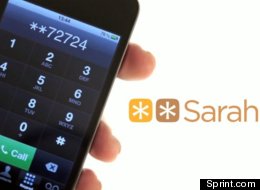 How many of us remember more than a handful of phone numbers?
With the rise of mobile phones, memorizing 10-digit numbers (and telephone calls, in general) are becoming increasingly rare. Thus, Sprint and Zoove have partnered together in hopes of bringing a new communicative tool to mobile users called StarStar Me.
The system replaces a complicated mobile number with the recipient's first name. For $2.99 per month, my personal phone number through the StarStar service could be **BRITNEY(**2748639). Instead of giving out my full 10 digits, I'd simply state "StarStar" along with my name in order to connect with people.
"StarStar Me allows consumers to choose a name, nickname or unique word in place of their mobile phone number — then people can call them on their mobile phone by simply tapping the star key twice on the phone's keypad, followed by the name, nickname, or unique word they chose, using keypad letters or characters," Sprint stated in a press release on Monday.
"StarStar Me also offers users the ability to automatically respond to calls with a custom text message when they're busy, as well as a unique way to share links to their blog, website or social media accounts," the company's press release goes on to say.
Of course this does leave us to wonder if we'd actually want our real names to be the unique word for our StarStar Me accounts. How many Britney's are there in the world? (I can assure you, far too many.) So would I really want my personal number to be that assessable?
Wired also points out that by creating an odd username, such as **britfit or **britfNY, our StarStar Me usernames aren't "any easier to remember than Twitter handles, email addresses and the other alternatives that are already killing the phone call in the first place."
Still, the service is also offering a free app to help you manage the new vanity number with features that include automatic text back, number blocking and an easy-to-send contact sheet -- all of which could be quite handy for the average smartphone user.
The Android app is currently available from Google Play, while the iOS version is set to launch soon.
"We are enthusiastic about this strategic collaboration with Sprint," said Joe Gillespie, CEO of Zoove, per a press release. "The goal of StarStar is to enhance people's lives using simple technologies."
We'll have to wait and see how simple this technology truly makes our lives. If you're interested, Sprint has created a webpage to check a word's availability (here), or you can dial **ME(**63) to sign up.
What do you think about this new way to connect? Will it make life easier, or is this be just another fee to add to an already growing phone bill? Sound off in the comments section or tweet us @HuffPostTech. Then check out the slideshow (below) for a look at some futuristic devices we can't wait to see.
Will you try this new service? Let us know via our Quick Poll.
[Hat Tip: TechCrunch]
Corning makes the super-strong "Gorilla Glass" that might cover your smartphone's touchscreen. (The company's customers include Samsung, Dell, Sony and LG). No wonder, then, that the glass manufacturer's vision of the future involves a lot of glass, and a lot of touchscreens on that glass. All touchscreens everywhere, shouts Corning! We shout: "Cool!"

Though the Nokia World 2011 Conference was held to announce the Finnish handset-maker's new Windows Phones, a lot of the conversation from bloggers centered on Nokia's Kinetic Device, a prototype of a smartphone that was operated by bending and twisting (rather than pinching-to-zoom, which dominates today). Samsung recently announced that it is preparing to release flexible devices in 2012; so, if you're in the market for a smartphone, get ready to twist again, like we will next year. Worth watching, if only to hear the adorable Nokia engineer proclaim, "I'M FROM FINLAND, AND WE HAVE LONG, CHILLY WINTER."

While we wish this video had been synced up with a certain unforgettable Ludacris single, this concept laptop can roll out like paper towels, power supply and all.

After showing off that Kinetic Device at Nokia World 2011, Nokia followed up with this thought-piece of a video, which displayed a graphically-rendered futuristic smartphone called "HumanForm." Like the Kinetic Device, it emphasizes bends, twists and touch buttons all over the place (on the front, on the side, on the back -- everywhere).

This video has no sound, but it doesn't really need any: Just LOOK at what's going on inside Microsoft's prototype HoloDesk, which, besides being a great tool to practice juggling, also looks like a neat way to learn physics and work on on tactile projects with remote collaborators.

In May we got a glimpse of this paper-thin concept smartphone, which through the use of bending and a nifty printed circuit board was able to act simultaneously as mp3 player, cell phone and, with its thinness, bookmark.

3M's vision of the future includes a flexible and transparent gaming device, a really cool-looking washing machine and even a Connect Four made of clear glass. No, don't drop that red piece there! Ah, shoot. Too late.

Using technology from the Kinect gaming system, a research team made of developers from Microsoft and Carnegie-Mellon University revealed in October that they've come up with a system that can turn virtually any surface into a touchscreen. Per MIT's Technology Review: OmniTouch works by bringing together a miniature projector and an infrared depth camera, similar to the kind used in Microsoft's Kinect game console, to create a shoulder-worn system designed to interface with mobile devices such as smart phones

This one is a little more imminent and much more realistic, as it actually exists. Check out this smartphone rigged up with a pico projector that puts your Android or iOS interface on any surface you please. Right now the thing is a little bulky to jam into your jeans pocket (especially if you're wearing skinny jeans) but if Apple's 2006 patent proves fruitful, this one could be right around the corner.

Microsoft is not shy about releasing its vision of a techie future, and this Future Vision might be its most grandiloquent statement yet. Behold this seamlessly edited look at how the company envisions its products to evolve in the office, in the home and on the go. Minority Report comparisons abound. I, for one, can't wait to get my multilingual eyeglasses.