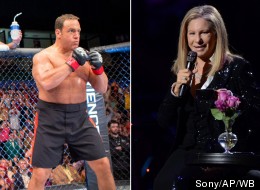 The critics have weighed in and -- once again -- they weren't too pleased with this week's entertainment offerings.
In music, The Script was called out for providing diluted rock to the masses with "#3," while Ellie Goulding's "Halcyon" was categorized as "nothing new." The Wallflowers' "Glad All Over" and Barbra Streisand's "Release Me" were also on the critics' radar, but faced warmer reviews.
Some felt "Seven Psychopaths" fell victim to weak writing, while "Here Comes the Boom" and "Special Forces" were overwhelmed by the predictability of their story lines. "Argo" faced another round of opinons as well, but this time around, it seems that Ben Afleck was just too good of a hero for critics to slam -- an occurrence some fans might deem utterly impossible.
Read the reviews in the gallery below and let us know what you think in the comments section. Were the critics spot on or too harsh?
Paul Mardles felt The Script's rock wasn't that authentic. "For the most part, though, #3 is rock with all the rage and idiosyncracies removed."

The Wallflowers' album didn't have the intended effect, according to Paste Magazine. "All told, Dylan and company don't leave you glad all over--but maybe half-way."

Goulding offers nothing new says Hayley Avron from NME. "Mainly, Halcyon sees Goulding's quirky-as-usual vocals lazily spliced into factory-standard chart dance."

For non-fans, it seems safety is essential when encountering Bab's latest album. Essential for fans, of course. It is left to the rest of us to look on from a safe distance with our hard hats on and to marvel at the most self-regarding singing voice in post-war popular music.

The film's script was a total letdown for J.R. Jones at the Chicago Reader. "I can't remember the last time I was so sorely disappointed by a writer I liked; the movie is undeniably entertaining but as hollow as a bullet wound."

The movie was painfully predictable according to Daniel Kimmel. "The alarms about how ridiculous and predictable this plot is can be heard from miles away."

East Bay Express thought the film was a tad corny. "It's the definition of far-fetched popcorn-patriotic heroics."

"Special Forces" fell a little short says Andy Webster. "'Special Forces' aims to inspire but ends up wallowing in melodrama."