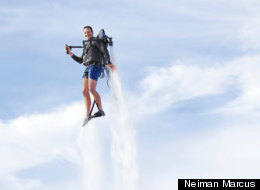 Have a few million to blow on holiday gifts? Luxury department store Neiman Marcus has you covered.
The company recently released its annual Christmas Book. The holiday catalog comes complete with an expensive "fantasy gift" section, which includes items starting at $30,000.
Purchasing one of these bizarre and somewhat impractical gifts will benefit a good cause: A portion of the proceeds from each item are donated to well-respected charities, such as Big Brothers Big Sisters and the Foundation for AIDS Research. So maybe that $100K hen house is totally worth the price tag. Maybe.
An important caveat potential buyers should note: Delivery is not included. (We're shuddering at the thought of shipping costs for a gigantic, Versailles-inspired hen house.)
Below we've gathered some of the techie lux items from the gift guide. Flip through the slideshow and let us know if any of these items would make your own fantasy list (or if they're too decadent for you). Click (here) to see the full line of Neiman Marcus fantasy gifts. Then check out some of most outlandish items you can purchase on The Fancy, or see what happens when you "live rich" and love Instagram (#RCOI!)
5 Pricey Tech "Fantasy Gifts"
The priciest gifts in the Neiman Marcus collection are the "His & Hers" 2012 Van Cleef & Arpels "Poetic Wish" watches. This purchase also includes a trip to Paris and Geneva, with the grand total equaling about $1,090,000. The company will donate $10,000 for each "His & Hers" gift sold to The Norman Mailer Center.

Fly high with this water-propelled jetpack, discribed as "one part sci-fi," and "three parts British secret service agent." It can be yours for $99,500. And for every JetLev R200 sold, $2,500 will be donated to the Boys & Girls Clubs of Broward County.

Robert Wilson created a series of video portraits consisting of a still owl that suddenly moves, blinking and turning its head at surprised passersby. The pictures retail for $70,000. Each "Snowy Owl" purchase will benefit the Watermill Center, a laboratory for performance geared toward young and emerging artists.

The Neiman Marcus Edition McLaren 12c Spider is supposedly one of the most technologically advanced supercars, retailing for $354,000. With each purchase, $3,000 to Big Brothers Big Sisters.

Only 15 of the Pinel & Pinel Arcade PS Trunks are being sold, so it looks like the race is on to purchase one of these puppies (sorry, sorry). Each retails for $90,000. For each purchase, $3,000 will be donated to Big Brothers Big Sisters.