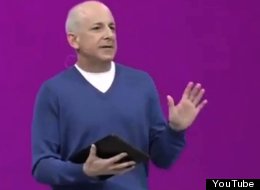 Here we have a delightful montage of technology failures proving that gadgets really do glitch-out at the worst possible times.
Prominently featured are Steve Jobs failing to find wifi during an iPhone 4 demo and Bill Gates getting more and more awkward as the new Windows Media Center freezes up in front of Conan O'Brien.
For the ultimate in techie hubris, the very beginning of the video features Sonim CEO Bob Plaschke boasting to reporter Dan Simmons about the XP1, Sonim's "unbreakable" cellphone, tested to withstand 10-story drops and submersion under water for up to 30 minutes. Simmons immediately takes the phone and breaks it on the corner of a fish tank. Woops!
Still, some of the technology fails are truly tragic: See 0:37 for a "one of a kind piece" of recording equipment shattering on ZDTV.
Enjoy!