How do prayer and meditation affect brain activity? Dr. Andrew Newberg, MD, is the Director of Research at the Myrna Brind Center for Integrative Medicine at Thomson Jefferson University Hospital and Medical College, and he has studied the neuroscientific effect of religious and spiritual experiences for decades.
In a video that recently aired on "Through the Wormhole" narrated by Morgan Freeman on the TV channel Science, Dr. Newberg explains that to study the effect of meditation and prayer on the brain, he injects his subjects with a harmless radioactive dye while they are deep in prayer / meditation. The dye migrates to the parts of the brain where the blood flow is the strongest, i.e,. to the most active part of the brain.
The image below compares brain activity at rest and while the subject (a Presbyterian minister is shown in the video) is in deep prayer.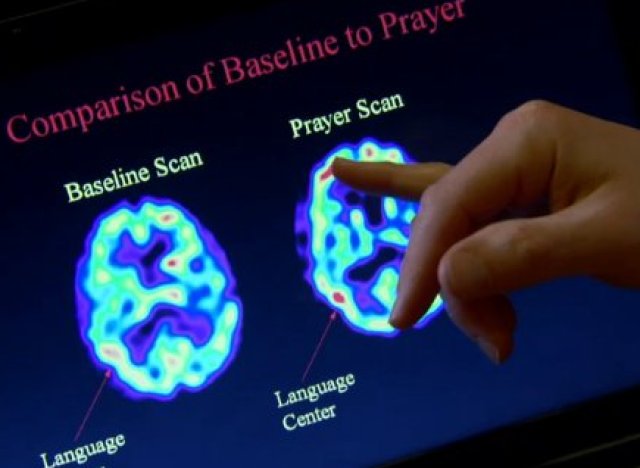 The red part indicates greater activity, and in this case, increased activity is observed in the frontal lobes and the language area of the brain. This is the part of the brain that activates during conversation, and Dr. Newberg believes that for the brain, praying to God in the Judeo-Christian tradition is similar to talking to people. "When we study Buddhist meditation where they are visualizing something, we might expect to see a change or increased activity in the visual part of the brain," Dr. Newberg said.
While observing atheists meditating or "contemplating God," Dr. Newberg did not observe any of the brain activity in the frontal lobe that he observed in religious people. The image below compares brain activity at rest and while the subject is in deep meditation.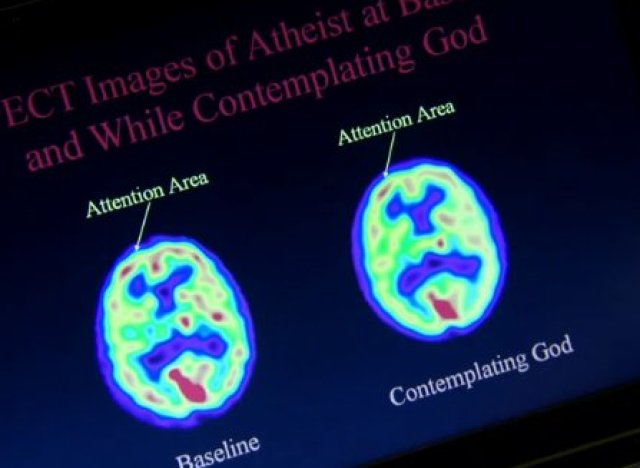 Dr. Newberg concludes that all religions create neurological experiences, and while God is unimaginable for atheists, for religious people, God is as real as the physical world. "So it helps us to understand that at least when they [religious people] are describing it to us, they are really having this kind of experience... This experience is at least neurologically real."
Check Out This Slideshow Of Some Of America's Most Iconic Prayers
Loading Slideshow
Prayer at Dawn by Christopher Columbus

Blessed be the light of day And the Holy Cross, we say; And the Lord of the Verity And the Holy Trinity. Blessed be th' immortal soul And the Lord who keeps it whole, Blessed be the light of day And He who sends the night away.

A Prayer by George Washington

I now make it my earnest prayer, that God would have you, and the State over which you preside, in his holy protection, that he would incline the hearts of the Citizens to cultivate a spirit of subordination and obedience to Government, to entertain a brotherly affection and love for one another, for their fellow Citizens of the United States at large, and particularly for their brethren who have served in the Field, and finally, that he would most graciously be pleased to dispose us all, to do Justice, to love mercy, and to demean ourselves with that Charity, humility and pacific temper of mind, which were the Characteristics of the Divine Author of our blessed Religion, and without an humble imitation of whose example in these things, we can never hope to be a happy Nation. - Circular Letter to States, 1783

Prayer by Chief Seattle

Earth mother, star mother, You who are called by A thousand names, May all remember We are cells in your body And dance together You are the grain And the loaf That sustains each day, And as you are patient With our struggles to learn So shall we be patient With ourselves and each other. We are radiant light And sacred dark --the balance-- You are the embrace that heartens And the freedom beyond fear. Within you we are born We grow, live, and die-- You bring us around the circle To rebirth, Within us you dance Forever.

In Love of Philadelphia by William Penn

And thou, Philadelphia, the Virgin settlement of this province named before thou wert born, what love, what care. What service and what traveil have there been to bring thee forth and preserve therefrom such as would abuse and defile thee. O that thou mayest be kept from the evil that would overwhelm thee. That faithful to the God of thy mercies, in the Lif of Righteousness, thou mayest be preserved to the end. My soul prays to God for thee, that thou mayest stand in the day of trial, and they children may be blest of the Lord and thy people saved by His Power.

Love and Hate by Henry Wadsworth Longfellow

The sole thing I hate is Hate; For hate is death; and Love is life, A peace a splendor from above; And Hate, a never ending strife, A smoke, a blackness from the abyss Where unclean spirits coil and hiss! Love is the Holy Ghost within; Hate the unpardonable sin! Who preaches otherwise than this Betrays his Master with a Kiss!

I'm Going To Hold Steady - Harriet Tubman

I'm going to hold steady on You, an' You've got to see me through.

Simple Gifts by Joseph Bracket

'Tis the gift to be simple, 'tis the gift to be free, 'Tis the gift to come down where we ought to be, And when we find ourselves in the place just right, 'Twill be in the valley of love and delight. When true simplicity is gain'd, To bow and to bend we shan't be asham'd, To turn, turn will be our delight 'Till by turning, turning we come round right.

In The Garden of the Lord by Helen Keller

The word of God came unto me, Sitting alone among the multitudes; And my blind eyes were touched with light. And there was laid upon my lips a flame of fire. I laugh and shout for life is good, Though my feet are set in silent ways. In merry mood I leave the crowd To walk in my garden. Ever as I walk I gather fruits and flowers in my hands. And with joyful heart I bless the sun That kindles all the place with radiant life. I run with playful winds that blow after the scent. Of rose and Jessamine in eddying whirls. At last I come where tall lilies grow, Where the lilies pray, I kneel upon the ground; I have strayed into the holy temple of the Lord.

Unconditional Trust by Dr. Norman Vincent Peale

I turn to Thee as my partner and comrade. Stay close by and help me to be always near to Thee. With complete trust I put my loved one and myself in Thy hands. I know that Thou wilt watch over them and me. Help me, to live, and if it be Thy will, to die as a Christian clean of soul and with love in my heart. Help me at all times to keep the faith.

Lord of All Worlds by John Quincy Adams

Lord of all worlds, let thanks and praise To Thee forever fill my soul; With blessings Thou has crowned my days, My heart, my head, my hand control: O, let no vain presumptions rise, No impious murmur in my heart, To crave the boon Thy will denies, Or shrink from ill Thy hands impart. Thy child am I, and not an hour, Revolving in the robs above, But brings some token of Thy power, But brings some token of Thy love; And shall this bosom dare repine, In darkness dare deny the dawn, Or spurn the treasures of the mine, Because one diamond is withdrawn? The fool denies, the fool alone, Thy being, Lord and boundless might; Denies the firmament, Thy throne, Denies the sun's meridian light, Denies the fashion of his frame. The voice he hears the breath he draws: O idiot atheist! To proclaim Effects unnumbered without cause! Matter and mind, mysterious one, Are man's for threesome years and ten; Where, ere the thread of life was spun? Where, when reduced to dust again? All-seeing God, the doubt suppress; The doubt then only canst relieve My soul Thy savior-Son shall bless, Fly to my gospel, and believe.

Anticipating the New Day, Pawnee Tribe

Earth our mother, breathe forth life All night sleeping Now awaking In the east Now see the dawn. Earth our mother, breathe and waken Leaves are stirring All things moving New day coming Life renewing.

For Our Nation by Woodrow Wilson

Almighty God, ruler of all the peoples of the earth, forgive, we prayer, our shortcomings as a nation; purify our hearts to see and love truth; give wisdom to our counselors and steadfastness to our people; and bring us at last to the fair city of peace, whose foundations are mercy, justice and goodwill, and whose builder and maker you are.

Do Not Forget You Have A Lord by Evangelist Aimee Semple McPherson

Behind all these beautiful clothes, behind these good times, in the midst of your lovely buildings and shops and pleasures, there is another life. There is something on the other side. "What shall it profit a man if he gain the whole world, and lose his own soul?" With all your getting and playing and good times, do not forget you have a Lord. Take Him into your hearts.

What I Owe America by Eddie Cantor

Dear God... Please help me repay the debt I owe America, the land of the Free and the Home of the Brave. And make me able to help those who need help.

Blessings for America by Imam Warith Deen Muhammad

Our Creator, the merciful benefactor, the merciful Redeemer who opens for all people a way to have good conscience and a good life: Grant to this Nation that Americans continue to live as a prosperous nation of "many in one" and as a people of faith taking pride in human decency, industry, and service. Let us pray that this great Nation's two centuries of national life may inspire other nations to move toward social and economic justice for all. Grant that her big heart for charity, compassion, repentance, and mercy continues to beat strongly within all of us. Grant that Americans always have more hope than troubles and ever grow in goodness and in wisdom. Bless Americans to always cherish our freedom and the noble essence of the American people.

9/11 Prayer Before the U.S. Senate by Reverend Lloyd John Ogilvie

Almighty God, source of strength and hope in the darkest hours of our Nation's history, we praise You for the consistency and constancy of Your presence with us to help us confront and battle the forces of evil manifested in infamous, illusive, cowardly acts of terrorism. We turn to You with hearts filled with dismay, anger, and grief over the terrorist attacks on the World Trade buildings in New York City and the Pentagon here in Washington. We pray for the thousands of victims who lost their lives as a result of these violent acts against our Nation. We intercede for their loved ones; comfort them and give them courage. In particular, we pray for the loved ones of the fire fighters and police who died seeking to help others. Quiet our turbulent hearts. Remind us of how You have been with us in trouble and tragedies of the past and have given us victory over tyranny. Bless the women and men of this Senate today as they join with President Bush in decisive action. Guide them as they seek justice against the perpetrators of yesterday's evil destruction and seek to devise a long-range solution to the insidious problem of terrorism. Thank You in advance for the courageous leadership You will provide through this Senate. You are our Lord and Savior.

Show Me The Suffering - Cesar Chavez

Show me the suffering of the most miserable; So I will know my people's plight. Free me to pray for others; For you are present in every person. Help me take responsiblity for my own life; So that I can feel free at last. Grant me courage to serve others; For in service there is true life. Give me honesty and patience; So that I can work with other workers. Bring forth song and celebration; So that the Spirit will be alive among us. Let the Spirit fourish and grow; So that we will never tire of the struggle. Let us remember those who have died for justice; For they have given us life. Help us love even those who hate us; So we can change the world.

Standing Up to Oppression by President Franklin Roosevelt

Let us pray for the invaded countries, in the grief and havoc of oppression; for the upholding of their courage; and the hope for the speedy restoration of their freedom. O Lord God, whose compassions fail not, support, we entreat Thee, the peoples on whom the terrors of invasion have fallen; and if their liberty be lost to the oppressor, let not this spirit and hope be broken, but stayed upon Thy strength till the day of deliverance. Through Jesus Christ our Lord. Amen.

Elvis' Prayer by Elvis Presley

Send me some light--I need it.

Thanksgiving Prayer by Walter Rauschenbusch

For the wide sky and the blessed sun, For the salt sea and the running water, For the everlasting hills And the never-resting winds, For trees and the common grass underfoot. We thank you for our senses By which we hear the songs of birds, And see the splendor of the summer fields, And taste of the autumn fruits, And rejoice in the feel of the snow, And smell the breath of the spring. Grant us a heart wide open to all this beauty; And save our souls from being so blind That we pass unseeing When even the common thornbush Is aflame with your glory, O God our creator, Who lives and reigns for ever and ever. Amen.

Unconditional Love by Mother Frances Cabrini

I feel myself consuming with love for Thee, and this is a great torment to me, as a slow martyrdom at not being able to do something for Thee. From the moment I became acquainted with Thee I was so enchanted by Thy beauty that I followed Thee. The more I love Thee, it seems the less I love Thee, because I want to love Thee more. I can bear it no longer: expand, expand my heart! Convert me, Jesus, convert me completely to thyself, for if Thou dost not make me a saint, I will not know how to to work in Thy vineyard and will end by betraying Thy interests, instead of rendering them successful. O Jesus, Jesus Love, help always Thy poor miserable one. They miserable little bride, and carry her always in Thine arms. I love Thee, I love Thee very much, very much.

The Prayer of Swami Vivekananda

Lord, I do not want wealth, nor children, nor learning. If it be thy will I will go to a hundred hells, but grant me this, that I may love thee without hope of reward--unselfishly love for love's sake.

Prayer at the Kitchen Table - By Martin Luther King, Jr

I was ready to give up. With my cup of coffee sitting untouched before me, I tried to think of a way to move out of the picture without appearing a coward. In this state of exhaustion, when my courage had all but gone, I decided to take my problem to God. With my head in my hands, I bowed over the kitchen table and prayed aloud. The words I spoke to God that midnight are still vivid in my memory. "I am here taking a stand for what I believe is right. But now I am afraid. The people are looking to me for leadership, and if I stand before them without strength and courage, they too will falter. I am at the end of my powers. I have nothing left. I've come to the point where I can't face it alone." At that moment, I experienced the presence of the Divine as I had never experienced God before. It seemed as though I could hear the quiet assurance of an inner voice saying: "Stand up for justice, stand up for truth; and God will be at your side forever." Almost at once my fears began to go. My uncertainty disappeared. I was ready to face anything."

Prayer by Black Elk

Hey-a-a-hey! Hey-a-a-hey! Hey-a-a-hey! Hey-a-a-hey! Grandfather, Great Mysterious One, You have been always and before You nothing has been. There is nothing to pray to but You. The star nations all over the universe are Yours, And Yours are the grasses of the earth. Day in and day out You are the life of things. You are older than all need, Older than all pain and prayer. Grandfather, all over the world the faces of the living ones are alike. In tenderness they have come up out of the ground. Look upon Your children with children in their arms, That they may face the winds, And walk the good road to the day of quiet. Teach me to walk the soft earth, A relative to all that live. Sweeten my heart and fill me with light, And give me the strength to understand and the eyes to see. Help me, for without You I am nothing. Hetchetu aloh!

Prayer in the Stillness of the Night by Khalil Gibran

I cannot teach you how to pray in words. God listens not to your words save when He Himself utters them through our lips. And I cannot teach you the prayer of the seas and the forests and the mountains. But you are born of the mountains and the forests and the seas can find their prayer in your heart, And if you but listen in the stillness of the night you shall hear them saying in silence, Our God, who art our winged self, it is thy will in us that willeth. It is they desire that desireth. It is thy urge in us that would turn our nights, Which are thine, into days, which are thine also. We cannot ask thee for aught, for thou knowest our needs before they Are born in us: Thou art our need; and in giving us more of thyself thou givest us all.

A Prayer in Spring by Robert Frost

Oh, give us pleasure in the flowers to-day; And give us not to think so far away As the uncertain harvest; keep us here All simply in the springing of the year. Oh, give us pleasure in the orchard white, Like nothing else by day, like ghosts by night; And make us happy in the happy bees, The swarm dilating round the perfect trees. And make us happy in the darting bird That suddenly above the bees is heard, The meteor that thrusts in with needle bill, And off a blossom in mind air stands still. For this is love and nothing else is love, The which it is reserved for God above To sanctify to what far ends He will, But which it only needs that we fulfil.

Dedication of the Vietnam War Memorial by Rabbi Arnold E. Resnicoff

O Lord our God and God of generations past, help us, we pray, make this the beginning of the time of healing that we all seek. Help us ease the terror and the pain of all who suffered because of war. And help them and help us find the way to peace. God, let this monument and this dedication forever remind us that we will come together to mourn our dead. We will come together to reach out to our wounded. We will come together to remember and to honor our brave. Only then may we have the vision to dream our dreams again. May we have the faith to pray our prayers again. May we have the courage to march along together again and, together, help make this the kind of country and the kind of world for which we pray. May we all join together and say, Amen.

Great is Thy Faithfulness by Thomas Obediah Chisholm

Great is Thy faithfulness, O God my Father; There is no shadow of turning with Thee; Thou changes not, Thy compassions, they fail not; As Thou has been, Thou forever will be. Summer and winter and springtime and harvest, Sun, moon and stars in their courses above Join with all nature in manifold witness To Thy great faithfulness, mercy and love. Pardon for sin and a peace that endureth Thine own dear presence to cheer and to guide; Strength for today and bright hope for tomorrow, Blessings all mine, with ten thousand beside! Great is thy faithfulness! Great is thy faithfulness! Morning by morning new mercies I see. All I have needed Thy hand hath provided; Great is Thy faithfulness, Lord, unto me!

Serenity Prayer by Reinhold Niebuhr

God, give us grace to accept with serenity the things that cannot be changed, Courage to change the things which should be changed, and the Wisdom to distinguish the one from the other. Living one day at a time, Enjoying one moment at a time, Accepting hardship as a pathway to peace, Taking, as Jesus did, This sinful world as it is, Not as I would have it, Trusting that You will make all things right, If I surrender to Your will, So that I may be reasonably happy in this life, And supremely happy with You forever in the next.

Father of Night by Bob Dylan

Father of night, Father of day, Father, who taketh the darkness away, Father, who teacheth the bird to fly, Builder of rainbows up in the sky, Father of loneliness and pain, Father of love and Father of rain. Father of day, Father of night, Father of black, Father of white, Father, who builds the mountain so high, Who shapeth the cloud up in the sky, Father of time, Father of dreams, Father, who turneth the rivers and streams. Father of grain, Father of wheat, Father of cold and Father of heat, Father of air and Father of trees, Who dwells in our hearts and our memories, Father of minutes, Father of days, Father of whom we most solemnly praise.