The Mother Load Of Pecan Recipes (PHOTOS)
As a nut native to North America, pecans have a special place in American cuisine, especially Southern cooking -- just think about that slice of pecan pie you'll be getting around Thanksgiving time. But pecans can (and should) go way beyond pies.
Yes, we think of pecans as being perfect for desserts like cookies, cakes and quick breads, but they're also great in savory dishes. We've put together 57 pecan recipes that include everything from the classic pecan pie to pecan-crusted rack of lamb -- you're sure to fall in love with one, if not all of these dishes. Three of our favorites are below, but check out the full slideshow at the bottom!
Chocolate Pecan Turtle Cookies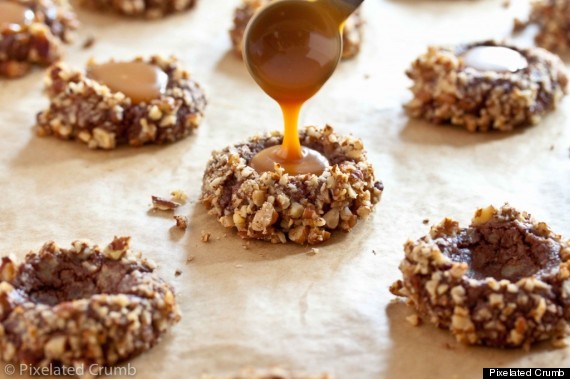 Get the Chocolate Pecan Turtle Cookies Recipe by Pixelated Crumb
These caramel, chocolate, and pecan cookies show how well this nut shines in desserts.
Apple, Brie and Pecan Panini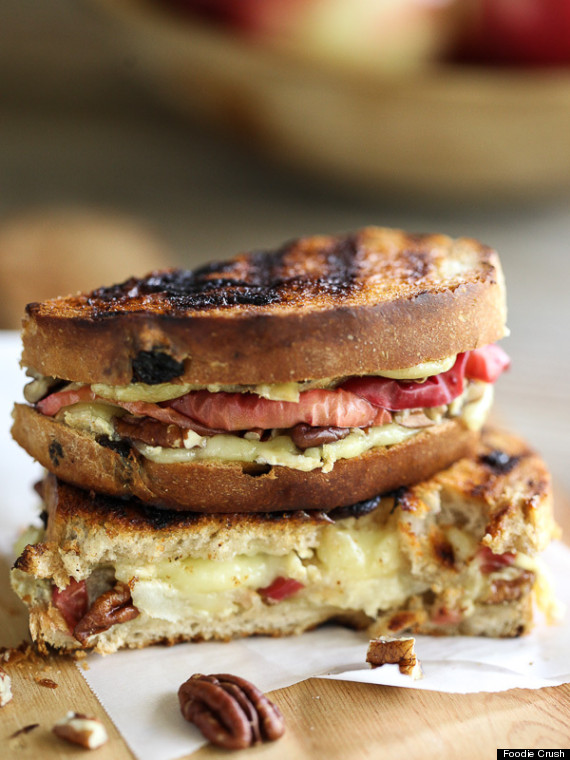 Get the Apple, Brie and Pecan Panini Recipe by The Ultimate Panini Press Cookbook, via Foodie Crush
We can't think of anything we'd rather eat for lunch.
Maple Roasted Pecans With Nutmeg And Poppy Seeds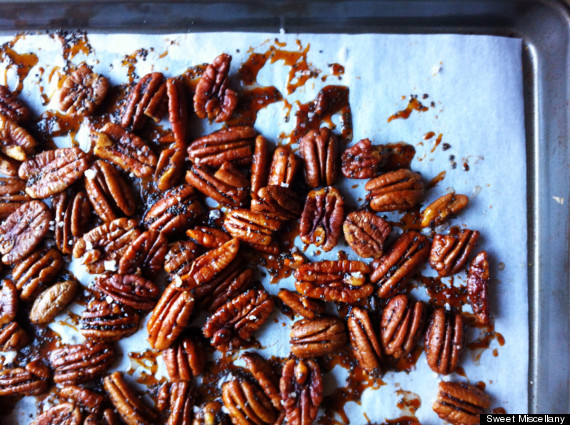 Get the Maple Roasted Pecans with Nutmeg and Poppy Seeds Recipe by Sweet Miscellany
We dare you to eat just one.
Want more pecan recipes? Check out all 57 in the slideshow.
Want to read more from HuffPost Taste? Follow us on Twitter, Facebook, Pinterest and Tumblr.
Get the Apple Pie in Pecan Crust Recipe by Have Cake Will Travel Hearty Vegan Meals for Monster Appetites by Celine Steen and Joni Marie Newman (Fair Winds Press, 2011)

Get the Caramel Brioche Sticky Buns Recipe by Noshings

Get the Spiced Pecan Pumpkin Bread Recipe by Season with Spice

Get the Pecan-Crusted Sweet Potatoes Recipe by Stone Soup

Get the Sweet Potato Pecan Pie Doughnuts with Roasted Pecan Crunch Recipe by How Sweet It Is

Get the Beer And Bacon Pecan Bars Recipe by The Beeroness

Get the Pecan Meringue Cookies Recipe by Simply Recipes

Get the Spiced Pecan Linzer Cookies Recipe by My Baking Addiction

Get the Spaghetti Squash with Apples & Toasted Pecans Recipe by Cookin' Canuck

Get the Chopped Brussels Sprouts with Dried Cranberries, Pecans & Blue Cheese Recipe by Two Peas & Their Pod

Get the Honey Pecan Dark Chocolate Shortbread Recipe by A Dash of Sass

Get the Buttered Pecan and Butterscotch Ice Cream Recipe by Poires au Chocolat

Get the Brown Rice Pecan Pilaf Recipe

Get the Pecan Pumpkin Butter Recipe by Confections of a Foodie Bride

Get the Raspberry Balsamic and Pecan Encrusted Rack of Lamb Recipe by Adventures in Cooking

Get the Texas Pecan Rocas Recipe by The Novice Chef

Get the Cinnamon Maple Pecan Biscotti Recipe by Dough Puncher

Get the Butternut Squash Mac and Cheese with Sage and Gingersnap-Pecan Crust Recipe by Lick My Spoon

Get the Chocolate Pecan Pie Recipe by Some Kitchen Stories

Get the Rugelach with Pecans, Brown Sugar and Cinnamon Recipe by The Year in Food

Get the Roasted Sweet Potato with Pecan and Maple Recipe by Drizzle and Dip

Get the Baked Pecan-Crusted Chicken Recipe by A Bachelor and His Grill

Get the Pecan Baklava Recipe Blue Ridge Baker

Get the Pan-Roasted Apples with Maple and Pecans Recipe

Get the Pecan Tartlets Recipe by Chocolate Chip Trips

Get the Turtle Cupcakes Recipe by Lemon Sugar

Get the Kale and Apple Salad with Pancetta and Candied Pecans Recipe

Get the Pecan Scones Recipe by NovelBite

Get the Chocolate-Chip-Pecan Cookie Bars Recipe

Get the Strip Steak with Blue-Cheese Butter and Toasted Pecans Recipe

Get the Pumpkin Bourbon Cheesecake with Spiced Pecan Crust Recipe by All Day I Dream About Food

Get the Maple Pecan Granola Recipe by Naturally Ella

Get the Pecan-Crusted Salmon Recipe

Get the Deep Dish Porter Pecan Pie Recipe by The Beeroness

Get the Pecan-Caramel Bars Recipe by Pip & Ebby

Get the Pumpkin Ale Cheesecake with Beer Pecan Caramel Sauce Recipe by The Beeroness

Get the Bourbon Pecan Pralines Recipe by Brown Eyed Baker

Get the Apple-Pecan Spice Cake with Cream Cheese Filling & Praline Frosting Recipe by Brown Eyed Baker

Get the Roasted Butternut Pumpkin and Red Quinoa Salad Recipe by Delicieux

Get the Caramel Pecan Apple Pie Recipe by Lemon Sugar

Get the Chocolate Turtle Cookies Recipe by Two Peas & Their Pod

Get the Pecan Pie French Toast Recipe by Always With Butter

Get the Beer & Bacon Pecan Bars Recipe by The Beeroness

Get the Beer Candied Pecans Recipe by The Beeroness

Get the Baked Tilapia with Pecan Rosemary Topping Recipe by Cookin' Canuck

Get the Sweet Potato & Pecan Fudge Recipe by Cookin' Canuck

Get the Pecan Pie Recipe by Simply Recipes

Get the Cream Cheese Pecan Cookies Recipe by Simply Recipes

Get the Candied Pecan Waffles Recipe by Macheesmo

Get the Easy Mini Pecan Tarts Recipe by Gimme Some Oven

Get the Whole Wheat Pumpkin Pecan Pancakes Recipe by Skinny Taste

Get the Chocolate Pecan Turtle Cookies Recipe by Pixelated Crumb

Get the Super Easy Pecan Cookies Recipe by Bev Cooks

Get the Peach Ice Cream with Brown Butter Pecans Recipe by Foodie Crush

Get the Apple, Brie and Pecan Panini Recipe by The Ultimate Panini Press Cookbook, via Foodie Crush

Get the Chicken Salad Sandwich with Toasted Pecans and Dried Cranberries Recipe by No. 2 Pencil

Get the Maple Roasted Pecans with Nutmeg and Poppy Seeds Recipe by Sweet Miscellany