Fans in the Stands: 20 NFL Fanatics Show Their True Colors (SLIDESHOW)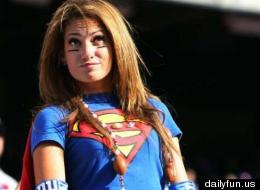 Sports fans come in all shapes, sizes, ages, and — most importantly — colors.
From the cheese-heads of Wisconsin to the underdogs-that-did in the New Orleans Saints stands and the rest of the nation over, NFL fans are serious when it comes to showing off their team spirit.
Be it outrageous fan paraphernalia or body art that might as well signal war paint to opposing teams, we've rounded up some of the more vibrant and colorful fans in the stands who, by way of their energy and passion for the game, keep their colors true for their favorite teams.
To prove your team loyalty and show us your own colors, head on over to Tide on Facebook to upload a photo. By uploading, you will be entered for a chance to win tickets and a trip to Super Bowl XLVII. The NFL team with the most fan photos uploaded by Nov. 30 will also be awarded $15,000 to be donated to a charity of their choosing.
Fans in the Stands: 20 NFL Fanatics Show Their True Colors (SLIDESHOW)
Part wrestler, part pippi longstocking, all viking.

Miami Fans or members of ICP's Psycho Circus? You decide.

Bengals fans meet beer boxes for an inspired display of spirit.

A New Orleans Saints fan cheers during an NFL preseason football game against the Tennessee Titans at the Louisiana Superdome in New Orleans with what looks to be a giant whistle on his head.

Miami fans... we're sensing a trend here.

Two Dia de los Muertos-inspired New Orleans Saints fans look on after an NFL football game between the Saints and the St. Louis Rams.

Underwear on the outside: When showing your true colors is absolutely necessary.

The family that wears giant championship ring hats together upsets those sitting behind them together.

The Force is strong with this one.

NY Giants fan puts the "super" in superfan.

Somewhere under all that Colt spirit is an actual human being.

A San Francisco 49ers fan cheers before the start of their home-opener NFL football game against the Detroit Lions in San Francisco.

New England Patriots fan Ed Lasater, of Jacksonville, Fla., waits outside Lucas Oil Stadium before the NFL Super Bowl XLVI football game between the New York Giants and the New England Patriots.

Like father like daughter.

Facepaint, fan wigs, and an American flag on game day. What more do you need?

Miami Dolphins fans during the second half of an NFL preseason football game against the Atlanta Falconsin Miami.

The Atlanta Falcons or Fairies?

Masters of their own dome-manes.

Because a fan in a skull mask chewing barbed wire isn't ready for football until he's got his pink Raiders cap.

A New York Jets fan with team spirit as big as her hair cheers during a preseason game against the Carolina Panthers at MetLife Stadium.