Recipe Of The Day: Easy Short Ribs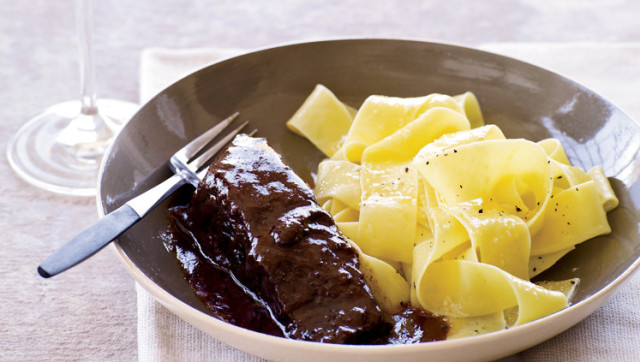 Tina Rupp/Food&Wine
Short ribs are on the up and up. They're stealing the show on restaurant menus and replacing brisket at the Passover table. And we don't mind one bit because when a short ribs recipe is made right, they're out of sight. (Sorry! Channeling Rob Base & DJ E-Z Rock.)
The great thing about short ribs is that they're almost impossible to mess up. This short ribs recipe is so easy to make and it comes out tasting like restaurant quality -- fork-tender and full of flavor.
Get the Easy Short Ribs Braised in Red Wine
Want to read more from HuffPost Taste? Follow us on Twitter, Facebook, Pinterest and Tumblr.
Check out these beef stew recipes.
1

Quick Beef Stew With Mushrooms And White Beans

Simply Recipes

James Ransom/Food52

3

Beef And Barley Stew With Mushrooms

Simply Recipes

How Sweet It Is

5

Red Roasted Asian Beef Stew

James Ransom/Food52

6

Licorice Root And Malt Beer Beef Stew

Mettch/Food52

7

Beef Stew With Buttered Noodles

New Media Publishing

8

Short-Rib Beef Stew With Ale

Simply Recipes

9

Saucy Slow Braised Stew

She Eats/Food52

10

Slow Cooker Guinness Stew

Simply Recipes