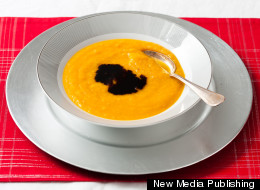 Fall means one thing for us food lovers: comfort food. We've got our mac and cheese, grilled cheese, cheesy lasagna (there's definitely a theme here). While no one wants to stop eating all that cheese, fall provides other great menu items that are comforting and healthy, like butternut squash soup.
Butternut squash soup, especially when topped with balsamic drizzle, tastes rich and creamy without any help from our dairy friends. You should try some.
Get the Gingered Butternut Squash Soup with Balsamic Drizzle recipe
Want to read more from HuffPost Taste? Follow us on Twitter, Facebook, Pinterest and Tumblr.
Check out these other soup recipes.
Soup Recipes Dinner Tonight
This recipe uses frozen mixed vegetables, which means you can make this minestrone any time of the year. Add shell pasta and a can of white beans, half of which is mashed to create a thick texture. Serve with arugula, crumbled crisp bacon and grated Parmesan cheese. Get the Quick Minestrone Soup recipe

Whip up this soup in just minutes when you use canned lentils and smoked kielbasa. Kale adds a healthy dose of vitamins and minerals. Get the Lentil Soup with Kielbasa and Kale recipe

Thick-cut bacon adds depth of flavor to this wintery potato-and-cabbage soup. The chicken broth base also includes white wine and an array of fresh herbs for bright flavor and aroma. Serve topped with freshly toasted croutons. Get the Country Potato-and-Cabbage Soup recipe

The classic pairing of beef and barley is updated with a tomato-based broth. The recipe uses inexpensive chuck, which typically requires a longer cooking time to achieve a tender texture -- unless you use a pressure cooker. Get the Beef with Barley Soup recipe

What could be more comforting than a bowl of chicken noodle soup? Instead of a whole chicken, use store-bought chicken broth and chicken breast for a quick shortcut. Drizzle in some beaten eggs for additional protein. Get the Hearty Chicken Noodle Soup recipe

You wouldn't know it, but this vegetable soup is entirely vegan. Don't tell the meat eaters! With the addition of borlotti beans and the grain farro, it's hearty enough to be a filling main meal. Get the Mixed Vegetable and Farro Soup recipe

Winter is the best season for hearty greens like kale, collards, mustard and turnip greens. This soup works with any of them. Cook the vegetables and greens and then sear the turkey sausage. Add the canned pigeon peas (a.k.a. black-eyed peas) near the end of cooking. Serve with as much or as little hot sauce you like. Get the Winter Greens Soup with Hot Sausage recipe

This vibrant soup features one of fall's favorite vegetables, butternut squash. Simmer the turkey in the broth toward the end of cooking time or use leftover cubed turkey. Get the Turkey and Squash Soup recipe

Making meatballs from scratch is a fun but tedious task. However, for this recipe, all you need are chicken sausages. Simply remove the meat from the casings, form into balls and simmer in chicken broth. Add spinach and orzo and you have dinner in no time. Get the Chicken Meatball and Orzo Soup recipe

If you're looking for a black bean soup that's packed with flavor, look no further. This recipe has everything going for it, including a smoky, earthy broth that includes ham hock and brewed coffee -- that's the secret ingredient. Serve with sour cream. Get the Smoky Black Bean Soup recipe

Avgolemono is a classic Greek soup made of chicken broth, eggs, and lemon juice. Use store-bought chicken broth and rotisserie chicken for a fast shortcut. A garnish of fresh dill adds another layer of citrus flavor. Get the Chicken Soup with Rice (Avgolemono) recipe

Jazz up a can of basic lentils from the pantry with a few ingredients like sauteed mushrooms, cherry tomatoes and bulgur. A touch of dill provides a citrus lift to this meal-in-one soup. Get theDilled Lentil Soup with Mushrooms and Tomatoes recipe

Take the classic pumpkin soup to the next level with various toppings of crispy bacon, fried rosemary and Parmesan croutons. This soup is easy to make because it starts with pumpkin puree from a can. Plus it only takes 25 minutes to put together. Get the Pumpkin Rosemary Soup with Bacon and Parmesan recipe

The Italian technique of cooking a Parmesan rind (which would otherwise be discarded) into the broth adds many dimensions of flavor to this soup. Baby spinach adds some extra nutrition. To serve, ladle the hot broth over toasted bread topped with grated cheese. Get the Parmesan and Spinach Soup recipe

"Albondigas" are Spanish for meatballs. This recipe swaps the classic pork meatballs for ones made with lean turkey. The soup also includes carrots, poblano peppers, tomatoes and jalapeno. A bit of lime juice added at the end of cooking adds a nice tang. Serve with rice. Get the Turkey Albondigas Soup recipe

Chicken soup with a Korean spin? Why not. The recipe gives you the option of using leftover chicken, poaching chicken beforehand, or store-bought rotisserie chicken. Bring up the flavor of the broth by adding garlic, ginger and hot sauce. Get the Korean Chicken Soup recipe

Creamy soups are so enjoyable to eat because they're rich and luscious. This cauliflower soup is all that and more -- it has white wine, chicken stock and heavy cream. Serve with a chunk of bread to mop up the last bits of goodness. Get the Cauliflower Soup recipe

Matzo ball soup isn't just for enjoying at Passover. It's eaten all over eastern Europe any time of the year, but it's best enjoyed during the cold, wintery months. This recipe turns out light and fluffy matzo balls, served in hot chicken broth (use homemade or your favorite store-bought). You'll want to make this recipe again and again. Get the Matzo Ball Soup recipe

With only six ingredients, this recipe couldn't be easier -- and it takes just 30 minutes to make. Polish kielbasa adds a nice smoky flavor to the soup, plus it's already cooked, which saves time. Sauteed onion and cabbage as well as rice cooked directly in the broth make this soup substantial enough for dinner. Get the Cabbage, Kielbasa and Rice Soup recipe

Jazz up a few pantry staples to create this easy and satisfying soup. The recipes starts with a can of black bean soup, a can of chipotles and a sweet potato. Stir in lime juice and cilantro at the end of cooking to add zip. Serve with your favorite tortilla chips. Get the Chipotle Black Bean and Sweet Potato Soup recipe

Put an Italian twist on chicken soup with this recipe. Quick-cooking ingredients like chicken breast, baby spinach and white beans ensure your family has a hot meal in no time. Fresh basil pesto, stirred in near the end, adds palate-awakening flavor. Get the Chicken and Spinach Soup with Fresh Pesto recipe

Known as stracciatella, the Italian version of egg drop soup includes greens. This recipe features nutritious baby spinach, Parmesan cheese and pasta, such as ditalini or pastina, for extra heartiness. Get the Italian Egg Drop Soup recipe

Ramen and miso together? Once you try it, you'll see how wonderful these two popular Japanese soups work together. This recipe is much more grown-up than the standard dorm room ramen soup (though it does use instant noodles). Broccoli and carrots add a nice helping of vegetables, but feel free to add whatever vegetables you like. Get the Quick Miso Ramen Soup recipe

A few teaspoons of smoked paprika adds Spanish flair to this hearty soup, which features lean pork tenderloin. White beans and kale make this meal even more filling. Get the Pork, White Bean and Kale Soup recipe

This fish soup is packed with flavor from a broth of white wine and fish stock tinged with saffron. The recipe calls for yellowtail, but any firm, white fish would work, such as cod or tilapia. Get the Autumn Fish Soup recipe

Tortilla soup is a Mexican restaurant favorite, but it's easy to make it yourself. Dried chilies are the key to getting that earthy flavor and red color characteristic of tortilla soup. This vegetarian version includes lots of greens and seared tofu, but you can easily make the recipe with leftover shredded roast chicken for meat-eaters. Get the Vegetarian Tortilla Soup recipe

The classic combination of cannellini beans and escarole is beloved by Italians. The beans add a creamy texture and the escarole wilts beautifully into the chicken stock. Feel free to double the recipe and freeze some extra for later. Get the White Bean and Escarole Soup recipe

Indians call soups/stews made from split peas or lentils dal. This version of lentil soup takes inspiration from dal and includes a frizzled spice topping (baghar) of cumin and mustard seeds. The recipe uses a can of split pea soup as a base and bumps it up with frozen peas, tofu and cilantro. Serve with rice. Get the Indian Split Pea Soup with Tofu and Cilantro recipe

This mushroom soup is heartier and more flavorful than the standard recipe. It includes barley and dried porcini mushrooms, which lend a deep earthy flavor. Sour cream instead of heavy cream adds that requisite creamy texture that everyone will love. Get the Creamy Porcini-Barley Soup recipe

Based on the Vietnamese noodle soup pho, this recipe replaces the traditional rice noodles with low-calorie shirataki noodles (made from sweet potato). Instead of cooking a stock for hours and hours, the recipe uses chicken stock and water. A medley of fresh herbs adds a lot of flavor to the soup. Make sure the broth is extra hot so when you add the thinly sliced beef, it cooks right away. Get the Quick Vietnamese Noodle Soup with Beef recipe

Lemon, watercress, mint and carrot add fragrance and flavor to this humble fish soup. The recipe uses tilapia, which is added whole to the simmering broth and flaked once cooked. Serve with rice to complete a healthy dinner. Get the Fragrant Fish Soup recipe

Lentils are nutritious and filling -- that's why they're perfect in soup. This simple recipe has the lentils cooked in flavorful stock. To jazz up the soup, let everyone drizzle theirs with as much vinegar and olive oil as they like. The vinegar adds tang and the oil a fruity flavor. Get the Garlicky Lentil Soup with Vinegar and Olive Oil recipe

The traditional French onion soup is never quick, but this version of the recipe is -- made in just 30 minutes. It includes onion, leek and garlic for that classic onion flavor and, to make it more filling, chickpeas. To serve, place a slice of toasted bread and grated cheese in each bowl and pour over with soup to melt the cheese -- there's no need to broil. Get the Quick French Onion Soup recipe

Giada De Laurentiis makes the classic recipe for Italian wedding soup.