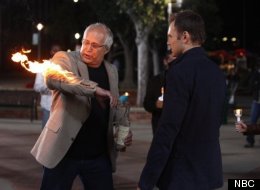 "Community" really can't catch a break lately. The cult favorite NBC comedy has been bumped from NBC's schedule yet again. And Friday, adding insult to injury, Chevy Chase created another controversy by dropping the N-word during his latest on-set diatribe.
Chase was reportedly upset about the even darker turn his character Pierce Hawthorne was taking in the would-be fourth season. But at this point, after all the off-camera drama Chase has brought "Community" already -- from his feud with the show's creator and former showrunner Dan Harmon, to his continued assertions that he doesn't think the show is funny, to this latest fiasco -- wouldn't it make sense for the show's writers to just kill off Pierce altogether?
Played-out characters and diva actors get killed off TV dramas all the time, so who says it can't happen in a network comedy?
Click through the slideshow below for 11 reasons why killing off Pierce Hawthorne would be great for "Community," and leave your own reasons in the comments.
Chevy Chase On 'Community'
1) Seeing the character killed off in hilarious fashion would provide some cathartic healing for "Community" fans after the series' many ups and downs.

2) Think of the funeral episode(s)!

3) No more need for a hospital set, wheelchair or any other geriatric props!

4) They could prop up a cardboard cut-out of Pierce in his chair and spend the show's remaining episodes insulting it.

5) Pierce could leave all his money to his former roommate Troy, who could share it with Abed for an upgraded Dreamatorium. (Or buying actual cameras for "Troy and Abed in the Morning.")

6) Since Giancarlo Esposito's still on NBC with "Revolution," the show could bring him back as Pierce's half-brother for an episode to substitute for Pierce when the study group realizes they're missing the old weirdo. Failing that, they could just turn to Chang to insult them constantly instead.

7) Less racism should equal less bad press for the show and higher morale for the show's cast.

8) It would leave more budget for awesome episodes (which Pierce never contributes to anyway).

9) His racism/sexism/everyism doesn't even provide anything tweet-worthy anymore: the Old White Man Says account has been dormant for two years.

10) It could open the door to Dan Harmon getting his job back. Just kidding. That will never happen.

11) We'd love to see what kind of amazingly funny job Chevy would get next ... since he seems to think he knows comedy better than anyone else.