INGLEWOOD, Calif. (AP) -- A man found dead at the property where five members of a Southern California family were shot - two fatally - was believed to be the attacker because he was wearing body armor and clutching a handgun, police said.
The loaded handgun was a .38 caliber revolver registered to 55-year-old Desmond John Moses. Inglewood police say Moses set his backyard bungalow ablaze before spraying bullets at his neighbors.
Investigators suspect Moses blamed the young family who lived in the front house for an eviction notice he had received from their landlord.
The dead man had "what appeared to be a gunshot wound to the head," wore body armor and carried additional ammunition in his pockets when it was found late Saturday, a police statement said.
While police couldn't conclude that the body is that of Moses until an autopsy is concluded, "the evidence suggests this is the case," the statement added.
The shooting rampage before dawn Saturday killed 33-year-old Filimon Lamas and his 4-year-old son. The father was shielding three of his children when he was shot, Police Chief Mark Fronterotta said. Lamas' 28-year-old wife, Gloria Jiminez, was shot in both legs but managed to carry the wounded 4-year-old out of the house.
Paramedics found her collapsed on the street. The child, who was shot in the head, died at a hospital.
Investigators believe Moses entered the family's home around 4 a.m. wearing a dark cap and a white painter's mask.
Authorities said he fired 10 times, also wounding a 7-year-old girl in the chest and a 6-year-old boy in the pelvis. An 8-year-old boy escaped injury.
The mother and daughter remained hospitalized in stable condition, Lt. James Madia said. The 6-year-old boy was released.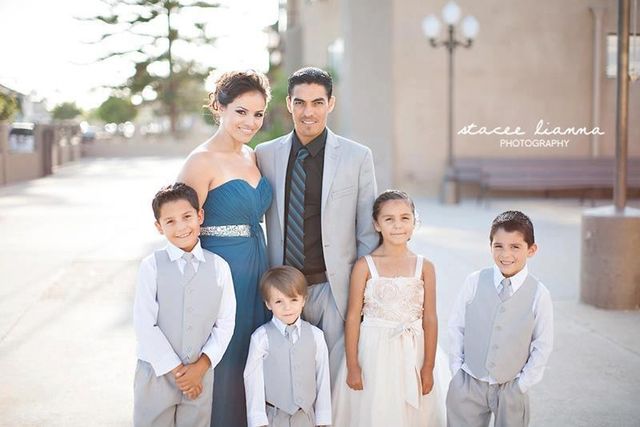 Photo of the Lamas-Jiminez family by Stacee Lianna

Relatives told the Los Angeles Times that Lamas and Jiminez were high school sweethearts who recently got approval for a home loan, and were looking to buy a bigger house for their tight-knit family.
Authorities launched a manhunt and evacuated surrounding homes after the shooting rampage, but it wasn't until hours later that they found the charred body because it was hidden under layers of debris.
"He was kind of a hoarder or pack rat," Madia said.
Moses lived in the bungalow for 17 years, while the family lived in the front house for 8 years, he said.
The landlord told the Times that Moses had been fighting an eviction notice and recently lost his case in court.
The newspaper reported Sunday that Moses has held a security guard registration with the California Department of Consumer Affairs since 1984. However, police said they did not know whether he was working as a security guard.
Also on HuffPost:
Loading Slideshow
Swat team members secure the scene near Sparks Middle School in Sparks, Nev., after a shooting there on Monday, Oct. 21, 2013. Authorities are reporting that two people were killed and two wounded at the Nevada middle school. (AP Photo/Kevin Clifford)

Sandy Hook Elementary

Molly Delaney, left, holds her 11-year-old daughter, Milly Delaney, during a service in honor of the victims who died a day earlier when a gunman opened fire at Sandy Hook Elementary School in Newtown, Conn., as people gathered at St. John's Episcopal Church , Saturday, Dec. 15, 2012, in the Sandy Hook village of Newtown, Conn. The massacre of 26 children and adults at Sandy Hook Elementary school elicited horror and soul-searching around the world even as it raised more basic questions about why the gunman, 20-year-old Adam Lanza, would have been driven to such a crime and how he chose his victims.

Police secure the scene near Sparks Middle School after a shooting in Sparks, Nev., on Monday, Oct. 21, 2013. Authorities are reporting that two people were killed and two wounded at the Nevada middle school. (AP Photo/Kevin Clifford)

Clackamas Town Center

A security guard looks over the food court at the Clackamas Town Center mall as it opens, on Friday, Dec 14, 2012 in Portland, Ore. The mall is reopening, three days after a gunman killed two people and wounded a third amid a holiday shopping crowd estimated at 10,000. The shooter, Jacob Tyler Roberts, killed himself after the attack Tuesday afternoon.

St. Vincent's Hospital Shooting

Birmingham police arrive at the scene of a shooting at St. Vincent's Hospital on Saturday, Dec. 15, 2012 in Birmingham, Ala. Authorities in Alabama say a man opened fire the hospital, wounding an officer and two employees before he was fatally shot by police. Birmingham Police Sgt. Johnny Williams says the officer and employees suffered injuries that are not considered life-threatening.

Sikh Temple Shooting

Mourners attend the funeral and memorial service for the six victims of the Sikh temple of Wisconsin mass shooting in Oak Creek, Wis., Friday, Aug 10, 2012. The public service was held in the Oak Creek High School. Three other people were wounded in the shooting last Sunday at the temple. Wade Michael Page, 40, killed five men and one woman, and injured two other men. Authorities say Page then ambushed the first police officer who responded, shooting him nine times and leaving him in critical condition. A second officer then shot Page in the stomach, and Page took his own life with a shot to the head. (AP Photo/Jeffrey Phelps)

July 2012: Aurora, Colorado

A policeman stands outside a Century 16 movie theater in Aurora, Colo., where a heavily armed man opened fire, killing at least 12 people and injuring 50 others.

May 2012: Seattle, Wash.

Friends, family and employees react after a shooting at Cafe Racer in Seattle on May 30, 2012. A lone gunman killed four people Wednesday -- three were shot to death at a cafe, and a fourth in a carjacking. The gunman later killed himself.

April 2012: Oakland, California

Alameda County Community Food Bank workers move a memorial from a parking spot next to Oikos University in Oakland, Calif., Monday, April 23, 2012. Some students and staff members have arrived to resume class at Oikus University, the small California Christian college where seven people were shot to death earlier in April.

November 2009: Fort Hood, Texas

Panou Xiong, center, is comforted by family and friends following a Remembrance Ceremony commemorating the one-year anniversary of the worst mass shooting on a U.S. military base, where 13 people were killed and dozens wounded,, Nov. 5, 2010 in Fort Hood, Texas. Xiong's son, Pfc. Kham Xiong, was killed in the shooting. <em><strong>CORRECTION:</strong> This slide originally said that the Fort Hood shooting took place in November 2010. The shooting took place in November 2009.</em>

March 2009: Kinston, Alabama

The charred Kinston, Ala. living room where suspected gunman Michael McLendon allegedly killed his mother Lisa McLendon, is photographed Wednesday, March 11, 2009. Authorities were working Wednesday to learn why a gunman set off on a rampage, killing 10 people across two rural Alabama counties.

August 2007: Blacksburg, Va.

An unidentified family member of slain Virginia Tech student Daniel Alejandro Prez Cueva, pauses at his memorial stone after the dedication of the memorial for the victims of the Virginia Tech shooting in Blacksburg, Va., Sunday, Aug. 19, 2007. More than 10,000 people gathered on the main campus lawn as Virginia Tech dedicated 32 memorial stones for those killed by a student in a mass shooting on campus last April.

April 1999: Littleton, Colo.

This aerial shows the news media compound near Columbine High School in Littleton, Colo., April 21, 1999. Media from around the world poured into the area after 15 people were killed during a shooting spree inside the school.